Tornado Path Map Update: Ohio Valley, Kansas, Oklahoma, Iowa, Illinois, Pennsylvania Storm Warnings as Omaha Battles Floods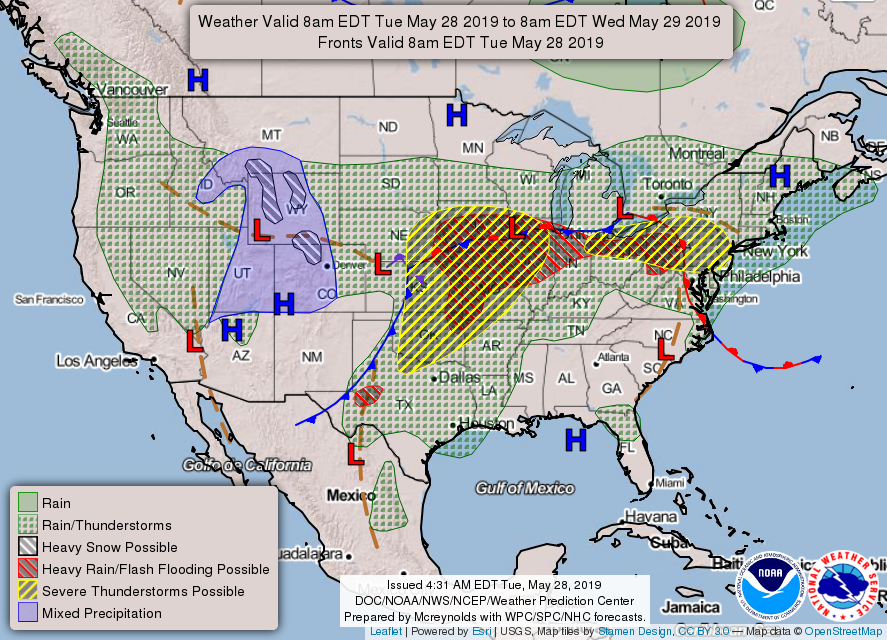 Severe storms are expected throughout Tuesday, May 28, from the central Plains vicinity eastward to the Midwest, according to the National Weather Service (NWS). Omaha, Nebraska, is also at risk from flash flooding.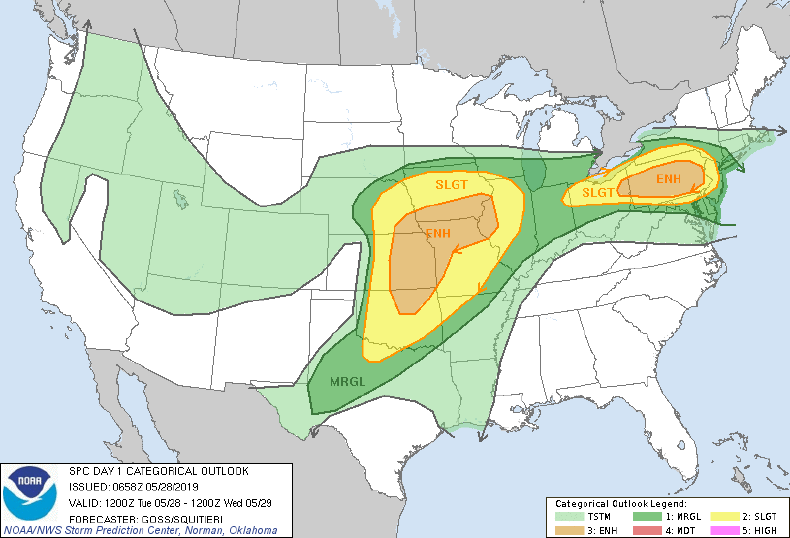 In its latest forecast, NWS has warned of an "enhanced risk" of severe thunderstorms across parts of southeast Nebraska, eastern Kansas, northeast Oklahoma, northern and western Missouri, southern Iowa and parts of western Illinois.
Ohio will also see a risk after tornadoes ripped through Dayton overnight on Monday. The storms will be capable of producing "large hail, damaging wind and a few tornadoes" throughout Tuesday afternoon and evening.
The greatest tornado risk, according to NWS, is expected near the outflow boundary, during the afternoon and evening of May 28. This risk reaches to the mid-Mississippi Valley into the Midwest.
In Ohama/Valley, Nebraska, NWS has warned that one to two inches of additional rainfall is likely, with flash flooding to begin shortly. Highways will also be affected, namely Interstate 80 in Nebraska between mile markers 440 and 454.
The storms are expected to move west to east through southeast Nebraska in the early morning of Tuesday, producing hail and strong winds, with thunderstorms expected just after noon. This will spread into southwest Iowa, with tornadoes a risk from Red Oak to Weeping Water to Beatrice.
Further flash flooding, river and creek flooding will also be likely, especially in southeast Nebraska and southwest Iowa. This includes the Missouri River from Blair downstream to past Rulo. NWS has advised people to turn around if they encounter flooded roads, as most flood deaths occur in vehicles.
The east of the country will see new storm developments, according to NWS, by early afternoon. Damaging winds will be a severe risk, along with hail, but the tornado threat is limited.
All risks will linger into the evening. However, there is an enhanced risk for Pittsburgh, Pennsylvania, and Lincoln, New England. Flash flooding is also warned for Illinois, with thunderstorms expected on Wednesday.
Extreme weather has been plaguing the Midwest since May 20, with tornadoes devastating Jefferson City and Carl Junction, Missouri, Dayton and Miami Valley, Ohio and the Texas Panhandle. There was also flooding in Tulsa on the Arkansas River, and homes were destroyed on the Cimarron River in Twin Lakes, Oklahoma.
In Missouri, it was confirmed that three people had died as a result of the severe weather, while others were injured or trapped inside their homes. The victims were identified as Kenneth Harris, 86, Opal Harris, 83 and Betty Berg, 56.