What We Know About Last Night's Tornados, Severe Weather That Left 107 Feared Dead
At least 107 people are feared dead and more than 250,000 without power after tornados and sever weather swept central states on late Friday and early Saturday. Recovery efforts underway.
In Kentucky alone, at least 50 people are feared dead after four tornados swept the state, while police in Edwardsville, Illinois confirmed this morning that there are fatalities from the collapse of an Amazon warehouse in the city.
Kentucky Governor Andy Beshear warned that the final death toll in his state could rise to as many as 100 people and the city of Mayfield had been left "devastated" by the severe weather.
One person died and five were seriously injured when a tornado struck a nursing home in Monette, Arkansas, and there were three fatalities relating to the storm reported in Tennessee as well as one in Missouri.
Governor Beshear said at a news conference on Saturday morning that he had declared a state of emergency and activated 181 guardsmen from the National Guard.
"We believe our death toll from this event will exceed 50 Kentuckians and probably end up closer to 70 or 100 lost lives," Beshear said.
"We will make it through this," the governor said. "We will rebuild, we are strong, resilient people."
Beshear said that the city of Mayfield had been "devastated" and that a roof collapse at a candle factory had "resulted in mass casualties."
"There were about 110 people in it at the time that the tornado hit it," the governor said. "We believe we'll lose at least dozens of those individuals. It's very hard, really tough, and we're praying for each and every one of those families."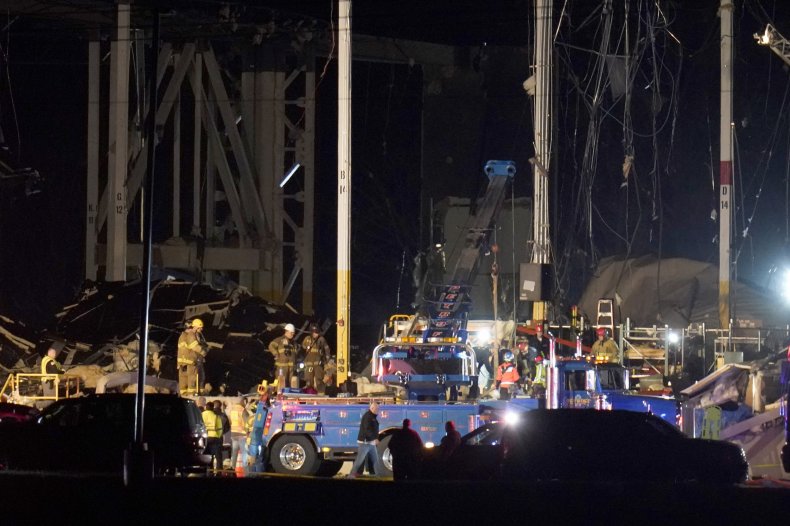 In the city of Edwardsville, Illinois a number of workers became trapped after the roof an Amazon warehouse was ripped off the building and a wall that was around the length of a football field collapsed.
Dozens of people were evacuated from the warehouse by bus to a local Pontoon Beach Police Department station but it was not clear how many people remained in the building.
Edwardsville Police Department later confirmed in a statement that there had been "fatalities at the site," and police said there had been at least two deaths at a press conference on Saturday morning. Search and rescue operations are still ongoing and could take several hours.
In Arkansas, one person was killed the Monette Manor nursing home and 20 people were trapped inside the building when it collapsed. Five people were seriously injured and some others had minor injuries.
"It looks like it's pretty much destroyed," said Craighead County Judge Marvin Day.
"It happens quick but apparently there was a little bit of time with tornado sirens going off," he said.
Three deaths have been confirmed in Tennessee by Dean Flener, spokesman for the Tennessee Emergency Management Agency.
In Missouri, one person died and two others were injured in building collapses near the towns of Defiance and New Melle.
The states affected by the tornados are also experiencing significant power outages, with Tennessee and Kentucky the worst hit.
According to PowerOutage.us, which tracks power outages, more than 136,000 customers were without power in Tennessee as of early Saturday morning, while more than 69,000 customers had no power in Kentucky.
Power outages were affecting more than 31,000 customers in Illinois, more than 23,000 in Arkansas and more than 10,000 in Missouri. Indiana and Ohio, which were not hit by tornados but border states that were affected, were also experiencing outages on Saturday. More than 38,000 customers had no power in Indiana and 25,000 in Ohio.
Update 12/11/21 09.05 a.m. E.T.: This article was updated to include information on power outages.