Toronto Restaurant Ordered To Pay $10,000 After Asking Black Customers To Pre-pay For Meals
A Toronto restaurant has been forced to pay CAD$10,000 ($7,777) in compensation to a black customer after it forced him and three companions, who were also black, to pay for their meals in advance.
The Ontario Human Rights Tribunal found that Hong Shing Chinese Restaurant, a popular eatery just east of Toronto's Chinatown, violated the Canadian province's human rights code when its staff treated Emile Wickham, now 31, as a "potential thief in waiting," a ruling published by the Canadian Legal Information Instititute (CanLII) states.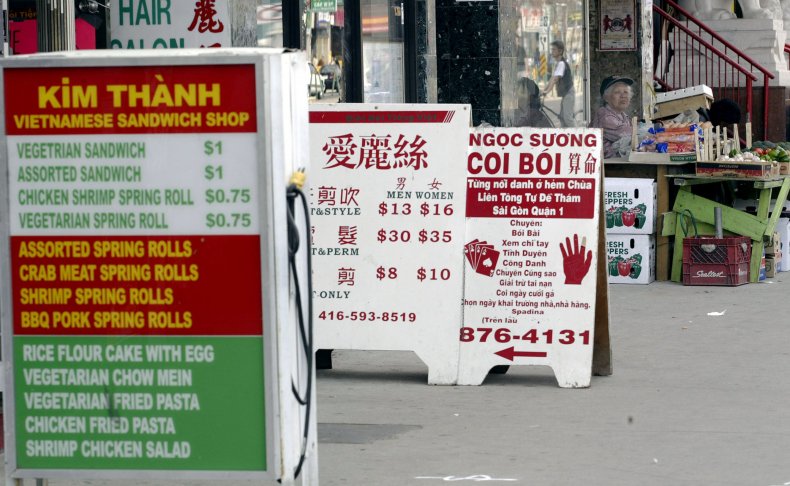 Wickham, who was born in Trinidad and Tobago and immigrated to Canada 11 years ago, had visited Hong Shing in May 2014 to celebrate his birthday with friends, according to the ruling. He was surprised, however, when he and his friends were asked to pay for their meals in advance shortly after placing their order.
The group asked the server why they were being asked to pre-pay for food, but obliged after being told it was restaurant policy.
Wickham questioned whether his group had been targeted by restaurant staff because they were black and decided to poll other customers on whether they had also been asked to pay for their meals in advance. The answer was no, the Toronto man testified at an April tribunal hearing.
When a server returned to to Wickham's table, he and his friends questioned them once again about the restaurant's policies and the server eventually admitted that their group had been the only table forced to prepay. Joined by another staff member, the server offered Wickham's group a refund, which they accepted before leaving the restaurant.
With the incident still on his mind roughly a year later, Wickham decided to file a complaint with the human rights tribunal in May 2015.
Adjudicator Esi Codjoe found that restaurant staff had practiced anti-black racism, violating section 1 of Ontario's human rights code, which demands equal treatment for customers accessing goods, services and facilities.
Codjoe said Wickham's "mere presence as a black man in a restaurant was presumed to be sufficient evidence of his presumed propensity to engage in criminal behavior."
Hong Shing did not have staff or legal representation present at the tribunal hearing, according to the decision.
However, the restaurant did submit a response to the tribunal through a lawyer six months after Wickham's human rights complaint was filed.
The restaurant said in its response that the eatery "attracts something of a transient crowd" and claimed dine and dash incidents, where customers leave without paying, were common. Hong Shing claimed that as a result, the restaurant adopted a policy of asking customers who staff did not recognize to pay in advance for food.
"There was never any intent to discriminate against the applicant; all customers who are not know to be regulars are treated the same way," the restaurant alleged, adding that because Wickham had waited a year after the incident to file his complaint, Hong Shing was unable to investigate the complaint "to ascertain what actually transpired on the night in question."
Codjoe rejected the restaurant's statement, however, asserting that there was no evidence to support that such a policy was in place. She also said there was nothing to support the notion that other customers visiting the restaurant that night had been regulars known to staff.
Codjoe ruled that what really happened was that Hong Shing did not give Wickham the "benefit of the doubt" or an "assumption of his decency." "Rather, he was presumed to be deviant," she said.
In his testimony, Wickham told the tribunal that his experience at Hong Shing had a profound impact on him, according to Codjoe's ruling.
He testified that he had not been used being treated "like a second-class citizen because of his race," and was "not accustomed to having negative behavior behing attributed to him given his skin color," until he immigrated to Canada, the filing states.
Wickham said the encounter had been particularly hurtful because the outing felt special to him, as he did not have many friends in Toronto at the time and because it was his birthday.
He thought his dinner plans with friends would have been a "safe" experience and said that after the incident, he and his group of friends felt a "sense of hopelessness" feeling there was little they could to about what happened.
As a result, the filing states, Wickham "felt in that moment that being black hurt." He said he had "come to realize that no matter how well-dressed or educated or spoken you may be you are still just seen as a [n-word]."
Read more: Starbucks CEO Says Coffee Managers Will Have 'Unconscious Bias' Training
In addition to monetary compensation, Wickham had also requested that Hong Shing give him a formal apology and post a sign in the establishment advising patrons that they cannot be asked to pre-pay for their meals.
Codjoe declined to award an apology and said she did not feel that granting the request for such a sign was "appropriate," stating that "such a sign may not achieve the goal of making patrons aware of the fact that they should not be subjected to discrimination based on a Code ground."
Instead, Codjoe said the restaurant would be forced to post an Ontario Human Rights Commission Code Sign as a "visual reminder" of its responsibilities under the provincial code.
Hong Shing has yet to respond to a request for comment from Newsweek, but told Canadian newspaper The Globe and Mail they were unfamiliar with the incident and said the restaurant had seen a change in ownership since it happened.
A business license search on the City of Toronto website shows that a license issued on April 12, 2018 only identifies the licensee as 1988688 Ontario Inc. A Toronto Star profile of the restaurant published in January 2017 named Colin Li as the restaurant's owner, however, identifying Li as the son of the couple who originally opened the eatery in 1997.
On its website, Hong Shing says it has been operating since 1997 at its current location in the heart of downtown Toronto.
The ruling has come just as Starbucks has announced it will be closing its stores for a day to provide racial bias training to staff after two black men were arrested in one of its cafes in Philadelphia for not ordering anything while waiting for a friend to join them.
Starbucks locations will be closed on Tuesday May, 29 so 175,000 cafe employees across the country can receive the training to prevent "unconscious bias."