Toronto Shooting: Does Canada Have a Gun Control Problem?
In the aftermath of the deadly mass shooting in Toronto that left two bystanders and the shooter dead and 12 others injured, a right-wing blogger has questioned whether Canada's gun control laws actually work.
"I thought they had gun control in Canada," Laura Loomer, tweeted. "What happened?" she asked.
That tweet was one of dozens of others posing the same question, with many branding the shooting as evidence that gun control laws do not work.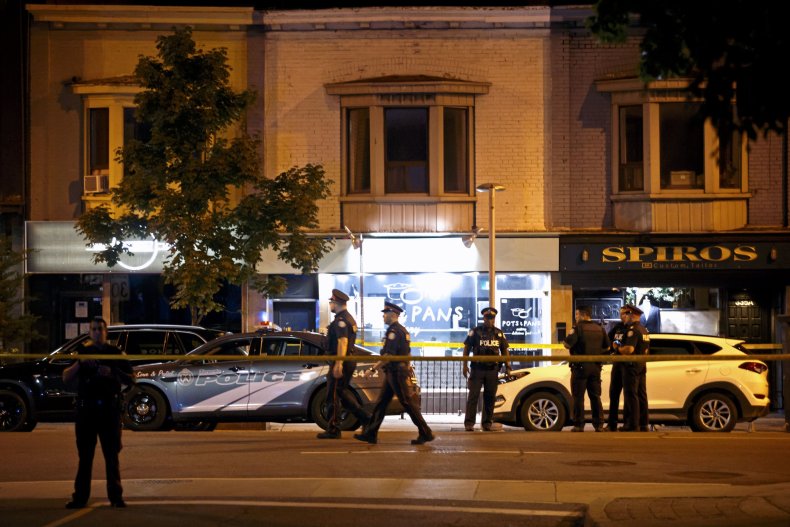 But others have been quick to point out that the number of shootings should speak for itself.
"This is the first mass shooting in our country in almost two years," one Canadian tweeted. "How many has the USA had just this year? Gun control DOES work, obviously. Just not 100 percent of the time."
U.S. Versus Canada on Gun Violence
The past year has seen a spate of mass shootings across the U.S., with a total of 154 taking place since June 28 alone, according to the Gun Violence Archive, which defines a mass shooting as any that results in four or more individuals shot or killed in the same general time frame or location.
Sunday's mass shooting in Toronto was the first in Canada since an attack on a mosque in Quebec City on January 29, 2017, which saw a single gunman kill six people and wound 18 others.
Before that, Canada had not had a mass shooting since January 22, 2016, when a 17-year-old student shot and killed two people at a residence in La Loche, Saskatchewan, before continuing his rampage at La Loche Community School, killing a teacher and an assistant, and wounding several others.
A firearm is nearly seven times less likely to be used in a homicide in Canada than in the U.S., according to Statistics Canada.
In 2016, there were 223 firearm-related homicides in the country, representing a rate of 0.61 per 100,000 population, according to Statistics Canada.
In the United States, the homicide rate for the same year was much higher, at 3.8 homicides by firearm per 100,000, a nearly sevenfold increase, according to Statista.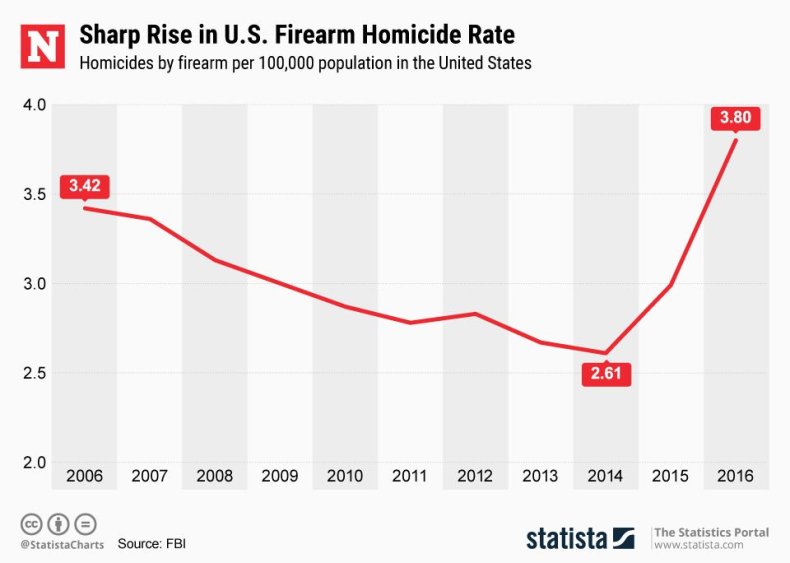 What Are Canada's Gun Laws?
While Canada's gun laws are much stricter than those in the U.S., the Trudeau government recently introduced a new bill that would further tighten control of sales and licensing.
While most states in the U.S. do not require gun owners to hold a license, Canada requires that all gun owners be licensed and all handguns and most semi-automatic weapons be registered.
Unlike in the U.S., handguns, which must be kept unloaded and locked away, cannot be carried outside the home, regardless of whether they are concealed or openly carried, unless the gun owner holds a specific license, which is usually only afforded to those who require firearms in their line of work.
Read more: Toronto shooting video shows gunman take aim at restaurant in deadly Greektown attack
In order to obtain a license, would-be gun owners are required to receive training in gun safety, as well as undergo comprehensive background checks.
Under the Trudeau government's recently proposed legislation, gun retailers would be required to keep records of firearms inventory and sales for at least 20 years.
Rifle and shotgun buyers would also be forced to present a valid license, as well as face stronger background checks, which would include questions about an applicant's personal history.
The Trudeau government's new bill seeking to further tighten gun laws in Canada comes at a time of increased calls for stronger gun legislation in the U.S. in the wake of a shooting at a Parkland, Florida, high school that claimed 17 lives in February.
The government has said the proposal would help to further ensure public safety, while also respecting the rights of law-abiding gun owners.
"While Canada is one of the safest countries in the world, increased gun crime has caused too much violence and taken too many lives in communities of all kinds," Ralph Goodale, Canada's minister of public safety and emergency preparedness, said in a statement announcing the new gun bill.
"With this legislation and our other measures, we are taking concrete steps to make our country less vulnerable to the scourge of gun violence, while being fair to responsible, law-abiding firearms owners and businesses," he said.
From the U.S. to Canada
While it is not yet known where the gun used in Sunday's shooting came from, Canada has undertaken significant efforts to stop the smuggling and trafficking of guns from the U.S.
A joint effort by the Royal Canadian Mounted Police, Canada Border Services Agency and Public Safety Canada to curb the smuggling and trafficking of guns across the U.S. border has cost the country up to C$89.3 million (about US$68 million) since it began reporting this figure in fiscal year 2009-2010.
An Royal Canadian Mounted Police spokesperson told Newsweek that the "entirety" of that funding for the Investments to Combat the Criminal Use of Firearms initiative had been intended to "combat firearms, smuggling and trafficking."
Canadian Border Services Agency spokesperson Jayden Robertson told Newsweek, "Firearms and weapons are high-risk commodities and their interdiction is a CBSA enforcement priority. The smuggling of firearms and weapons is a grave threat to the safety of all communities across Canada."
Robertson said that CBSA officers are "Canada's first line of defence in protecting Canada from illegal weapons and other contraband."
While the number of trafficked firearms that make their way across the border from the U.S. into Canada is not known, CBSA figures show that as many as 751 firearms were seized at the border in fiscal year 2017-2018.
While gun smuggling and trafficking is a problem, the Canadian government has made it clear that the majority of firearms owned by Canadians are nonrestricted and typically "long-guns," such as hunting rifles and shotguns.
In 2016, 31 percent of all firearm-related homicides in which the firearm was recovered involved a weapon that did not require registration, according to Statistics Canada data.
In cities like Toronto, however, the smuggling and trafficking of firearms still presents a significant threat to public safety, with Toronto's police department reporting the largest single weapons seizure in the force's history last month, with 60 firearms seized from a car headed to the city.
The Toronto Police Service told CBC News that the guns had originally been purchased in Florida and were likely to be used and trafficked on the streets of Toronto.
In Canada's largest city, the handguns, which cost around $500 in Florida, could have been sold for as much as $4,000 each, police said.
"Clean guns demand more than dirty guns," said Donald Belanger, acting inspector of the Integrated Gun and Gang Task Force.
The investigation ultimately led to the seizure of 78 guns and almost the same number of arrests, with 75 people facing charges in connection with the firearm trafficking case.