Torrance Park Woman Not Arrested As Racist Rants Only 'Misdemeanors'
The California woman seen at a park in Torrance last week delivering racist rants has been interviewed by police.
The 56-year-old resident of Long Beach, identified as Lena Hernandez last Friday, was found at a park in the Los Angeles neighborhood of San Pedro.
Hernandez was interviewed Wednesday by Torrance police detectives, along with the specialized crisis intervention team, who did not arrest the woman. Police confirmed the incidents involving Hernandez, including an alleged physical attack during a racist tirade against an Asian woman reported last October, are misdemeanor crimes.
"Based on the fact all three incidents are misdemeanor crimes and did not occur in the presence of an officer, Hernandez was not arrested at the time of the interview," the Torrance Police Department said in a statement.
"The details of the interview will be submitted to the City of Torrance Prosecutors office," the statement confirmed.
Newsweek has contacted the Torrance Police Department and the office of Torrance Mayor Patrick J. Furey for further comment.
Last week, Torrance police launched an investigation after Hernandez was seen launching a racist tirade against an Asian woman at Torrance's Charles H. Wilson Park in a video shared on social media. Hernandez was seen shouting: "We do not want you here...go back to whatever Asian country you belong in," among other comments.
On the same day, Hernandez was seen in another video shouting at an Asian man in the park's parking lot. She said: "This is from my government...go home...I don't understand you Chinaman" to the man in a mock Asian accent, among other comments.
Back in October, Hernandez was reported to the Torrance Police Department for allegedly physically striking Kayceelyn Salminao, an Asian woman from Torrance, at the Del Almo Fashion Center mall.
Salminao intervened when Hernandez was heard berating and cursing at a janitor in the bathroom. Salminao was then reportedly pushed and struck by Hernandez.
Salminao recalled: "I remember as she was walking down the hallway she said 'You guys are all gonna get it. You guys are all gonna [expletive] get it'." Salminao never heard back from the police at the time the incident was reported.
Following the latest incidents, members of the public launched a petition on Change.org calling for Hernandez to be charged. The petition has over 16,000 signatures, as of Thursday.
"The public demands charges against a woman who had been video taped and seen in public on three different occasions harassing people with racist slurs and inflicting fear in the community and United States.
"We are asking the Torrance Police to charge this woman for disorderly conduct, harassment, and a hate crime. We ask charges to be executed for the maximum punishments. Including but not limited to:
"Disorderly conduct in California: We wish the following charges, 'Fighting, noise, and offensive words are all misdemeanors. Penalties include a fine of up to $1,000, up to six months in jail, or both.
"Hate crime in California: We wish the court to order the defendant to pay each victim $25,000 or more for violating the victims civil rights," noted the petition.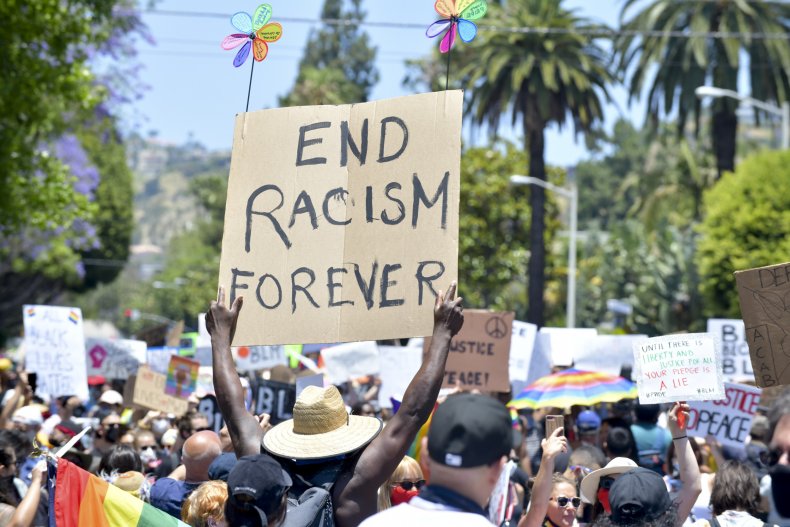 Last month, the New York City Commission on Human Rights announced it will be launching an investigation on behalf of the city into Amy Cooper, a white woman who called the cops on a black man at Central Park when he asked her to put her dog on a leash.
The latest incidents come amid ongoing protests as part of the Black Lives Matter movement, launched as an outcry against racism and police brutality following the killing of George Floyd last month.
Floyd, a 46-year-old black man, died after being pinned to the ground with a knee to his neck during an arrest made by the Minneapolis Police Department.