Tory Lanez Denies August Alsina Assault Claims, Speculates It's All 'Promo'
Singer August Alsina is alleging that Canadian rapper Tory Lanez beat him up after a show over the weekend—claims that Lanez has adamantly denied.
Alsina opened up about the supposed scuffle in an Instagram post on Sunday, which included photos of his busted lip and skinned knee.
"Me after a toupee'd sneak attack then being man handled by buku security one deep, as the jealous leprechaun run's back off into the building," he wrote in part, allegedly referring to Lanez.
Earlier that day, Alsina had posted a different photo of himself in an elevator with blood streaming from his mouth. The caption claimed that he was approached by Lanez and his security detail as Alsina left the building following a show Saturday night.
"Whole time, I'm one deep. No security," Alsina wrote.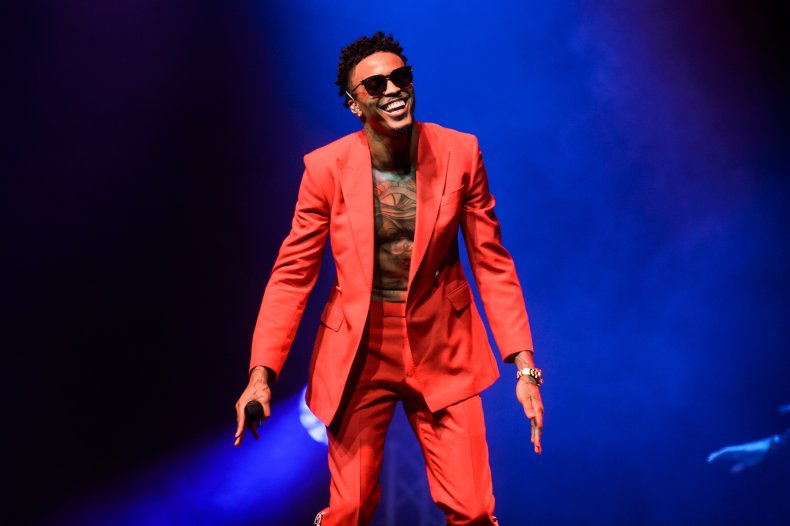 The singer further claimed that Lanez asked with "a broken ego why I didn't dap him up," which he said caught him off-guard. Alsina said although the two hadn't met until then, he'd assumed that Lanez didn't like him because the rapper had previously talked about him publicly.
Alsina then insisted that he didn't throw around any "disrespectful words" but was nonetheless suddenly punched.
"There was never a 'fight'! Simply an Assault," his Instagram caption continued. "Dude has no real friends, and is on a crash out mission ... His ppl got the whole thing on camera, PUT. THE. FOOTAGE. OUT!! I'd like to see it :)."
The singer then promoted his Encina Wellness skincare brand, saying that he'd use it to "clean this blood off [his] face."
For his part, Lanez has claimed that nothing of the sort ever happened.
"I don't even know what this kid is talking about," the rapper told YouTuber DJ Akademiks in a video posted Sunday. "Like, I don't know if he is doing a promo—I don't know what that n***a is talking about."
Akademiks seemed to believe Lanez, adding: "When I read it, I'm like, 'Yo, Tory's not even violent like that.'"
This isn't the first time that Lanez has been accused of violence, though. He was charged in 2020 over allegations that he'd shot rapper Megan Thee Stallion in the foot, pleading not guilty. That trial was set to begin this month, but its start date was just pushed back to later this year, according to multiple outlets.
Alsina has also been embroiled in controversy before.
The 30-year-old musician once had a romantic "entanglement" with Jada Pinkett Smith, who's in an open marriage with Oscar-winning actor Will Smith. Alsina wrote a song about the backlash he said he experienced after the public learned of the pair's unconventional relationship. He also called for "peace" after Smith slapped comedian Chris Rock over a joke during this year's Oscars.
Newsweek reached out to representatives for Alsina and Lanez for comment.