Tory Lanez Facing Maximum 22-Year Sentence Over Megan Thee Stallion Shooting Incident
Canadian rapper Tory Lanez was charged with multiple felony counts on Thursday in the shooting of his former friend Megan Thee Stallion.
The Los Angeles district attorney's office announced the charges in a statement but did not mention rap star Megan in the release. However, the crimes listed in the document seem to match the events that took place during a July incident involving the pair, where Megan was shot in the foot.
Lanez, whose birth name is Daystar Peterson, was charged with "one felony count each of assault with a semiautomatic firearm—personal use of a firearm—and carrying a loaded, unregistered firearm in a vehicle."
"The defendant also faces a gun allegation and that he personally inflicted great bodily injury," the statement continues," the statement continues, adding, "On July 12, the defendant and the 24-year-old victim got into an argument while riding in an SUV in the Hollywood Hills. The victim exited the vehicle and Peterson is accused of shooting several times at her feet and wounding her."
Lanez is facing a maximum of 22 years and eight months behind bars for the charges.
The 28-year-old rapper released the album Daystar in August on which he seems to deny Megan's claims that he shot her in the foot and mocks her injuries in the album's opening track and a later song titled, "Sorry But I Had To."
"Since the event, you never called me but you can't deny me/If you got shot from behind, how can you identify me?" he raps.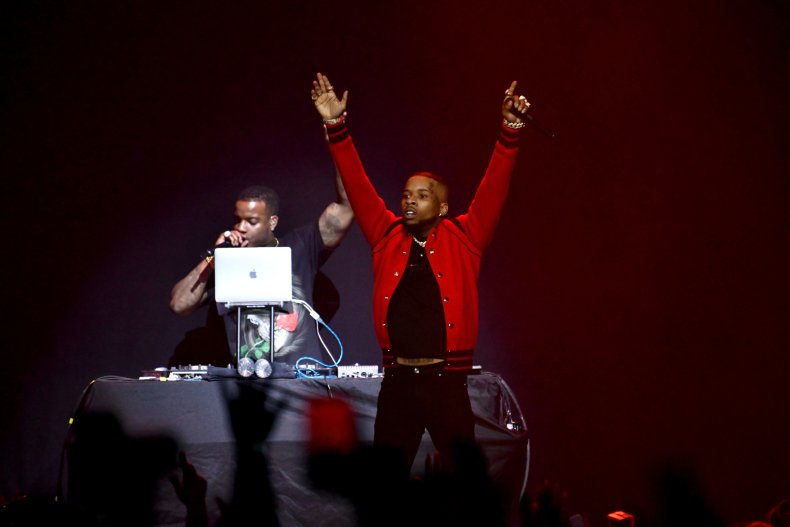 Lanez was originally arrested for possession of a concealed weapon in July. Megan, whose real name is Megan Pete, was in the vehicle with Lanez and a number of other people at the time of his arrest. However, the shooting was said to have occurred before Lanez was detained.
Initially, not many details of the incident were revealed upon Lanez's arrest. Megan, 25, first mentioned the chain of events in an Instagram post on July 15, denying rumors that she was ever arrested and admitted that she had been shot and taken to the hospital by police. Then in August, the "W.A.P." rapper outright accused Lanez of being the culprit of her injuries on Instagram Live.
"Yes ... Tory shot me. You shot me and you got your publicist and your people going to these blogs lying," she said. "Stop lying. Why lie? I don't understand."