In Total Reversal From Start of Pandemic, Tri-State to Quarantine Visitors
Travelers from eight U.S. states will now be required to undergo a 14-day quarantine upon arriving in New York, New Jersey and Connecticut, the governors of those three states announced Wednesday.
The police is a complete reversal from the onset of the pandemic when the three states saw its residents ordered to complete a 14-day self-isolation period when traveling to Florida and Texas, among other states. Louisiana, another state that saw a significant outbreak in March, was also included in some of those orders.
The new rule from Governors Andrew Cuomo, Phil Murphy and Ned Lamont applies to any state where 10 percent of the population has tested positive for coronavirus over a seven-day period.
People from Alabama, Arkansas, Florida, North Carolina, South Carolina, Utah, Texas and Washington would immediately be subject to a mandatory two-week quarantine, Cuomo said, adding that the rule goes into effect at midnight on Thursday.
Other states could be added to the executive order if they the 10 percent threshold for infections, he said.
Newsweek could not immediately reach the offices of the three governors for further comment on the order.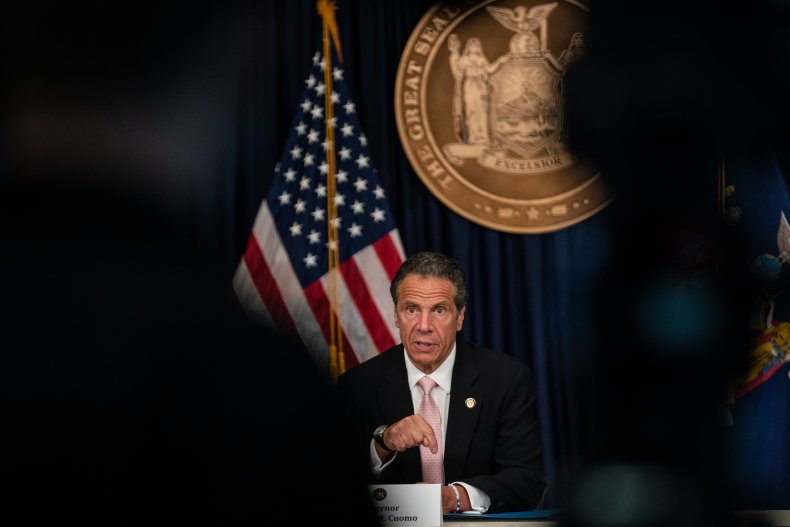 As New York became the epicenter of the virus, Florida Governor Ron DeSantis was the first to issue a quarantine order for residents for New York, New Jersey and Connecticut. That order was then expanded to include anyone who had visited the area within the previous three weeks and for cars with New York license plates to be stopped on I-95 for screening.
Another checkpoint for motorists with Louisiana license plates was erected at the Florida/Alabama border, but deactivated earlier this month. However, the I-95 checkpoint in Jacksonville, Florida, remains in place, despite the state's increasing coronavirus case numbers.
More than 5,000 new cases had been reported in New York statewide between June 16 and June 23, according to data compiled by The New York Times. However, Florida saw over 26,000 new cases reported in that same seven-day span. On Wednesday, the state set yet another single-day record of new cases with 5,508.
"We did a full 180 degrees," Cuomo said Wednesday. "We went from the highest transmission rate to some of the lowest rates in the country."
New York City — the hardest-hit U.S city by the coronavirus — entered phase two of its reopening plan Monday, allowing outdoor dining to resume and hair salons to reopen.
By contrast, many of the states affected by Cuomo's new order, including Florida, have been well on their way to reopening since May, despite seeing worsening numbers.
In Texas, for example, health officials have reported new records for coronavirus-related hospitalizations every day since June 12. Intensive care units in Houston hospitals reached 97 percent capacity Wednesday.
The decision made by Cuomo, Murphy and Lamont is part of an effort to continue flattening the curve of coronavirus transmissions in the three states, which have collectively been at a steady decline since late May.
"We need to do things right inside the four walls in our respective states," Murphy said during the press conference. "The last thing we need to do right now is to subject our folks to another round."