Is Toys 'R' Us Coming Back? Latest Updates on Children's Store
It was only a few years ago that the famous children's store Toys 'R' Us filed for bankruptcy.
The iconic toy store shut down in 2018, facing crushing debt, but following a rise in sales during the COVID-19 pandemic, the toy store is set to come back in retail form.
Lockdowns had a dramatic impact on consumer behavior, as shown by the fact that toy sales sky rocketed throughout the pandemic.
U.S. retail sales of toys were worth $28.6 billion in 2021, up from $25.4 billion in 2020, according to the NPD Group, a data and analytics firm.
Is Toys 'R' Us Coming Back?
It's officially confirmed that the iconic store is coming back. They will be opening shops inside every Macy's store in the U.S in flagship locations, starting in July, and all stores are expected to be open by the end of October this year.
You can also find the announcement on the Toys 'R' Us website, the first part of their statement reads:
"The Toys 'R' Us experience you know and love is coming back to Macy's ... and sooner than you think! Some locations are opening this month, but by mid-October, every Macy's in the U.S. will have its own Toys 'R' Us ... just in time for the holidays!‌"
Both Macy's and Toys 'R' Us announced the partnership on Monday, July 18. In terms of the shops' size, they will be anywhere from 1,000 square feet to 10,000 square feet. They will have hands-on demonstration tables, as well as a Geoffrey the Giraffe with which families can take pictures.
To celebrate the comeback of Toys 'R' Us, from October 15 through 23, Macy's stores will be having nine days of in-store events. These include activities, as well as giveaways from other well-known brands, including LEGO, Barbie and more.
What Cities Will Have a Toys 'R' Us?
All cities which are flagship locations and have a Macy's store—the full list can be found below:
Lenox Square, Atlanta
State Street, Chicago
Ala Moana, Honolulu
Memorial City, Houston
South Coast Plaza, LA
Aventura, Miami
Dadeland, Miami
Herald Square, NYC
Roosevelt Field, NYC
Union Square, San Francisco
Valley Fair, San Jose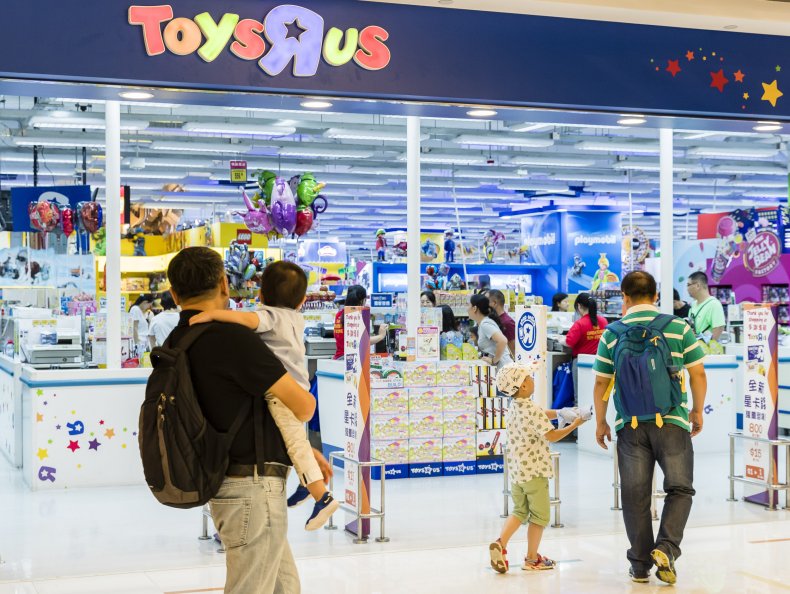 WHP Global bought the Toys 'R' Us brand in March 2021, for an undisclosed sum. "We're in the brand business, and Toys 'R' Us is the single most credible, trusted and beloved toy brand in the world," Yehuda Shmidman, chairman and chief executive officer of WHP, told CNBC in an interview last year. "We're coming off a year where toys are just on fire. And for Toys 'R' Us, the U.S. is really a blank canvas."