Some former Olympic swimmers have welcomed a decision that effectively bans transgender women from competing in women's events.
Members of FINA, swimming's world governing body, voted on Sunday to adopt a new policy—effective Monday, June 20—that bars transgender women from competing in women's events if they have experienced any part of male puberty.
Under the policy, only swimmers who transitioned before the age of 12 will be permitted to compete in women's events.
Sharron Davies, a former British Olympic swimmer, praised FINA's move.
"I can't tell you how proud I am of my sport @fina & @fina_president for doing the science, asking the athletes/coaches and standing up for fair sport for females," Davies wrote on Twitter. "Swimming will always welcome everyone no matter how you identify but fairness is the cornerstone of sport."
Another British former swimmer, Karen Pickering, wrote: "I was at the FINA congress for the presentation, discussion and vote and I can vouch for the care and empathy displayed for any athletes who won't now be able to compete in the category their gender ID may align to."
In another tweet, Pickering said there was "much care and thought" for transgender athletes who may not be able to compete in events but "competitive fairness to womens category must be protected."
Former Olympic decathlete Caitlyn Jenner, a transgender woman, also praised the new policy.
"It worked! I took a lot of heat - but what's fair is fair! If you go through male puberty you should not be able to take medals away from females. Period," Jenner tweeted.
But civil rights groups have condemned the new policy, saying it will worsen the discrimination that transgender athletes already face.
"This sudden and discriminatory decision is a blatant attack on transgender athletes who have worked to comply with longstanding policies that have allowed them to participate for years without issue," said Joni Madison, the interim president of LGBTQ+ advocacy group Human Rights Campaign.
"This policy is an example of swimming organizations caving to the avalanche of ill-informed, prejudiced attacks targeted at one particular transgender swimmer. We urge FINA to rethink its policy and ensure inclusion for all athletes— including transgender women—and allow them to participate in sports free from discrimination, abuse and harassment."
FINA said it will work to establish an "open" category as part of its new policy.
"We have to protect the rights of our athletes to compete, but we also have to protect competitive fairness at our events, especially the women's category at FINA competitions," FINA President Husain Al-Musallam said, according to Reuters.
"FINA will always welcome every athlete. The creation of an open category will mean that everybody has the opportunity to compete at an elite level. This has not been done before, so FINA will need to lead the way. I want all athletes to feel included in being able to develop ideas during this process."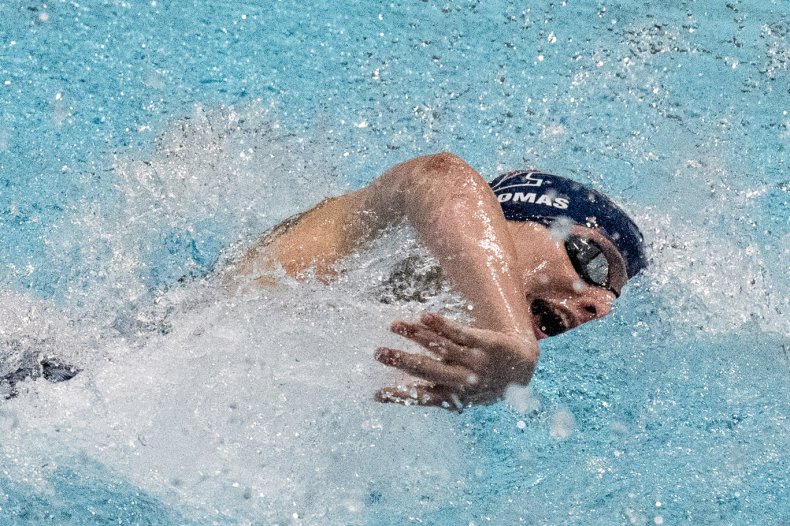 The new policy comes after the debate about the fairness of transgender athletes competing in women's events intensified after University of Pennsylvania swimmer Lia Thomas made history earlier this year as the first transgender NCAA champion in Division I history following her win in the women's 500-yard freestyle.
Thomas expressed her desire to become an Olympic swimmer in an appearance on Good Morning America last month, and hit back at those who say she has an unfair biological advantage.
Following Sunday's vote, Thomas won't be permitted to compete in the women's category at the Olympics.
Newsweek reached out to Thomas for comment though the University of Pennsylvania.
Uncommon Knowledge
Newsweek is committed to challenging conventional wisdom and finding connections in the search for common ground.
Newsweek is committed to challenging conventional wisdom and finding connections in the search for common ground.
About the writer
Khaleda Rahman is Newsweek's Senior News Reporter based in London, UK. Her focus is reporting on abortion rights, race, education and capital punishment. Khaleda joined Newsweek in 2019 and had previously worked at the MailOnline in London, New York and Sydney. She is a graduate of University College London. Languages: English.
You can get in touch with Khaleda by emailing k.rahman@newsweek.com