'Transracial' Influencer Oli London Says Trolls Turned Him Into a Recluse
There's almost a need to suspend one's disbelief before stepping into the world of Oli London, the "transracial" social media influencer who has spent a fortune in his quest to look like K-pop superstar Jimin.
Born British and white, London now declares—to those who will listen and those who won't—that he identifies as Asian, specifically Korean. He also identifies as non-binary, using the pronouns they/them as well as he/him.
Through a series of splashy interviews and posts over the past two years, he's checked off every stage of the social media rite of passage, from trending and going viral to fending off trolls. The last of those has been particularly tough for London, with the backlash proving so overwhelming that he took a break from social media.
Speaking with Newsweek days after celebrating his 32nd birthday, London, who has more than 670,000 followers on TikTok, revealed that he also locked himself away from the world physically.
"Last year when I actually shared my story... that was horrendous," he said. "Like, I was in Beverly Hills, I didn't leave my hotel for a week, because the abuse was really, really bad. You know, I had, like, so many DMs saying, 'We know exactly where you're staying, we're coming to shoot you.' So, it's like, very scary.
"I even had people like Wendy Williams on The Wendy Williams Show saying, like, really nasty things about me... I get people have opinions. I'm all about freedom of speech, all about them having opinions, but when you personally attack someone's looks, or the way they identify, it's very tough, you know, to feel like, oh, everybody hates you."
He went on: "The last month I've taken time out to reflect. I really haven't been posting much on Instagram, Twitter or TikTok. I've just been, you know, feeling a bit sad, especially when my TikTok was deleted [temporarily in December]. I just thought, you know, should I just be a recluse and just not leave my house and just not do anything and don't post online?"
The 'Britney Moment'
London was so distraught that he said he "almost had a Britney moment; I went into a hair salon and started shaving my hair off." He stopped himself, but "I did actually shave half my hair off because I was like, I don't want people to recognize me anymore because I can't deal with the hate."
He does have supporters, though. These include many Koreans, who have urged him not to "listen to the hate, keep doing you."
"I do identify as transracial, I do feel like I am Korean," London insisted. "What's the difference of me identifying that way from someone that is transgender, or someone that identifies as, you know, whatever gender, gender neutral? I respect all of that. I think we should all be allowed to be whoever we want...
"I support the trans community fully, but I feel like I've had a lot of attacks from that community. Which is ironic, because, you know, they would also be used to being attacked and hated on."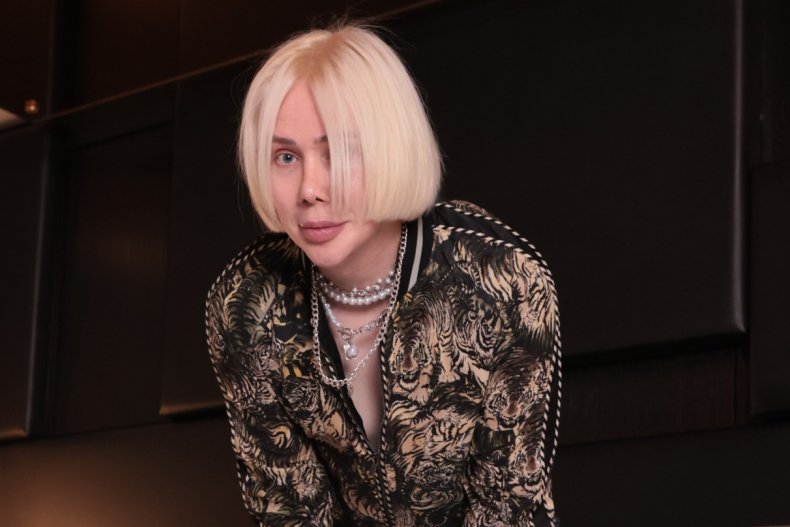 His support for the trans community does not extend to sports, however. Days after his interview with Newsweek, London tweeted that he thought it was "unfair" for trans women to compete as women.
"It's simply unfair that someone who has a biological advantage can compete alongside women because it makes the sport unequal. Their [sic] must be a better way to make sport fair," he wrote.
Scrolling through London's social media, it's difficult to decipher if he's orchestrating an elaborate prank. In conversation, however, he comes across as a man who desperately wants to be loved and to belong.
At the root of his desire to belong to the Korean community, London said, is a wish to recapture the "happiest" time of his life, when he worked in South Korea as an English language teacher.
After returning to the U.K., that craving prompted him to turn to cosmetic surgery.
$250,000 on Cosmetic Surgery
So far, London estimates that he has spent around $250,000 on 20 cosmetic procedures over eight years. That list includes eye surgery, a forehead lift, liposuction, six operations on his jawbone, five surgeries on his nose tip and having his nipples "done twice." Then there's the regular Botox and fillers.
He also has skin whitening injections every quarter. "It evens out the skin and improves the pigmentation," he said. "I do also use daily whitening cream and whitening SPF for some protection.
"In Korea, having the white skin is considered a sign of perfection or beauty. And Koreans go to great, great lengths to maintain that skin. You know, they don't go in the sea and stuff. They avoid the sun. I do go to great lengths—I also avoid the sun.
"I would like my skin to be, like, super, super, like Snow White, like Korean people. I get upset that some people think it's racist. I'm not racist."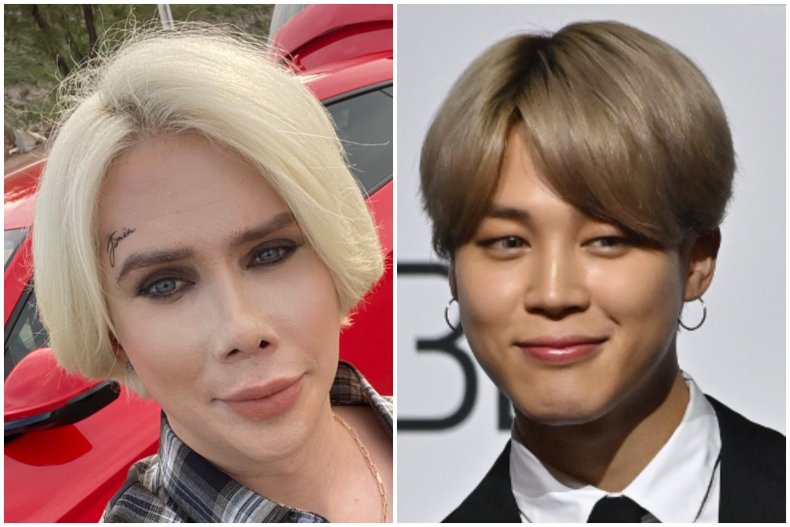 Each session under the knife presents fresh complications, however.
"Because I've had so many surgeries, the more you have, the more expensive it becomes," London said. "Because every time you have to fix your nose, it's a lot more complicated. My nose was so, so bad."
After being rejected by a number of surgeons for his latest nose job, he flew to Texas for the procedure. He is happy with the "cute" results, though not the side-effects.
"I still have scar tissue from previous surgeries," he said. "I have scars around my eyes. I have scars on my chin. In my hairline, I've got these scars, so I'm like Scarface at the moment. You know, once I heal up, I'm going to get them all lasered with my nose... If you see me up close, I do have a lot of scars."
More Surgery in the Pipeline
That should be the end of all the surgery, though? Not exactly. "I've actually booked to have a full face and neck lift in Turkey next month... I want my face to be tighter," he said.
"I also want to make my face smaller and cuter. And also to make my jawline sharper. I had the surgery in Korea with the jawline and the chin. But I feel like I've got a double chin. I feel like my chin surgery I had in Korea has gone—not necessarily gone wrong,—but my chin has gone very droopy. I look like I've got a double or triple chin, so I hate taking selfies.
"I just want everything pulled up. It will look more Korean. It'll pull my eyes up even more so I look more Asian. I just think it will look more cute."
This year, London is also planning to undergo an extremely intimate procedure. "I don't want people to get offended by this, but in Korea, [the average] penis is like 3.5 inches, and I get trolled all the time. People say, 'Oh, you can't be Korean. You're not 100 percent Korean,' and I just want to be 100 percent Korean.
"I would even have a penis reduction so I'm, like, the Korean average. That's how far I'm willing to go."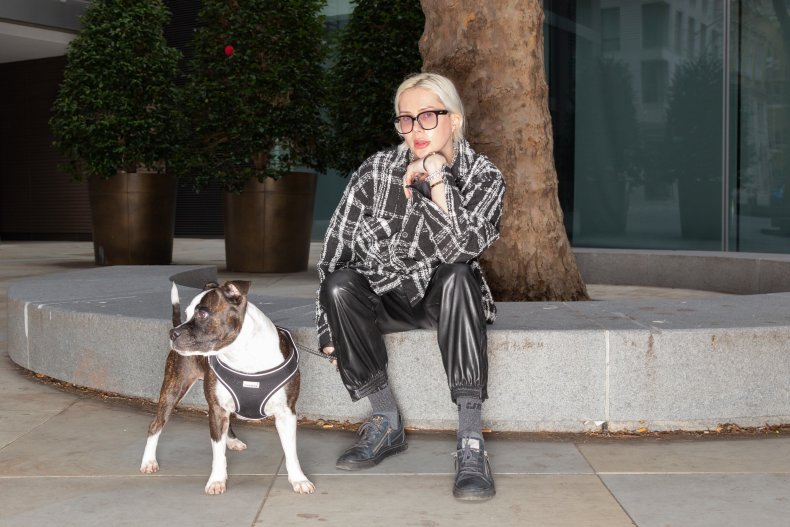 He has done his research, he explained. "I can have it done in Thailand, and it will cost between $6,000 and $8,000. Thailand's cheaper. And to be honest, they do specialize in those kind of things in Thailand, because they have a lot of sex changes and stuff.
"It's very rare, because most people will get a penis enlargement. I know it does sound weird. I just want to be 100 percent Korean. My entire face will be Korean, I've done my chest. Like, what can I do next? I don't know.
"Like, my hands are too big... [It] just makes me feel closer to the country. I'm actually booked in for February 22. Then I'll be happy [with my looks]. The thing is, when I do surgery, I'm happy for like two months, and then I want more."
Does the idea of the procedure make him nervous? "No, never, never never. I don't get nervous about anything. Like, if it goes wrong, I'll just go get another surgery."
All the surgeries are financed by his social media posts. The aspiring K-pop star says he has been paid as much as $5,000 for a single TikTok post, not including the bonuses that can flood in if his videos do well. He also has a following on YouTube, where his single "Christmas in Korea" pulled in 3.2 million views.
Learning the Language
If feeling closer to the culture is the goal, why not, say, funnel his cash into becoming fluent in Korean?
"I do [lessons] every week," said London. "I have a Korean teacher in London. And then I use all of the Korean apps on the phone. I watch a lot of Korean dramas … I listen to them and I look at the subtitles. That's kind of my way of learning. Same with music videos as well.
"But my problem is I have the worst memory in the world. Even if I read a book, I will not remember the page I just read. That's my issue with language. So, I'm better off learning in the real world, being around Korean people, watching music videos or things like that. Whereas if I sit down with a book, I just don't absorb anything."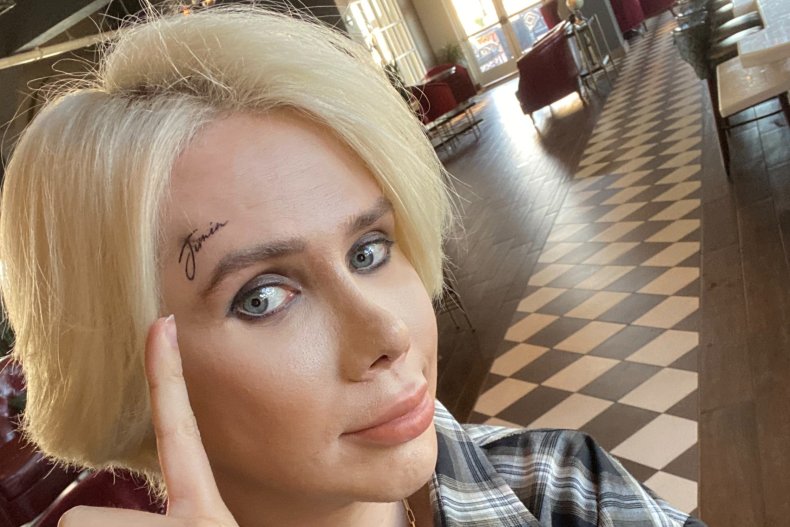 'Everybody thinks I'm crazy'
London often professes his romantic feelings for Jimin, the BTS sensation he is modelling his look on. He has not met his idol, though, so how's his love life?
London admitted that he finds it difficult to to have romantic relationships, because "everybody thinks I'm crazy." He had recently split from a boyfriend and signed up to Tinder. When he spoke with Newsweek, however, he said he had been "permanently banned" from the dating app for reasons he had yet to decipher.
"Everything's a nightmare," he said. "It's very hard to date someone because most people just want money. Yeah, they're not actually, for me. They just want money or they want a bit of fame or they want attention."
London's busy schedule of surgeries has also proved detrimental to his social life, with the 32-year-old sharing that his circle has shrunk over time to "only five or six friends."
"It's really tough. You know, imagine all your friends abandoning you. But it doesn't stop me. You know, I'm on a mission. I want to do what I want to do. It makes me happy."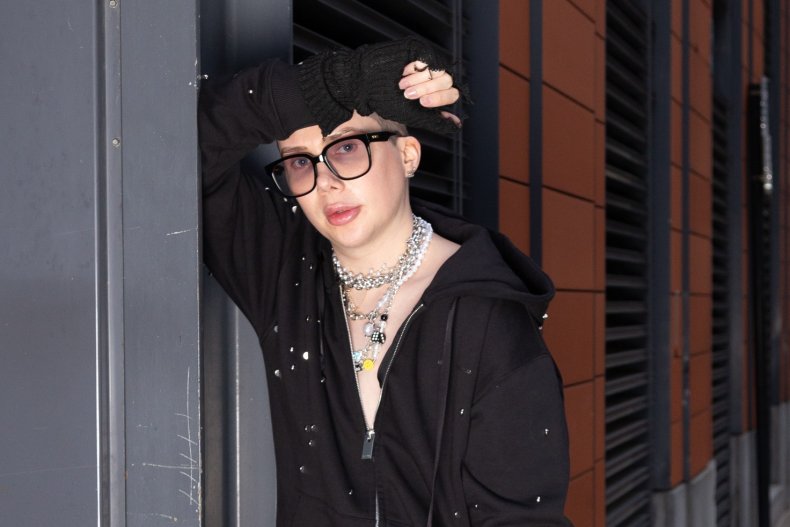 A Mother's Concerns
London is estranged from his father, but his decisions are also straining his relationship with his mother. She "goes crazy" each time he goes under the knife, he said. "Every time I have surgery I have to promise her I'm not having any more. She can't look at me."
So, is it worth all the loss and heartache? For London, the answer is still yes, as he imagines one day living his dream life in Korea.
In 10 years' time, he would like to be "probably in Gangnam. And have a beautiful house, happily married to Jimin with two kids, lots of Chihuahuas, a lot of rescue animals. And I also would love to have an animal rescue shelter for Chihuahuas, my favorite dogs…
"And just being a very successful singer. Being a TV presenter in Korea, as well as being fluent in Korean. I'd also love to spend more time in Beverly Hills, but for me Korea just makes me happy. So in 10 years time, if I can't have Jimin I need to find someone that looks like him or another K-pop star."