Travelling to North Korea? Don't Forget To Draft a Will and Make Funeral Arrangements
Travel to North Korea is so dangerous that U.S. citizens should consider making a will and planning their funerals before they leave, the State Department has warned.
U.S. citizens have been banned from visiting North Korea since September 1 after the death of American tourist Otto Warmbier, who suffered brain damage while in detention in the country and later died.
There are exceptions for those carrying out humanitarian aid, diplomatic work or journalism, but the State Department has warned that those traveling to the country should draft a will, designate appropriate insurance beneficiaries and/or power of attorney" and "discuss a plan with loved ones regarding care/custody of children, pets, property, belongings, non-liquid assets, funeral wishes, etc."
It also recommends enrolling in the Smart Traveler Enrollment Program (STEP) to receive alerts and "make it easier to locate you in an emergency," and consulting Department of State social media pages.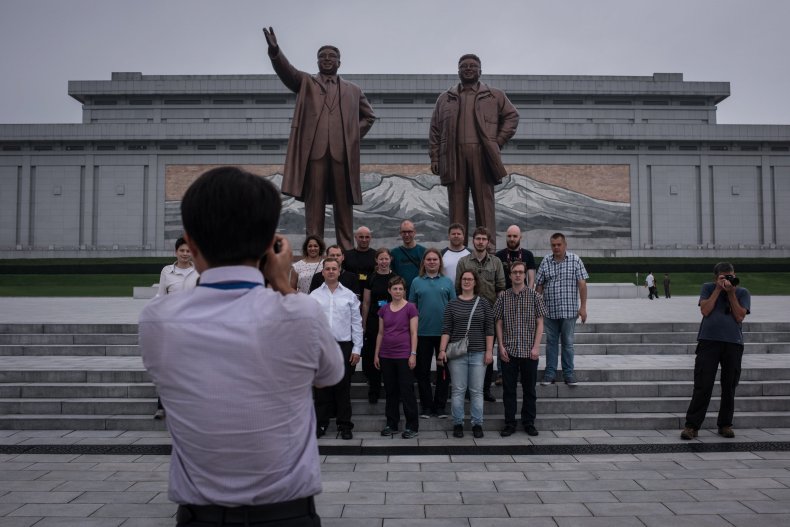 The State Department has mapped the whole world according to four main levels of danger, rather than issuing warnings for specific countries as needed. And North Korea isn't the only country where Americans citizens could face mortal threats, it says.
"While we will issue an overall Travel Advisory level for every country, levels of advice may vary for specific locations or areas within a country. For instance, we may advise U.S. citizens to 'Exercise Increased Caution' (Level 2) in a country, but to 'Reconsider Travel' (Level 3) to a particular area within the country," the State Department said in a statement.
The highest level of danger is in place for 10 other countries where the political situation is too unstable to guarantee the safety of American citizens, and even parts of Mexico rife with drug-related crime.
These are: Afghanistan, Central African Republic (CAR), Iran, Iraq, Libya, Mali, Somalia, South Sudan, Syria and Yemen. Only in Iran and North Korea's case the arrest and detention of U.S. citizens is cited as a reasons, whereas for the other country the high-risk status derives from dangers such as terrorism, crime, civil unrest and conflict.