A grand jury has indicted three men connected to the February 23, 2020 slaying of 25-year-old jogger Ahmaud Arbery in Georgia. The three men are Travis McMichael, 35; his father, Gregory McMichael, 65; and William "Roddie" Bryan, 51. Bryan partially filmed Arbery's killing.
Each man was charged with one count of interference with rights and one count of attempted kidnapping. Travis and Gregory McMichael were also charged with using, carrying, and brandishing a firearm. Travis McMichael was charged with discharging a firearm, a Remington shotgun, according to a statement by the Department of Justice.
The indictment alleged that while Arbery jogged on a public street in the Satilla Shores neighborhood of Brunswick, Georgia, Travis and Gregory McMichael armed themselves with firearms. The McMichaels then allegedly chased Arbery through the public streets in their truck while yelling at him.
The McMichaels then used their truck to cut off Arbery's route and threaten him with their guns, the indictment alleged. It further alleged that Bryan also used his own truck to cut off the jogger's route too.
Because the three men did this in response to Arbery's race, the indictment said, all three have been charged with a hate crime.
"We are deeply disappointed that the Justice Department bought the false narrative that the media and state prosecutors have promulgated," the McMichaels' attorneys, Robert G. Rubin, told Newsweek. "There is absolutely nothing in the indictment that identifies how this is a federal hate crime and it ignores without apology that Georgia law allows a citizen to detain a person who was committing burglaries until police arrive."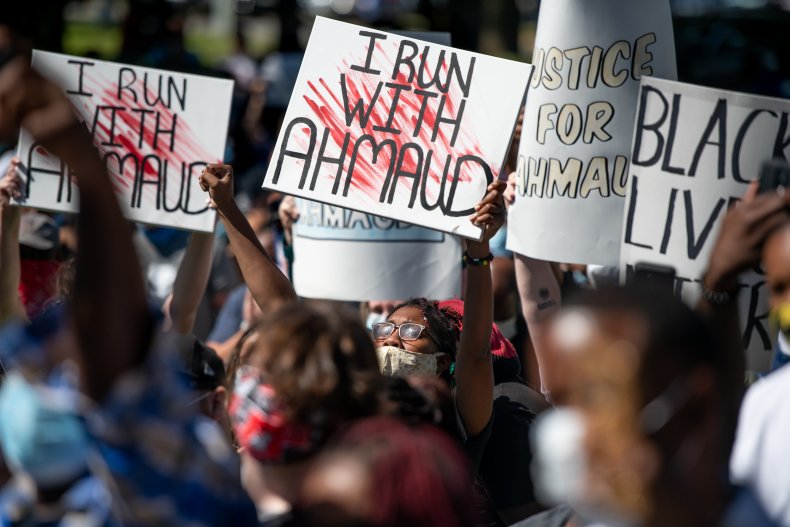 Additionally, all three men have been charged in a separate criminal proceeding happening in the state of Georgia. There, they face counts of malice murder, felony murder, aggravated assault, false imprisonment and a criminal attempt to commit a felony. The date for the Georgia trial hasn't yet been set.
Gregory McMichael and his son suspected Arbery of being involved in a string of local burglaries. Though the father claimed that Arbery attacked them, Bryan's video shows that Arbery only attacked after Travis McMichael brandished a firearm at him.
Waycross District Attorney George Barnhill initially found no probable cause to arrest the McMichaels. In an April 2020 memo, Barnhill wrote to Glynn police that it looked to him to be a "justifiable homicide," adding that, "At the point Arbery grabbed the shotgun, under Georgia Law, McMichael was allowed to use deadly force to protect himself."
However, Bryan's video of Arbery's shooting hit the internet on May 5, 2020 after being posted by a local radio station. Within 36 hours, the Georgia Bureau of Investigation arrested the McMichaels. Bryan was charged on May 25, 2020.
The video Arbery's death, and the subsequent release of the video showing George Floyd's murder, helped ignite last summer's international Black Lives Matter protests for racial justice.
Update (4/28/2021, 7:15 p.m.): This article has been updated to include a statement from the McMichaels' attorney, Robert G. Rubin.