Travis Tritt Blocks a Host of Celebrities Who Say They Don't Know Who He Is
Country musician Travis Tritt has made himself a trending topic on Twitter after blocking a host of celebrities and high-profile figures.
And while the singer can now enjoy a timeline without those voices entering his discussions, many of the owners of the blocked accounts claimed they had never even heard of him before he made his bold social media move.
The discussion appeared to reach its height on Wednesday, when Twitter account PatriotTakes posted a poll that asked: "Have you been blocked by Travis Tritt?" Of the 8,074 respondents, 8.8 percent said that they had been blocked by Tritt.
Comedian Kathy Griffin shared a screenshot of a Twitter notification that she was blocked, as she quipped: "I now belong to something so much bigger than myself."
Responding to her post, activist and TV personality Marc Lamont Hill wrote: "Honored to be part of this distinguished group. Also, I had no idea who this person was until now."
That sentiment was echoed by Mrs. Doubtfire screenwriter Randi Mayem Singer, who said: "I've never tweeted about or to this person. I have no idea who he is or what songs he's sung. I feel like I belong."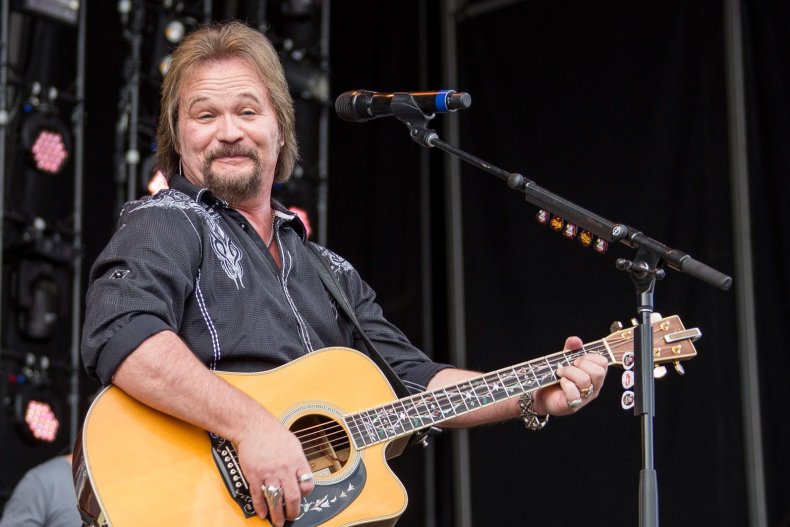 While he didn't declare whether he was a part of the blocked club, actor George Hahn stated: "I was today years old when I learned there is a singer named Travis Tritt."
National security analyst Clint Watts also shared a screenshot of his blocked notification, as he wrote: "Feeling more confident I'm on the right side of history."
He added: "strange thing is believe I once shook hands with Travis Tritt at a military base or something and I thought that went fine."
Noting that he was well ahead of the latest curve, author John Pavlovitz tweeted: "I was blocked by Travis Tritt before it was cool."
In 2020, "The Whiskey Ain't Workin'" singer Tritt revealed that he supported actor James Woods' social media tactic of employing sweeping blocks of Twitter accounts that expressed a left-leaning political stance.
"Reminder: block any twenty accounts a day that have the hashtag 'resist' in their profile," Woods, a conservative actor, tweeted in September 2020. "It slows them down and offsets Twitter's shadow-banning of conservative accounts."
Fellow Republican Tritt then wrote: "Per my friend @RealJamesWoods, type #resist in your Twitter search bar. Block at least twenty of these accounts per day. We will soon make them as irrelevant as they have tried to make the rest of us."
The musician and actor's 2020 blocking spree prompted a similar response, with Better Call Saul star Michael McKean tweeting at the time: "Travis Tritt has blocked me and this is only the second time I've thought about him."
Grammy winner Tritt hit headlines on Monday, when he announced plans to cancel his upcoming shows that are scheduled to take place at venues requiring attendees to wear masks, show proof of COVID-19 vaccination or a negative test result.
He said in a statement posted on his website: "I'm putting my money where my mouth is and announcing that any venue or promoter mandating masks, requiring vaccinations, or pushing COVID testing protocols on my fans will not be tolerated.
"Any show I have booked that discriminates against concert-goers by requiring proof of vaccination, a COVID test, or a mask is being canceled immediately.
"Many people are taking a firm stand against these mandates around the country, and I wholeheartedly support that cause. I have been extremely vocal against mandates since the beginning.
"This is a sacrifice that I'm willing to make to stand up for the freedoms that generations of Americans have enjoyed for their entire lifetimes."