Trevor Noah Responds to Kanye West's Racial Slur Post: 'It Breaks My Heart'
Trevor Noah issued a response to Kanye West on Wednesday, after the rapper directed an Instagram post at him that contained a racial slur.
Musician and designer West, 44, took aim at Noah, 38, after The Daily Show host accused him of "harassing" his ex-wife Kim Kardashian—who is now in a relationship with Saturday Night Live star Pete Davidson.
West, who has legally changed his name to Ye, rewrote the lyrics to the African American spiritual "Kumbaya" to include a racial slur used against Black people, as he repeated the line: "K*** baya my lord."
Before the post was deleted, Noah added a lengthy comment, in which he told father of four West that it "breaks my heart to see you like this."
"There are few artists who have had more of an impact on me than you Ye," he wrote. "You took samples and turned them into symphonies.
"You took your pain and through the wire turned it into performance perfection. I thought differently about how I spend my money because of you, I learned to protect my child-like creativity from grown thoughts because of you, s*** I still smile every time I put on my seatbelt because of you.
"You're an indelible part of my life Ye. Which is why it breaks my heart to see you like this. I don't care if you support Trump and I don't care if you roast Pete. I do however care when I see you on a path that's dangerously close to peril and pain."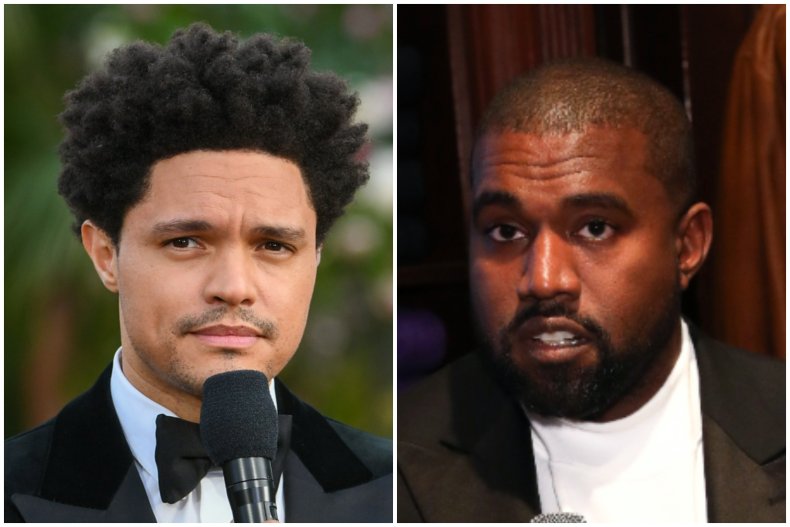 He then directly addressed West's use of the racial slur against him, telling him that such moves only serve to divide Black people.
"Clearly some people graduate but we still stupid," Noah continued. "Don't ever forget, the biggest trick racists ever played on black people was teaching us to strip each other of our blackness whenever we disagree. Tricking us into dividing ourselves up into splinters so that we would never unite into a powerful rod."
West's post led to the star getting a 24-hour ban from Instagram. A spokesperson for Instagram's parent company Meta told Newsweek that West's posts stood in violation of its policies on hate speech and bullying and harassment.
The suspension blocks West from posting, commenting or sending direct messages for one day. Further action will be taken should there be repeated violations, said the Meta spokesperson.
Newsweek has contacted a representative of West for comment.
On his show earlier this week, Noah spoke about the slew of social media posts West has directed at Kardashian, 41, and her partner Davidson, 28, as he stated that there should be concern about the rapper's actions.
"It touches on something that is more sensitive and more serious than people would like to admit," Noah said. "I see a woman who wants to live her life without being harassed by an ex-boyfriend or an ex-husband or an ex-anything."
"You may not feel sorry for Kim because she's rich and famous," he went on. "But what she's going through is terrifying to watch. And it shines a spotlight on what so many women go through when they choose to leave.
"What we're seeing here is one of the most powerful, one of the richest women in the world unable to get her ex to stop texting her, to stop chasing after her, to stop harassing her."
Last month, Kardashian, who shares four children with West, spoke out against her ex-husband's "constant attacks on me in interviews and on social media."
"Divorce is difficult enough on our children and Kanye's obsession with trying to control and manipulate our situation so negatively and publicly is only causing further pain for all," she added.
Kardashian filed for divorce from West in February 2021 after almost seven years of marriage. She was declared legally single earlier this month.