What Did Kanye West Say to Trevor Noah? Racial Slur Prompts Instagram Ban
Kanye West was suspended from Instagram for 24 hours on Wednesday after targeting TV host Trevor Noah with a post containing a racial slur.
A spokesperson for Meta, Instagram's parent company, told Newsweek that the rapper and designer's posts had violated the social media giant's policies on hate speech and bullying and harassment.
Although his page remains visible to other users, West, who has legally changed his name to Ye, will not be able to post, comment or send direct messages for one day. Repeated violations will lead to further action, said the Meta spokesperson.
Newsweek has contacted a representative of West for comment.
What Did Kanye West Say?
West, 44, took aim at Noah after The Daily Show host accused the rapper of "harassing" his ex-wife Kim Kardashian—who filed for divorce last year and is now in a relationship with comedian Pete Davidson.
In response, West shared a screenshot from a Google search result that described the TV personality as a "South African comedian."
Captioning the image, he rewrote the lyrics to the African American spiritual "Kumbaya" to include a racial slur used against Black people.
West's Instagram post, which has since been deleted, began "All in together now" and then repeated the phrase "K*** baya my lord."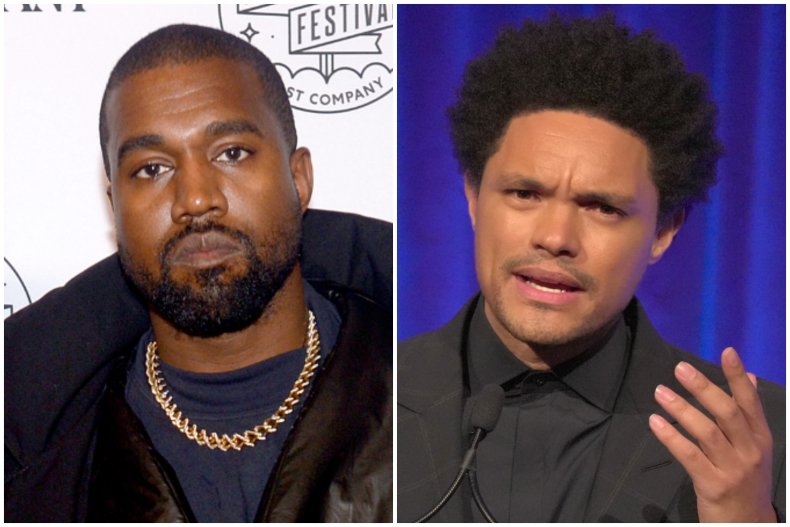 Trevor Noah Responds
Noah left a lengthy comment on West's post, writing, per Yahoo Entertainment: "There are few artists who have had more of an impact on me than you Ye. You took samples and turned them into symphonies.
"You took your pain and through the wire turned it into performance perfection. I thought differently about how I spend my money because of you, I learned to protect my child-like creativity from grown thoughts because of you, s*** I still smile every time I put on my seatbelt because of you.
"You're an indelible part of my life Ye. Which is why it breaks my heart to see you like this. I don't care if you support Trump and I don't care if you roast Pete. I do however care when I see you on a path that's dangerously close to peril and pain."
Addressing the slur, Noah added: "Clearly some people graduate but we still stupid. Don't ever forget, the biggest trick racists ever played on black people was teaching us to strip each other of our blackness whenever we disagree. Tricking us into dividing ourselves up into splinters so that we would never unite into a powerful rod."
Harassment Accusations
On his Tuesday show, Noah warned that West's war of words with Kardashian, 41, and Davidson, 28, could turn violent—speaking of his own experience with an abusive stepfather who had shot his mother in the head.
Although West's initial public comments about wanting his wife back could have been considered "romantic," Noah said, the situation became more worrying with the release of West's "Eazy" music video, which showed him kidnapping and burying a claymation representation of Davidson.
Noah said, per People: "I do understand that art can be therapy—I honestly do understand that. But I also understand that therapy can be therapy.
"What's weird about the situation is Kanye West has told us that he struggles with his mental health, so I get it. You want to have art as therapy, but here's what's weird. What Kanye doesn't understand is that what we're seeing is... it makes you uncomfortable."
Noah went on: "There's an element of a woman saying to her ex, 'Hey, please leave me alone.'
"It touches on something that is more sensitive and more serious than people would like to admit. I see a woman who wants to live her life without being harassed by an ex-boyfriend or an ex-husband or an ex-anything.
"You may not feel sorry for Kim because she's rich and famous," Noah said. "But what she's going through is terrifying to watch. And it shines a spotlight on what so many women go through when they choose to leave.
"What we're seeing here is one of the most powerful, one of the richest women in the world unable to get her ex to stop texting her, to stop chasing after her, to stop harassing her."
'Dangerous and Scary Environment'
In one of his recent Instagram posts, West accused Kardashian of keeping him away from their four children— North, 8, Saint, 6, Chicago, 4, and Psalm, 2.
Denying the allegations, Kardashian wrote on Instagram: "Please stop with this narrative, you were just here this morning picking up the kids for school."
Kardashian, who filed for divorce in February 2021 after almost seven years of marriage, was declared legally single earlier this month.
Last month, West shared screenshots of messages in which Kardashian told him that he was fostering a "dangerous and scary environment" for her and Davidson by posting Instagram messages about the Saturday Night Live star.
"Someone will hurt Pete and this will be all your fault," Kardashian wrote.
Captioning the post, West, who refers to Davidson as "Skete," wrote: "Upon my wife's request please nobody do anything physical to Skete. I'm going to handle the situation myself."
Last month, West publicly criticized Kardashian for allowing their daughter, North, to have an account on social media platform TikTok. The mother of four fired back in a statement shared on her Instagram Story, writing: "Kanye's constant attacks on me in interviews and on social media is actually more hurtful than any TikTok North might create.
"Divorce is difficult enough on our children and Kanye's obsession with trying to control and manipulate our situation so negatively and publicly is only causing further pain for all," she added.
This week, a text exchange purportedly between Davidson and West depicted the comedian telling the rapper that he was "in bed with your wife," and suggesting the two should meet privately to discuss their differences. The messages were leaked by Davidson's friend, writer Dave Sirus, who has since locked his Instagram account.