Trevor Noah has called out the unequal coverage of the war in Ukraine in comparison to how conflicts are typically reported in other regions such as Africa and the Middle East.
On Monday's episode of The Daily Show, the comedian did not hold back when he sharply criticized several reporters for their coverage of the Russian invasion in, what as some broadcasters put it, a "relatively civilized," "relatively European" country that is "not a developing, Third World nation."
The war in Ukraine has sparked a conversation over the past week about how much of the reporting on the conflict has emphasized how the predominantly white Ukrainian people are somehow more deserving of sympathy and shock rather than those in war-torn places of mostly non-white people.
"I don't know about you but I have been glued to the TV all weekend watching all the news," Noah said in his monologue.
"And beyond the war itself ... there's a really interesting thing that I learned. And that is: A lot of people on TV didn't expect a war like this to happen in, let's say, certain neighborhoods."
The host then went on to share a compilation of numerous news reports on the topic.
One clip shows Al Jazeera English anchor Peter Dobbie saying: "these are prosperous, middle-class people," while another features CBS News correspondent Charlie D'Agata saying that Ukraine is not "a place—with all due respect—like Iraq or Afghanistan."
D'Agata said in the clip: "This is a relatively civilized, relatively European—I have to choose those words carefully too—city where you wouldn't expect that or hope that it's going to happen."
Another clip features a TDS reporter saying: "This is not a developing third world nation—this is Europe."
After playing the compilation, Noah slammed the pundits for their double standards.
"Wow, that was you choosing your words carefully? That was the careful version?" Noah asked incredulously. "What were you going to say if you weren't choosing your words carefully? 'I just hope the next time this happens, it happens back in the Middle East where it belongs.'"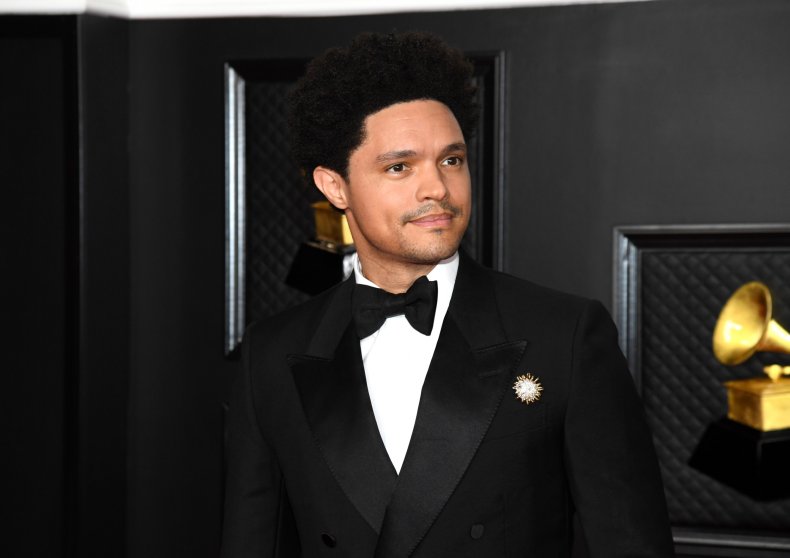 Noah continued: "Let's forget the racism—oh, how I wish we could forget about the racism. You do realize that, until very recently, fighting crazy wars was Europe's thing? That was Europe's entire thing. That's all of European history.
"Now people are going to be like, 'Ugh, to see this in Europe!' To see this, I don't know about you, but I was shocked to see how many reporters—around the world, by the way—seem to think that it's more of a tragedy when white people have to flee their countries. Because, I guess, what? The 'darkies' were built for it?"
Noah's criticism comes as Vladimir Putin is losing support from a number of his celebrity friends—like Steven Seagal and Gerard Depardieu—as Russia's invasion of Ukraine enters its seventh day.