Trevor Reed Slams Marjorie Taylor Greene for Delaying Russia Jail Release
Trevor Reed, the former marine who has just been freed from a Russian penal colony, has condemned U.S lawmakers including Georgia Representative Marjorie Taylor Greene for delaying a push for his release from captivity last year.
Reed spent nearly 1,000 days behind bars after he was convicted of assaulting police officers in Moscow, which he has denied.
Reed told CNN on Sunday it was "unacceptable" that some lawmakers such as Greene had stalled House Resolution 186 which had called for his "immediate release" and said he had been "unjustly found guilty" by a Russian court.
In March 2021, in protest of President Joe Biden's COVID-19 stimulus package, Greene and some members of the House Freedom Caucus asked for a roll call vote on a series of suspension bills. The move delayed a number of votes, including on Reed's case.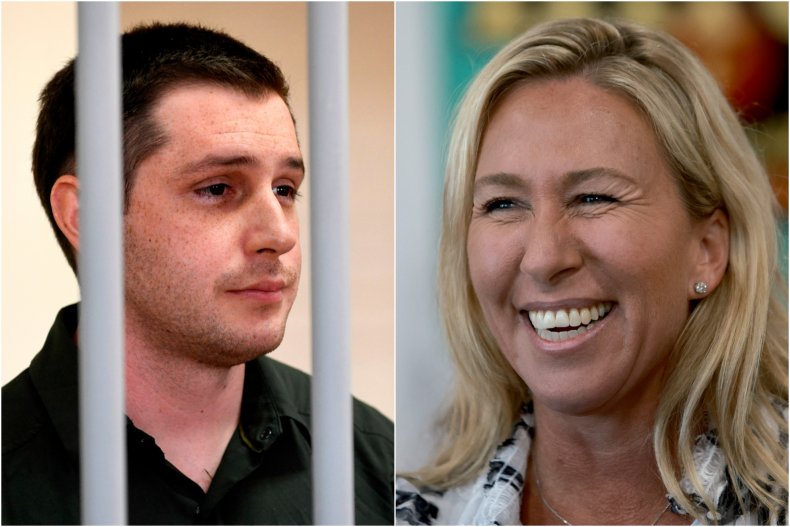 During the sit-down interview with Reed's family on CNN, the former marine's father, Joey Reed, expressed anger at the move, saying Greene was "not our representative" and added that the lawmakers who sided with her "voted for Putin."
Trevor Reed then weighed in, saying, "How do you justify that? That's embarrassing to me that anyone who represents the United States would vote against something... like that," Reed told CNN's Jake Tapper.
"I'm sure that the Russians love that. I'm sure that, you know, they're all big fans of all of those congressmen who did that. I better not ever see that happen again to any other Americans," Reed said, vowing to be at "every single campaign that that person runs for the rest of their life to tell everyone that they did that."
Newsweek reached out to Greene's office for comment.
Reed said that he would also contact every lawmaker who voted for the delay "and thank them personally about that...for voting against a bill that was only about getting American political prisoners out of Russia."
Reed said he was now focused on lobbying for the release of other Americans being held in Russia, such as fellow ex-marine Paul Whelan, and basketball star Brittney Griner.
Reed, 30, from Hood County, Texas, was detained in Moscow on August 15, 2019, over allegations that he assaulted Russian police officers.
After being handed a nine-year sentence in July 2020, his family feared for his life at the notorious penal colony in the Kostroma region, around 200 miles east of Moscow. He contracted tuberculosis for which said he received inadequate medical treatment.
The war in Ukraine and the subsequent collapse in diplomatic relations between Moscow and Washington added to his parents' concerns that they might never see him again. He was released on April 27 as part of a prisoner exchange for Konstantin Yaroshenko, a Russian pilot sentenced for drug smuggling.
In a segment of the CNN interview released earlier, Reed described the harrowing conditions of his jail where he lost 45 pounds. "There was blood all over the wall there where prisoners had killed themselves or killed other prisoners," he said.