Teens Shoot One Another While Wearing Body Armor, Killing 1: Police
Two Florida teenagers were arrested Thursday in connection with a fatal shooting of a 16-year-old after they were taking turns firing at each other while wearing a form of body armor, police said.
Police arrested Joshua Vining, 17, on the charges of aggravated manslaughter of a child with a firearm after he allegedly shot Christopher Leroy Broad Jr., 16, while he was wearing a protective vest. Colton Whitler, 17, was arrested on charges of providing false information to law enforcement. Both of the teenagers are being charged as an adult, according to the Belleview Police Department.
Police responded to a call regarding a shooting around 7 p.m. on Sunday, April 3. Upon arrival, they found Broad had been shot inside the home before he was transported to a local hospital where he later died from his injuries, according to police.
During the investigation, police learned that Broad and Vining had been taking turns shooting at each other while wearing the body armor. In a video taken by another individual, who was at the scene, Broad is allegedly seen firing once at Vining, who was wearing a vest, WKMG reported.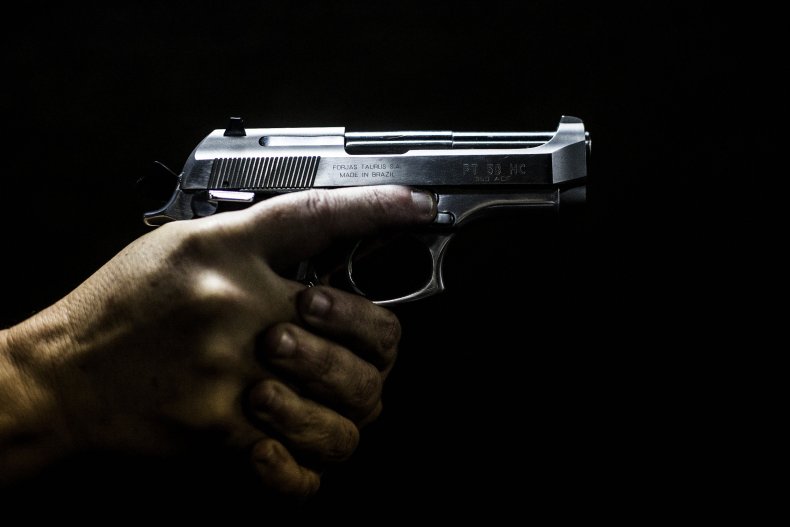 The two then switched positions when Vining shot Broad once in the vest, who nodded. Right after, Vining proceeded to shoot him four more times. Whitler then called 911 and told dispatchers that his "house just got shot up" and that his friend "got shot in the chest," adding that he didn't know how many people were involved, according to the arrest affidavit, WKMG reported.
Police initially interviewed Whitler as a witness to the shooting, but he allegedly misled officials with inaccurate information about how the event unfolded. WKMG reported that he told police it was the individual, who recorded the video, that shot Broad instead.
According to the police, the cellphone footage has been turned over to the authorities as evidence, which allegedly shows that five people were at the residence when the shooting took place, WKMG reported.
Newsweek reached out to the Belleview Police Department for further comment.
Sunday's shooting is one of many incidents that have resulted in the death of a minor this year. Since the beginning of 2022, 214 minors have been killed by gunfire and another 996 have been injured, according to the Gun Violence Archive.
Other recent shootings involving minors have received national attention, including a 17-year-old who turned himself in to Kentucky police for his alleged involvement in a shooting that left three children and one adult injured. Kentucky police are also investigating the death of a 26-year-old man after a child shot him with a handgun on Monday night.
Last week, a child was fatally shot at a South Carolina middle school by someone he knew. Police arrested a 12-year-old boy in connection to the shooting, but police don't know the motive.
Update 4/7/22, 3:54 p.m. ET: This article was updated with additional information.