Triple H Talks NXT Takeover: Toronto, the 2019 Mae Young Tournament and More
After the success of NXT Takeover 25, the WWE's third brand returns for another one of its highly anticipated shows.
This time, NXT returns to Toronto - the location of one of their most famous events - to showcase some of the best wrestling around in six scheduled matches.
"It's a stacked card that I'm very excited about," Paul "Triple H" Levesque, WWE Executive Vice President of Talent, Live Events and Creative, told reporters on a conference call. "NXT's roster is as thick and as deep as it's ever been."
Levesque fielded a wide range of questions from the media regarding NXT Takeover: Toronto, the Performance Center and more. Here are the highlights.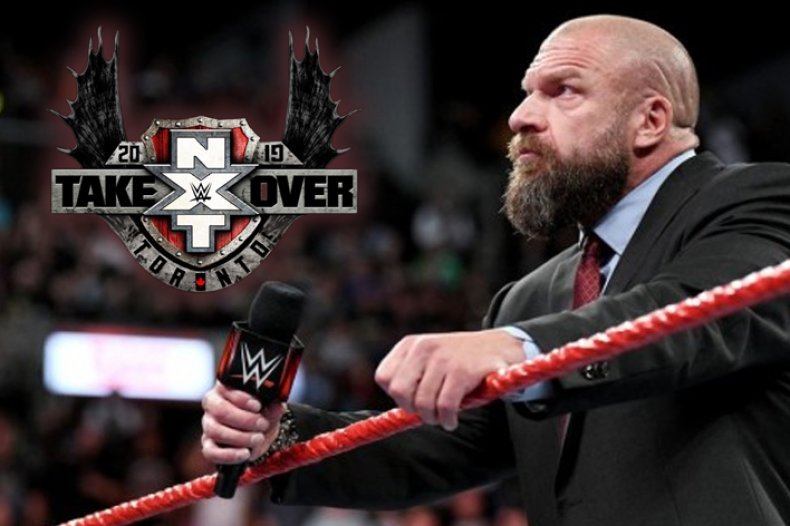 On whether he was in consideration for the Executive Director roles given to Paul Heyman and Eric Bischoff.
"You have to understand the way it's laid out. The scope of what you're doing is specific to those shows. Due to my schedule and other commitments I can't be at every single SmackDown or RAW. The scope of the things that I do is way beyond that with live events and creative. In creative it's more than the main roster, it's billboards and the things you don't see and appear along with [dealing with] talent. As our company begins to grow, and as we expand over global localization, there are just so many hours in a day.....
I already see the positive and the changes. As the company gets bigger and continues to grow it all comes down to organizational process. And to have someone spearheading that process is good and smart. And I'm thrilled it's those guys. I'm excited to work with both of them. This is the first time i worked with Bischoff in this manner. I'm happy and already seeing positives."
On the depth of the roster and not everyone not getting on a Takeover.
"Everyone is chomping at the bit to get on everything and to be on everything. It makes those who work hard work harder to stay on it. I think a little of the magic of it is the non-over exposure ...It keeps things fresh and keeps people hungry."
On the topic of Drew McIntyre mentioning desire to go to NXT UK, and how often do main roster superstars ask to join NXT
"They see the competitive landscape out there. Drew McIntyre sees the guys [on NXT UK] and it's a playground. If you're Drew Mcintyre you want to get in on that. Same with the women. A lot of the stars on RAW and SmackDown are sitting backstage watching NXT, and those who aren't I'll get texts throughout the show that they're watching Takeover."
On which match will steal the show
"It's so hard to predict. When you have a personal story and talent like Io and Candace. The Street Profits and Kyle and Bobby. It's tough to name a Takeover [Kyle and Bobby] were on that wasn't a great match. Pete, Dream Roderick Strong, you can make the same argument. You can make an argument for any one of these."
On the four horsewomen of MMA and WWE facing off
"It's not outside of being a reality. Everyone is doing their own thing at the moment. At any time that grouping can get back on the same page. Ronda is taking a break, but she's pretty clear of her desire to come back and have something to prove.
Shayna has made a lot of progress from the Mae Young to now. Jessamyn and Marina have made strides too. When the time is right, I'd love to see it."
On someone taking over his position in NXT if he were to take over main roster
"Any company of this size, you have to have succession plans and next level of where you want to go. People get caught up in the product that's out there. There is no heir apparent. Anyone who thinks Vince is stepping away, he'll probably outlive all of us. Those succession plans change all the time. I think there's a lot of factors. But as you're looking over who takes over, it's constantly changing. Everyone in this company thinks about if things change who takes over."
Plans for this year's Mae Young
"Working on something now and hopefully we'll have some announcements on that soon. The bandwidth of things happening, just around the corner you're talking about massive shifts to FOX, RAW on USA. I've said it here before. It moves everything. When we shift to Fox, it changes everything about SmackDown as a brand. There's a lot of prep to that. So things have been pushed to later in the year in the planning process.
Gargano not wrestling live events and if he's injured
"He's fine. Without me getting into medical details. There was a lingering thing. It's one of those funny things that it's sort of nothing but can become a big issue. So we said let's just take you off of some stuff so it doesn't become something bigger."
Evolve show on WWE Network
"It's been a long time coming. Built for a long period of time. Putting on the network took a long period of time. As you can see the new roll out of the network and plans for the network going down the line, Evolve and different shows - those we have alliances with - will factor into the network in a different way.
I thought [the Evolve 10th anniversary show] was fantastic. Big deal for the young talent to step up to the next level. If you want to be a WWEsuperstar, Evolve is a place you should try to get to. Progress, ICW, WXW all cultivate talent to get to the next level and we're excited to bring the next generation of talent forward in the business. The network lets us expose them in a way we never had before.
It was an experiment planning for a long time and I thought it was a grand slam. I'm glad they put something together."
On more main NXT shows a week
"There's always planning. There's always a changing landscape. The internal discussion of where content goes is a constant. We look at this wheel of options across platforms. Whether that's Facebook, USA or Fox. Our digital presence and how you put things in that manner. Where you put content at all times is constantly up for debate. We're constantly working on it and there's plans in the short and long run. There's a lot of exciting thoughts and ideas out there but we're constantly debating."
Surviving the travels between RAW, SmackDown, NXT especially with the move to Fridays for SmackDown
"You do the best you can. You go where you need to go and create the content that needs to be created. The intent is to build these teams and have them manage and operate it in the best possible way. There are weeks that Vince isn't on a RAW or SmackDown. People make it a big deal, but he has a lot of commitments. We will create the content we can create and we will do the best we can in putting these teams together."
How do you ease talents nerves before Takeovers
"You don't. If you don't have nerves, butterflies or the feeling in the pit of your stomach that would make people panic and freeze, then you don't care. I want them to feel that and embrace it. I want them to use that to give the performance you can."
On Simone Johnson [The Rock's daughter] training at the Performance Center
"All I'll say about Simone is she shares her entire family's passion for what we do. Incredibly so. She also shares her family's incredible worth ethic. It's awesome to see, to see that next generation. She's an extremely hard worker. If she wants this, there is nothing that will stop her."
On The Rock being at the Performance Center
"Sometimes he comes in to see his daughter like a proud father. And he would go down there to give her advice. The wonderful thing about the Performance Center, whenever im there it's like the fountain of youth. The buzz and the vibe and the excitement and the energy and the passion in that place. There's all these young, hungry, driven talent. It's hard not to be inspired while you're there."
Figuring out how many matches go on Takeover
"I never want to get into a formula, even though in some manner at a certain point in time it works and you stick to it. Every show we do, as we build to it we look at the content, the ebb and flow of stories and what's the overall feel of that show. I never want to look at a show and just add a match. I want it to be the right things for each show. We do the same sort of assessment process of the shows everytime we put these shows together. We do all of it. I love the fact the Candace and Io story is hot and ready to go. I love the fact that Shayna and Mia is hot and ready to go. And I love that we can add to it without the detriment of the show.
Without making the shows longer or harder to get through, it's got to be right all the way around."
Women's War Games match?
"Anything is possible. There's nothing that I would put out right now that I'd say that would never happen. If it's the right thing I'd be willing to look at it. I'm open to any of that."
NXT Takeover: Toronto will stream live on the WWE Network Saturday, August 10 at 7 p.m. EDT.