Former Hurricane Lee could bring coastal flooding to parts of Maine as the mammoth storm continues on its path in the west Atlantic.
Now downgraded to a tropical storm, Lee was a Category 5 Hurricane at its peak during the week, calming down before approaching the U.S. coast. But the effects of the tropical storm are still expected to be felt in the northeastern U.S., despite it not making landfall in the area.
Coastal flooding is a possibility as Lee skirts the shores of Maine. The Maine Emergency Management Agency has forecast that Lee will "pass through the eastern Gulf of Maine today, with increasing confidence in strong, gusty winds along the coast and into the interior of Maine as well as coastal splash-over impacts from a building swell and some surge." The MEMA has also said that heavy rain will be confined to Downeast Maine.
The National Hurricane Center (NHC)'s excessive rainfall outlook says the risk of flash flooding ranges from 5 percent to 15 percent across the northwest of the state. Houlton, Presque Isle and Baxter State Park have a slight chance of flash floods, while Newport, Bangor and Dover-Foxcroft have a marginal chance of floods.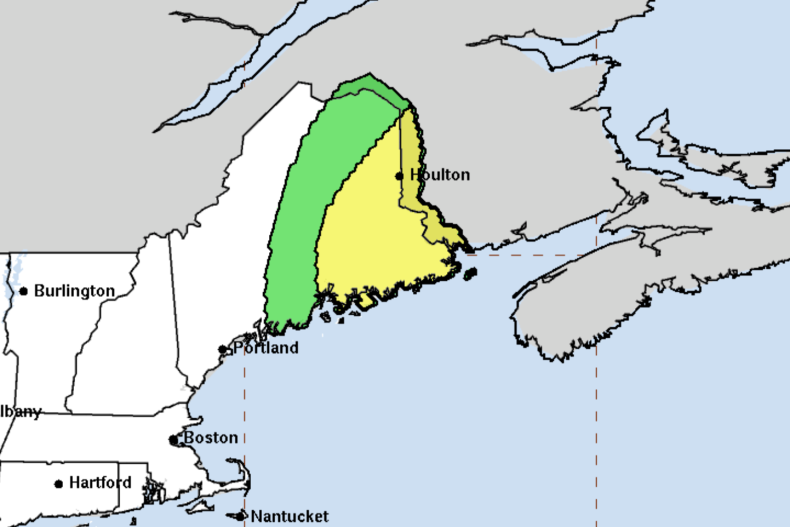 The National Weather Service (NWS) predicts heavy rain for a large portion of northwest Maine. As of Saturday morning, warnings are in place for Belfast, Portland, Skowhegan, Portsmouth, Waldo, and Bath, among others. Several inches of rain are expected to fall in these areas, along with strong winds predicted to reach speeds of 25 to 40mph and gusts of up to 60mph. The NHC has said the excessive rain "may produce localized urban and small stream flooding."
The NWS issued an urgent marine weather message at 5:53am on Saturday morning regarding coastal waters as Lee passes Maine. The service has warned "very strong winds will cause hazardous seas which could capsize or damage vessels and reduce visibility." Coastal areas including Stonington, Port Clyde, Penobscot Bay, Cape Elizabeth and the Merrimack River are all included in the warning, which reads: "Mariners should alter plans to avoid these hazardous conditions. Remain in port, seek safe harbor, alter course, and/or secure the vessel for severe conditions."
Additionally, those in coastal areas have been warned by the NHC that the "combination of storm surge and tide will cause normally dry areas near the coast to be flooded by rising waters moving inland from the shoreline."
The bad weather is expected to pass by Sunday as Lee heads north into Canada. The NHC reported: "Sunday will feature much nicer weather before low pressure brings a good chance of rain on Monday. High pressure then returns for the
middle of next week."
Yesterday, President Joe Biden declared an emergency in Maine, meaning the Department of Homeland Security and the Federal Emergency Management Agency (FEMA) were instructed to coordinate all disaster relief efforts to "save lives and to protect property and public health and safety, and to lessen or avert the threat of a catastrophe statewide," according to a White House statement seen by Newsweek.
Newsweek has contacted Maine Emergency Management Agency via email for updates on the situation.