Trudeau Defends Use of Emergencies Act, Says Another Trucker Protest Looms
Canadian Prime Minister Justin Trudeau said invoking the Emergencies Act has been "necessary" and is still needed amid threats of future blockades. The House of Commons is set to vote on the act Monday night in response to protests against Canada's COVID-19 restrictions.
"The situation is still fragile, the state of emergency is still there," Trudeau said during a press conference Monday.
Trudeau invoked the Emergencies Act for the first time in Canada's history on February 14. Police have since ended blockades that cut off billions of dollars in trade and the occupation in Ottawa's downtown core. However, Trudeau warned of truckers outside of Ottawa who may be planning future blockades and said the special powers are still needed.
"I ask all members of parliament to take action against illegal blockades and to stand up for public safety and for the freedom of Canadians," Trudeau said.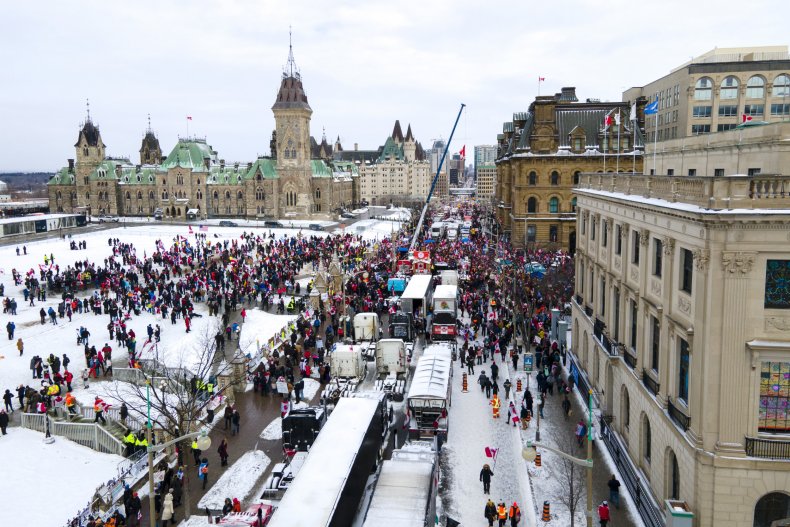 The Emergencies Act provides extra power to authorities in an effort to end ongoing demonstrations, including designating no-go zones, compelling tow truck companies to tow away vehicles and freezing truckers' bank accounts.
Trudeau said the rare move was needed following weeks of unlawful activities, protestors harassing neighborhoods, billions of dollars in stalled trade and desecration of the National War Memorial.
The blockade along the Ambassador Bridge alone impacted about $390 million in daily trade, Deputy Prime Minister Chrystia Freeland said last week.
"We didn't want to use the Emergencies Act, it's never something to turn to without serious consideration," Trudeau said. "It became clear that local and provincial authorities needed more tools to restore order and keep people safe."
Following several days of debate, Members of Parliament will vote on the act Monday at 8 p.m. ET. It is expected to pass and Opposition New Democratic Party leader Jagmeet Singh has said his party will support the act.
Meanwhile, the Ottawa City Council is set to introduce a package of support measures to assist impacted small businesses on Wednesday. The "Freedom Convoy's" occupation in downtown Ottawa has impacted small businesses for weeks.
The measures aim to "provide relief and assistance, as well as help attract customers back to downtown businesses and restaurants," Ottawa Mayor Jim Watson tweeted Monday.
The package includes funding, a targeted property tax deferral program for eligible businesses, waiving parking fees in the area and support for the Ottawa Music Industry Coalition.
Ongoing demonstrations have cost the Ottawa Police Services about $785,000 per day. Last week, Ottawa Police Chief Peter Sloly resigned amid criticism of his handling of the ongoing demonstrations.