Both as candidate and president, Donald Trump has made a lot of promises about the wall he wants to build along the U.S.-Mexico border.
"Build the wall! Build the wall!" is still chanted with passion at his rallies, a battle cry for Trump supporters and a flagship policy upon which he was elected in 2016.
Trump's 2020 re-election campaign is up and running, having already raised $129 million. And he's citing the border wall as a presidential success of his first term.
In the "promises kept" section of his campaign website, listed under "achievements," are two claims about the wall, which Trump argues is necessary for border security.
The first is this: "President Trump called on Congress to fully fund a wall along the southern border."
And the second, this: "The White House negotiated $1.6 billion in border wall funding."
But to what extent are those two claims true? And can they be considered "promises kept"?
The graphic below, provided by Statista, illustrates the progress made on construction of the southern border wall.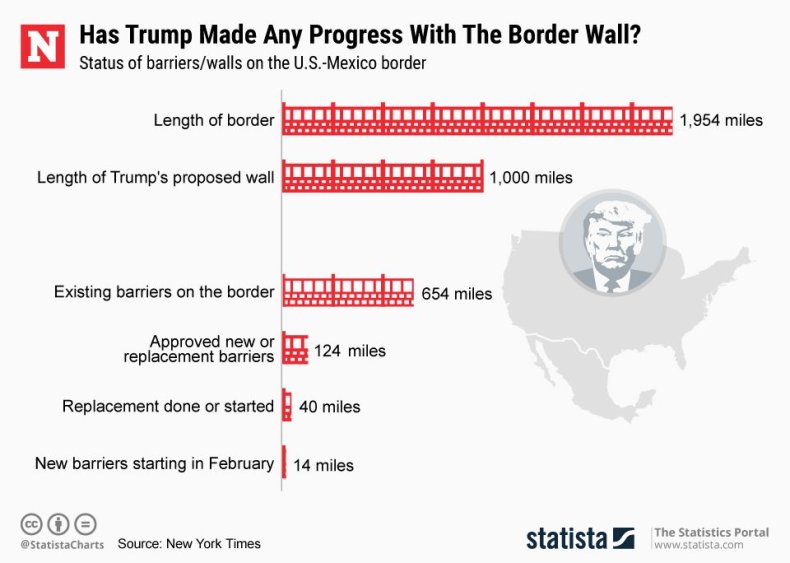 Throughout the 2016 campaign and since taking office, Trump has done more than simply pledge to call on Congress to fully fund the border wall.
He has repeatedly promised to build the wall quickly, proclaiming in 2015 that it would be "very easy."
Moreover, he said multiple times in course of his campaign that Mexico would pay for the wall.
"We will build a great wall along the southern border," Trump declared at a campaign rally on September 1, 2016, to a rapturous crowd.
"And Mexico will pay for the wall. Remember. Hundred percent. They don't know it yet, but they're gonna pay for the wall... On Day One we will begin working on an impenetrable, physical, tall, powerful, beautiful southern border wall."
Yet he is still demanding $5.7 billion from Congress—and ultimately from American taxpayers— to pay for the wall.
The president has tried to walk back his campaign pledge on Mexico financing the wall, explaining that he did not mean Mexico would pay directly for it.
Rather, he said Mexico would pay indirectly through the new trade deal, called the United States–Mexico–Canada Agreement, or USMCA, which replaced the North American Free Trade Agreement, or NAFTA.
There is a large trade deficit between the U.S. and Mexico. Put simply, America imports more from Mexico in merchandise and services than it exports to its southern neighbor.
According to a report by the Congressional Research Service, under NAFTA the trade deficit with Mexico totaled $71.4 billion in 2017.
For Trump's claim that Mexico would pay for the wall indirectly through USMCA to make any sense at all, would require a sharp—and unlikely—decline in its Mexican trade deficit.
This could be achieved only by substantially increasing America's exports to Mexico while importing less, relying instead on domestic companies for goods and services.
If it worked, and there were no negative effects on the supply chains of U.S. companies by relying on Mexican goods and services, reducing the trade deficit in this way could boost the U.S. economy, create more jobs, and generate greater Treasury revenues.
But the Congressional Research Service report said this was not predicted to happen under UMSCA, which still needs to be approved by all the parties to it, including the U.S. Congress.
"The full effects of the proposed USMCA on U.S.-Mexico trade relations would not be expected to be significant because nearly all U.S. trade with Mexico is now conducted duty and barrier free," according to the report, which was published in December.
"USMCA would maintain NAFTA's tariff and nontariff barrier eliminations... Some economists and other observers believe that it is not expected to have a measurable effect on overall U.S.-Mexico trade and investment, jobs, wages or overall economic growth, and that it would probably not have a measurable effect on the U.S. trade deficit with Mexico."
Trump tweeted on January 2: "Mexico is paying for the wall through the new USMCA trade deal. Much of the wall has already been fully renovated or built. We have done a lot of work."
Yet the tab for the wall will be picked up by American taxpayers, either through congressional approval or by Trump declaring a national emergency over the border issue and using his powers to secure the money from the military.
It is also false to claim that "much of the wall has already been fully renovated or built."
Trump has since gone even further, tweeting later in January that it would only take "two years" to finish building his wall.
The U.S.-Mexico border runs for 1,954 miles. U.S. Customs and Border Protection (CBP) said 654 miles of pedestrian and vehicle barriers were already in place.
According to The Associated Press, Trump said in 2017 that natural barriers such as mountains and rivers meant that, in reality, the wall did not need to span the whole border.
The following year, CBP Acting Deputy Commissioner Ronald Vitiello said the wall would cover about 1,000 miles in all, The Washington Times reported.
The president is correct to say that work is now underway. But the work is, according to an expert, far from complete, and will cost billions more than Trump has projected.
Ed Zarenski, a construction economics analyst with decades of experience, wrote on his website in a technical analysis that in the "best case scenario" it would cost $22 billion, and take 10,000 workers 11 years to build a 1,000-mile steel fence barrier.
CBP news releases issued since Trump took office in January 2017 have announced work on 152 miles of wall or steel fence, much of which is to replace or strengthen structures that already exist.
What's more, it has taken two years for work to begin on those 152 miles of wall. At this rate, Trump will struggle to build his wall within two terms, assuming he wins in 2020, let alone one.
Trump's White House did secure nearly $1.6 billion for the border wall in 2018, which is paying for the current work.
The Senate bill for the funding, which outlines specifically to which wall projects the money can go, was passed by a Republican-controlled Congress.
But for the next two years at least, following the November midterms, the GOP controls only the Senate.
Democrats command a majority in the House, and made clear in the recent shutdown that they would not allocate any money for a barrier wall.
Even if Trump declares a national emergency and uses the military to build the wall, he will likely face a number of legal challenges that would threaten his ability to get construction moving.
Legal challenges would come from those who experience negative consequences as a result of wall constuction, such as private landowners along the southern border whose property is seized by the federal government to make way for the wall.
They could dispute in court the foundations on which Trump made the decision to declare a national emergency.
The president claims there is a crisis at the border, justifying it as a national emergency, despite a lack of substantive evidence.
So Trump's two claims of wall success are true as far as they go.
But the wall will take longer to build and cost the American taxpayers more than he promised—if it is even finished by the time he leaves office.
What Trump has delivered is not what he promised to supporters. And he is running out of time to make good on his pledge.
The Trump 2020 campaign did not respond to Newsweek's request for comment.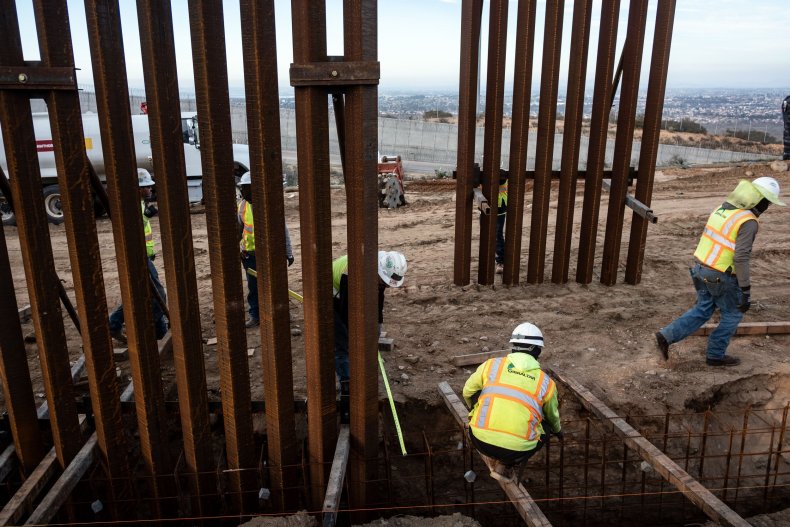 This article was updated to include an infographic.