Trump 2020 Campaign Prompts Ethics Update After Jared Kushner Already Accused of Violating Law
A guidance on a law prohibiting federal employees from engaging in political activity in their official capacity has been updated after President Donald Trump revealed the campaign manager for his 2020 re-election bid last week. The announcement included a statement from Jared Kushner, citing his official White House title, which appeared in violation of the law.
Related: Former Bush Ethics Chief Says Kellyanne Conway Should Be Fired for Being Too Political, Violating Federal Law
The U.S. Office of Special Counsel issued its new guidance on the Hatch Act on Monday, six days after the Trump campaign, in a release on its website, named Brad Parscale as the campaign manager for the president's 2020 re-election committee. That release contained a quote from Kushner, "assistant to the president"—potentially violating federal law—before the campaign revised it to "President Trump's son-in-law."
Monday's guidance "came about because President Trump has taken action to become a candidate for re-election in 2020," Jill Gerber, a spokeswoman for the office, told Newsweek. She said the office had read an outside complaint about Kushner's retracted official title and received a media inquiry but that it "isn't what prompted" the update.
The guidance states: "For example, while on duty or in the workplace, employees may not: wear, display, or distribute items with the slogan 'Make America Great Again' or any other materials from President Trump's 2016 or 2020 campaigns; use hashtags such as #MAGA or #ResistTrump in social media posts or other forums; or display non-official pictures of President Trump."
Federal employees will be made aware of the update "through agencies' regular Hatch Act training and through any media coverage of the guidance," Gerber said.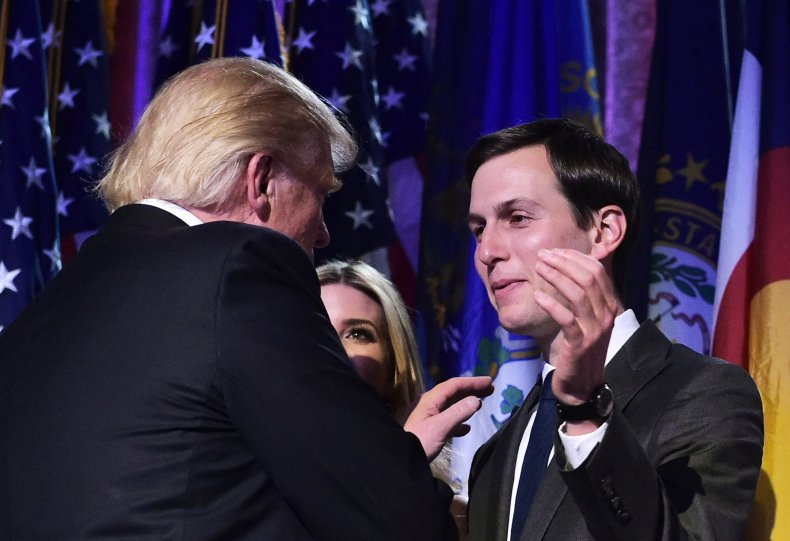 It is not unusual for the office to issue an updated guidance, Gerber added.
In April 2011, the office announced that because Barack Obama officially had become a candidate for re-election, federal employees could not display previous election pictures in the workplace, with a couple of exceptions.
"The issue then is people had photos from his first election on display in the workplace because it was a historic election," Gerber explained. "And the material that OSC put out was just reminding people that some of those photos would be problematic under the Hatch Act once the president became a candidate for re-election."