Trump 2020 Says Banners Are All Made in the U.S., Anything Else Is 'Fake News'
Despite footage showing "Keep America Great" banners being churned out of a factory in China, the re-election campaign of president Donald Trump says no such products for the 2020 campaign are being produced overseas, branding the suggestion "fake news."
Michael Glassner, the campaign's chief operating officer, this weekend denied reports that around 90,000 banners had been created for the upcoming "Trump 2020" operation since March. The large number, it had been alleged, was due to Trump's recent threats of enforcing $200 billion-worth of tariffs—widely expected to impact how China can export to the U.S. market.
"We have made it clear all along that all of our merchandise is 100% made in the USA," Glassner said in a statement on Saturday, as reported by CNN. "Any vendor who claims to have a relationship with us otherwise is lying or violating our protected trademark rights," he added. "This applies to all of the recent fake news about Made in China products for the 2020 campaign."
Earlier this week, Yao Yuanyuan, a manager at Jiahao Flag Co. Ltd, one Chinese factory creating political flags, told Reuters that 90,000 was an unusually large number of the time of year.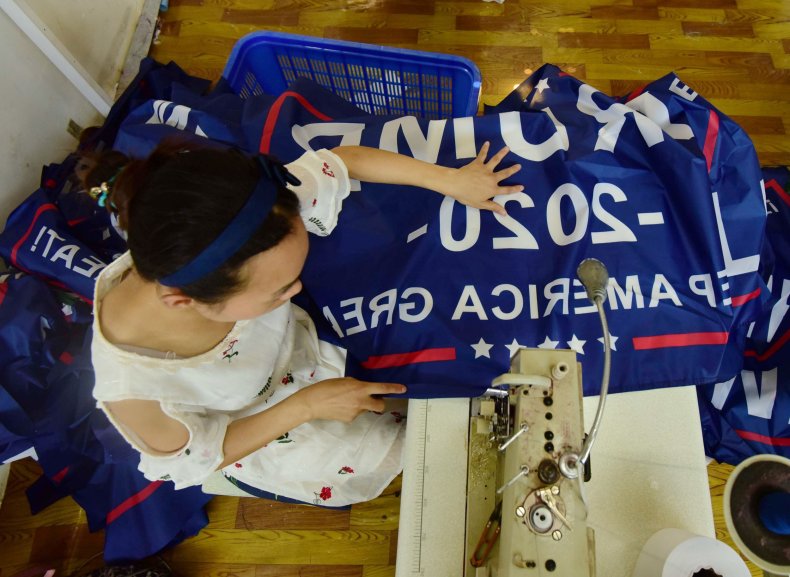 "They are preparing in advance, they are taking advantage of the fact that the tariffs haven't gone up yet, with lower prices now," she said. But the manager could not confirm if the buyers were affiliated to the official Trump 2020 campaign or the Republican Party, Reuters added.
While the facility also creates material for other clients, including U.S. states and gay pride, Jiahao Flag Co. Ltd has pumped out banners for Trump since 2015, Yao said. She warned that a U.S.-China trade war—seemingly on the cards—would be bad for business.
"If he [president Trump] continues to demand tariff increases as he has been, or if he continues to agree with those who are against China, I definitely would not be able to accept [more orders]," she said. "Everyone can have a patriotic heart, but this won't improve his economy," Yao added.
Snopes, the fact checking website, concluded that it is unclear just how close the links between Trump 2020 and the Chinese merchandise really are. A search of the Federal Election Commission for spending related to the flags or banners brought up no solid results, it noted. But it is still possible the sales are designed to pass through third party firms, the site added.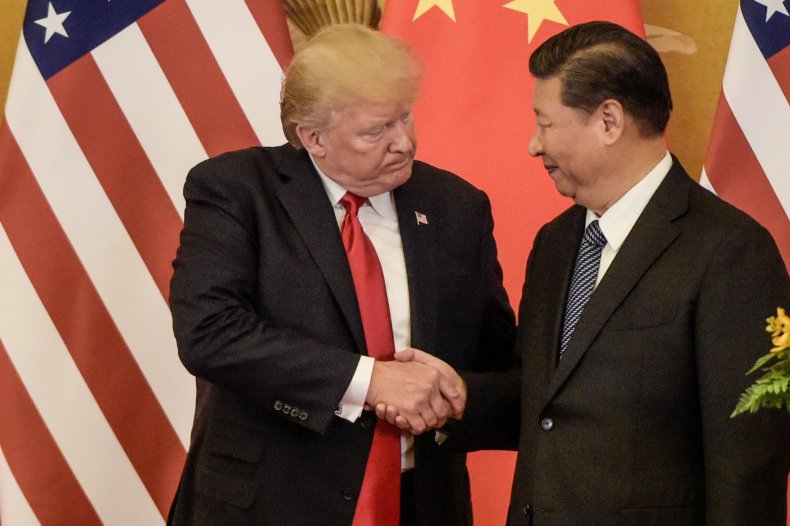 On Friday, Bernie Sanders hit out at Trump over the speculation his trademark products are being created in foreign factories, allegedly on the cheap. "Given the choice between hiring American workers at a living wage or hiring much less expensive workers from China that he can exploit, Trump opts for the low-cost overseas labor day in and day out," Sanders wrote on Facebook.
It is not the first time products associated with the president have been made in China. On Monday (July 23), it emerged that White House guests at Trump's"Made in America" product showcase were served with cutlery manufactured in China.