President Donald Trump embarked on a 46-minute speech reiterating a raft of allegations that the election was somehow stolen from him despite having failed thus far to provide evidence substantiating such claims.
According to network calls, Biden has convincingly won the election with 306 Electoral College votes. He is working on the transition and the administration is cooperating with this, despite Trump's refusal to concede.
Below Newsweek looks at key takeaways from Trump's address.
He's Not Giving Up Yet
The key point to take is that Trump, despite growing calls for him to do so, clearly is not looking to quit yet.
There have been rumors of a 2024 run, with polling having indicated he would be a frontrunner in such a bid. Reports, based on anonymous sources so far, have even suggested he could launch this on inauguration day.
No matter what rumblings there are on this: he is still going to push in 2020 for now.
"In fact, there is still plenty of time to certify the correct winner of the election and that's what we're fighting to do," he said.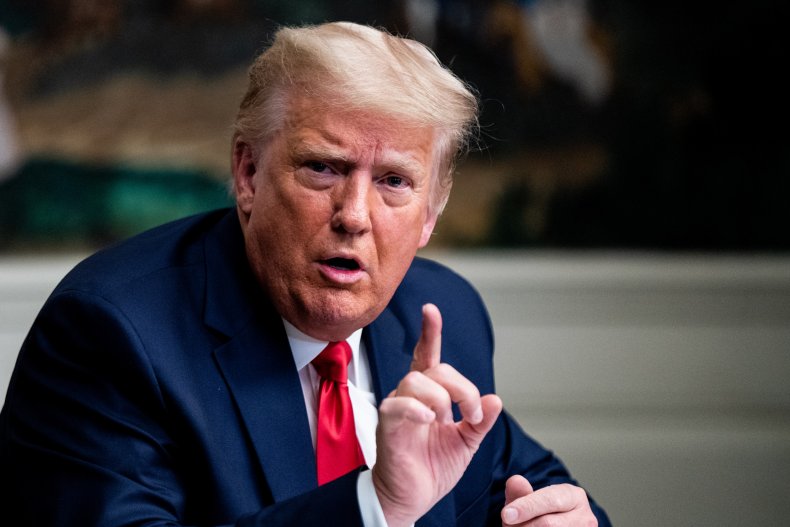 Trump largely repeated past points: claims of poll watchers being excluded, suggestions dead people had votes counted, vote dumps and software malfunctions.
Such claims have been largely disproven and the president nor his allies have been able to substantiate such allegations on a wide scale.
Vote dumping, for example, seem largely to just be based around how the votes were counted—in-person ballots first, with mail-in ballots after and taking longer. The indications were Trump would likely have stronger in-person support, then Biden higher in mail-in votes. This largely rung true, and explains why Trump seemingly looked to be doing better at first before absentee ballots were thrown into the equation.
In another indication of Trump's hesitance to admit defeat, he filed a lawsuit against the Wisconsin Elections Commission suggesting there were "unlawful and unconstitutional acts by Wisconsin public officials."
...But He'll 'Accept Any Accurate Election Result'
Trump amid his repeated claims of fraud and irregularities, in which he touched upon old ground which has been disputed or disproven, did suggest that when all everything is wrapped up to his satisfaction he will accept the result.
"Ultimately, I am prepared to accept any accurate election result, and I hope that Joe Biden is as well," he said.
This comes after similar comments in which he said should the Electoral College vote for Biden, he will leave the White House.
While the Trump campaign has pursued recounts, these so far have shown results to be accurate. Lawsuits from his team and allies have also failed to highlight fraud or irregularities which would change the outcome of the election.
Newsweek has asked the Trump campaign when the president will deem the result to be accurate.
Dominion Still Under Fire
Dominion Voting Systems remain a key target of the president's rhetoric.
He has persisted with his claims that there have been mass switches in votes, similar claims to those made by attorney Sidney Powell, who was jettisoned by the Trump campaign, from him to Biden.
Such claims have been disputed. A joint statement released by the federal Cybersecurity and Infrastructure Security Agency said that for 2020: "There is no evidence that any voting system deleted or lost votes, changed votes, or was in any way compromised."
He referenced an instance of a tabulation error in a Michigan county, which he said "nearly 6,000 votes had been wrongly switched from Trump to Biden."
However, this actually was found to be a tabulation problem the result of human error--not a fault with or of Dominion.
Newsweek has asked the Trump campaign for further comment on Dominion and the president pursuing this point.
Georgia Runoff Integrity Dispute
Trump voters have questioned why they should vote in the Georgia Senate runoff elections, repeating his rigged vote claims as reason for having lost desire to do so.
And while Trump is to travel to Georgia to support the incumbent Republicans running there, Sens. David Perdue and Kelly Loeffler, he again threw into question the integrity of the vote there.
"David Perdue and Kelly Loeffler are two tremendous people. Unfortunately, in Georgia, they're using the same horrible Dominion system, and it's already been out that hundreds of thousands, think of it, hundreds of thousands of absentee ballots have been requested. You check it out who's requesting those ballots."
However, he did downplay the impact such issues could have as it is only "one state."
"The difference is, it's one state, and we will have our eyes on it like nobody's ever watched anything before, because we have to win those two Senate seats," he said.
The Senators have tried to frame themselves as a firewall to Democrat dominance in the legislature with the potential for control in the Senate if they win both seats, due to it being split and the vice president then having the tie breaking vote.
Though for this argument to be watertight it would mean fully accepting Trump's defeat—as if you were to believe he has won you would believe he keeps the White House and then even in a tiebreaker situation, it would be Vice President Mike Pence casting the decisive vote.
Public Pollsters Criticized
Trump has continued his attack on pollsters, a frequent target throughout his time in the White House.
"It is statistically impossible that the person, me, that led the charge lost," Trump said, referencing Republican outcomes in Congressional races.
"The greatest pollsters, the real pollsters, not the ones that had us down 17 points in Wisconsin when we actually won, or the ones that had us down four or five points in Florida, and we won by many points, or had us even, and down in Texas, and we won by a lot, not those pollsters, but real pollsters," he said. He did not specify who he meant by "real pollsters."
Wisconsin has been called for Biden, despite Trump's claim of victory.
While public polling which indicated certain landslide state wins for Biden did not prove correct, and other battlegrounds such as Wisconsin were tighter than predicted, on the whole the picture painted by the pollsters bore out.
"Taken in the aggregate, pre-election polls in the United States pointed to the strong likelihood that Democrat Joe Biden would pick up several states that Hillary Clinton lost in 2016 and, in the process, win a popular and electoral vote majority over Republican President Donald Trump. That indeed came to pass," analysis from Pew Research Center states.
Analysis from FiveThirtyEight's Nate Silver said that while there were states which were "fairly far off," overall the narrative laid out by polling prior to the election came to fruition in the end.
"This year was definitely a little weird, given that the vote share margins were often fairly far off from the polls (including in some high-profile examples such as Wisconsin and Florida)," he wrote.
"But at the same time, a high percentage of states (likely 48 out of 50) were 'called' correctly, as was the overall Electoral College and popular vote winner (Biden). And that's usually how polls are judged: Did they identify the right winner?"
He also suggested the margin of error in polls nationally and for swing states was "pretty normal by historical standards."
Newsweek has asked the Trump campaign for comment on polling and what pollsters the president was referring to.