Donald Trump 'Abandoning' Allies With 'Horrible' Syria Withdrawal, Ex-Republican Senator Santorum Says
Former Republican Senator Rick Santorum slammed President Donald Trump's plan to withdraw troops from Syria in a Wednesday interview with CNN, arguing that the United States was "abandoning" its allies.
Although Santorum, who previously represented Pennsylvania, said he's a "very strong supporter" of the president, he said that the move "is not a good idea," arguing that it will "embolden" Iran and allow Turkey to target the Kurds.
"The way [Trump] did it in the face of the president of Turkey, basically abandoning our allies [the Kurds], who the Turks see as terrorists, is just a horrible piece of foreign policy," the politician said. "I am very disappointed in the president that he would do this in this fashion," he added.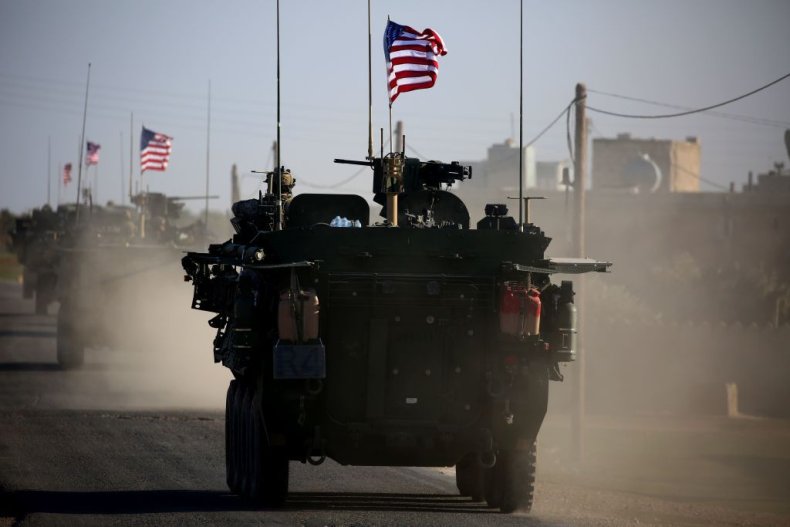 The former senator went on to say that Trump's base is not "solidly behind" the withdrawal.
"We need to stand for our allies, particularly allies who have fought and bled with us, as the Kurds have in Syria," he said. "And for us to abandon them in such a fashion is really going to hurt him politically."
A week ago, Trump surprised politicians in Washington and allies by announcing his intention to withdraw all 2,000 American troops fighting in Syria and end U.S. involvement in the conflict. The decision has drawn substantial criticism from Republican and Democratic senators, as well as from European partners in the fight against the Islamic State (or ISIS).
The president initially defended the call by claiming ISIS had been defeated. However, after politicians and allies pointed out this assessment was inaccurate, he suggested that Turkey, Iran, Russia and the Syrian government will continue the fight against the extremist militant group. Trump has also argued that U.S. involvement is a waste of money and that there's no need to risk more American lives.
"To those few Senators who think I don't like or appreciate being allied with other countries, they are wrong, I DO," Trump wrote in a Monday tweet. "What I don't like, however, is when many of these same countries take advantage of their friendship with the United States," he added.
Trump's decision, which also came with the announcement to withdraw some 7,000 troops from Afghanistan, also led to the resignation of his Secretary of Defense General Jim Mattis and Brett McGurk, the U.S. envoy to the coalition fighting ISIS. The president reportedly moved ahead with the decision despite the advice of top advisers, but the White House has said the move is simply the fulfillment of a campaign promise.
"We knew from the moment he started his campaign where he stood on Syria," Mercedes Schlapp, who works as the White House's director of strategic communications, told Fox & Friends on Monday.