Should Trump Administration Be Trusted on Iran? Israel Gave U.S. Missile Reports and Experts Are Wary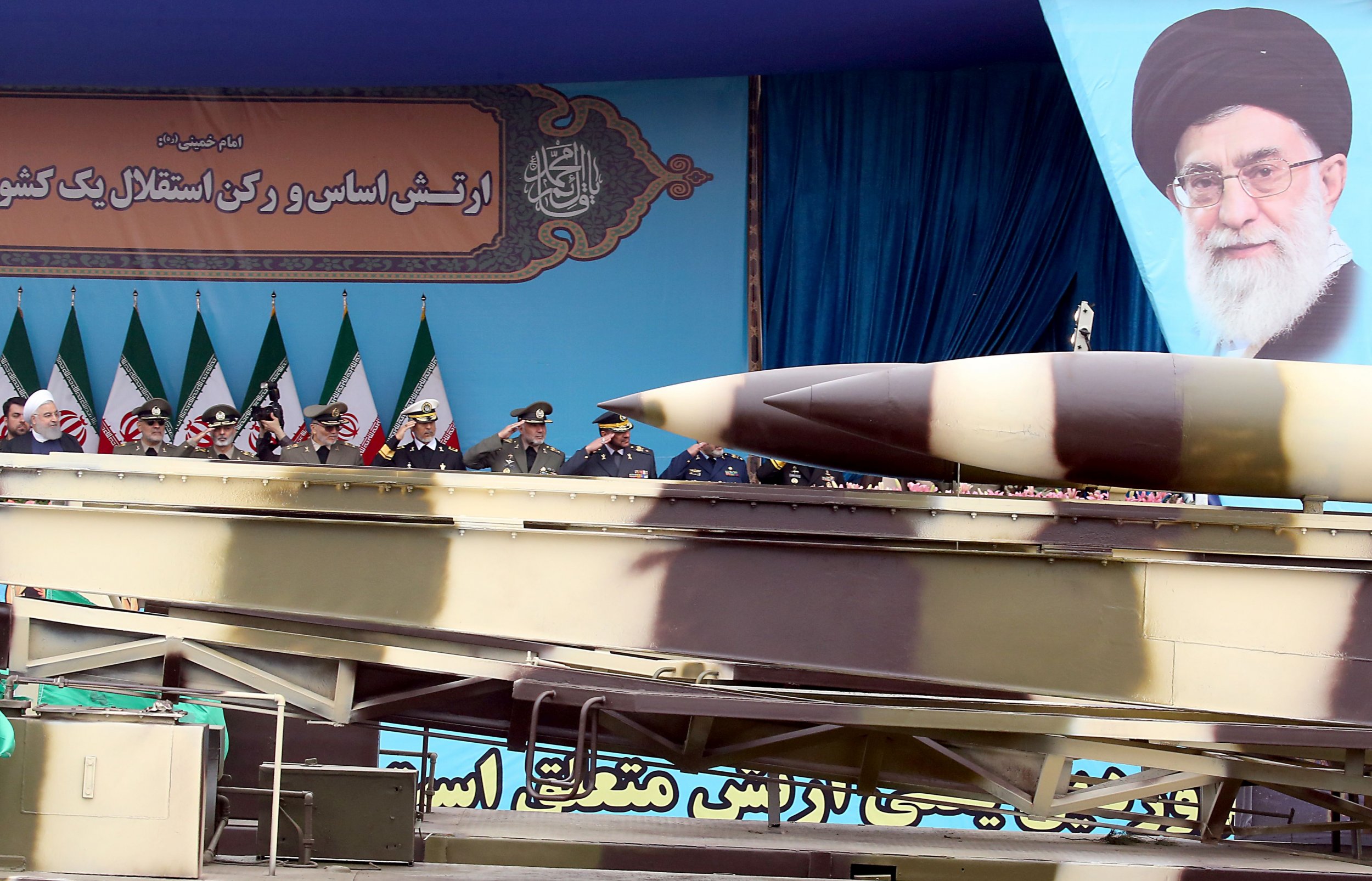 The United States has accused Iran of instigating a potential conflict in the Middle East, but doubts have been raised about the viability of the former's intelligence, which stemmed from those with a track record of leading Washington toward war.
As The New York Times previously reported Thursday and confirmed by Newsweek, the Trump administration's recent escalation was rooted in intelligence suggesting Iran was arming its fast attack fleet with missiles, an apparent sign of potential attacks to come in the strategic Strait of Hormuz, the world's top oil traffic chokepoint. Newsweek has further learned from one Pentagon official, who spoke on the condition of anonymity, that this evidence was based on satellite imagery provided to U.S. officials by Israel, an avowed foe of the Islamic Republic.
Much of the information regarding alleged Iranian threats has also been streamed from the National Security Council (NSC), whose hawkish chief—John Bolton—has similarly hyped up the threat posed by Tehran for years. A second source, a U.S. military official who also spoke on the condition of anonymity, cautioned that the council's warnings of heightened threats posed by Iran-aligned Iraqi militias such as the Popular Mobilization Forces (PMF) did not appear to match the Pentagon's own observations.
"The threat stream I've seen doesn't line up with what the NSC is leaking, let me put it that way," the second official told Newsweek. "The PMF is no more or less a threat than before all this bullshit began."
With Bolton leading the charge against Iran at home and Israel feeding information from abroad, concerns have been raised that the U.S. was once again on its way to war against a Middle Eastern adversary based on a questionable pretext, as it did in 2003 against Iraq.
"Be on the lookout for Iraq 2.0 justifications. I'm not even kidding," the second official told Newsweek. "Think about the intel indicators prior to the Iraq invasion. Compare. Then get really uneasy."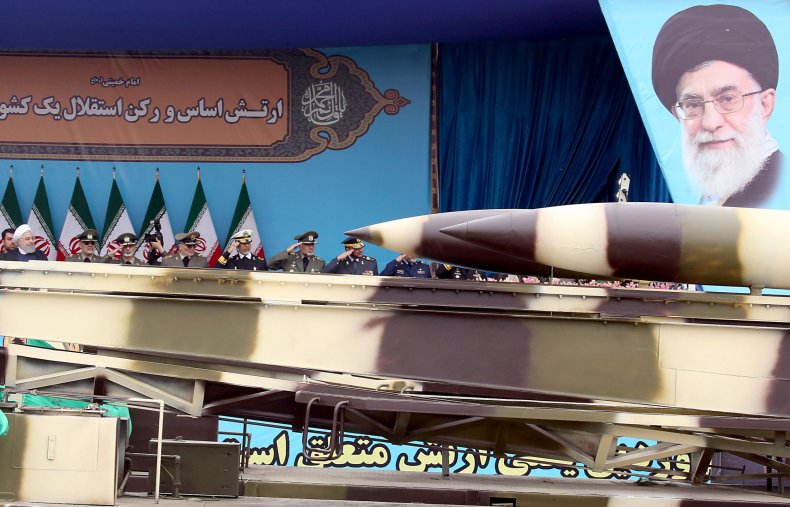 The warpath to Iraq was paved with controversial claims, and Bolton played a central role in proliferating them. In March 2003, the U.S. led an invasion that ultimately overthrew Iraqi President Saddam Hussein, who President George W. Bush and his administration had accused of possessing weapons of mass destruction.
Though the initial phase of the conflict was won relatively quickly, the lasting effects included a Sunni Muslim insurgency that went on to empower the likes of Al-Qaeda and the Islamic State militant group (ISIS). It also provided an opportunity for Iran to further export its own revolutionary ideology to its majority-Shiite Muslim neighbor.
The U.S. found itself entrenched in a second major post-9/11 conflict, accompanied by the 2001 intervention in Afghanistan, as evidence of Hussein's alleged chemical, biological and nuclear weapons aspirations never materialized. The 2005 bipartisan Robb-Silberman congressional commission called it a "major intelligence failure," but stopped short of assigning blame to specific figures within the administration.
In the years since, the fallout of the Iraq War has continued to haunt the Middle East, and, while Bush may no longer be around, two men, Bolton and Israeli Prime Minister Benjamin Netanyahu, who helped steer his own country toward conflict, have assumed even higher positions, where they both have proved influential to the decision-making process of President Donald Trump.
Netanyahu served as foreign minister in the months leading up to the Iraq War and aided in promoting the Bush administration's messaging that Baghdad presented a threat to regional security. Iraq was a part of Arab coalitions that fought three wars with Israel in past decades, and Hussein fired a volley of missiles against the country in 1991, a decade after Israeli jets conducted a bold series of strikes against an Iraqi nuclear reactor.
As with Iran today, Netanyahu argued in 2002 that Iraq presented an existential threat due its outward hostility and threats to rain down missiles on Tel Aviv, already in range of groups suspected of receiving Iranian support in the Gaza Strip, Lebanon and Syria.
"During the lead up to the Iraq War, in 2002, Benjamin Netanyahu told a congressional hearing that there was no question that Saddam Hussein was seeking a nuclear bomb," Holly Dagres, a nonresident fellow at the Atlantic Council, and editor of their IranSource blog, told Newsweek.
"That was proven disastrously inaccurate," she added. "International experts have once again discredited Netanyahu's statements about Iran. But the Israeli prime minister has closer ties with Donald Trump than any of the previous U.S. presidents."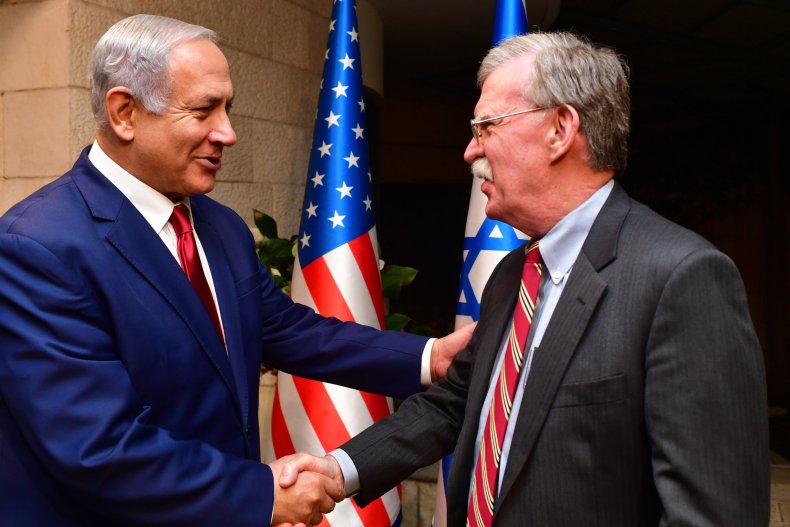 Even before taking office, Trump proclaimed his resolute backing for Netanyahu, especially as U.S.-Israel ties slightly cooled under former President Barack Obama. Since then, Trump has declared "unwavering support" for the right-wing Israeli leader, who recently became the longest-serving in his position after winning last month's election. The victory came just weeks after a visit to Washington produced a historic reversal on the part of the White House, with its recognition of Syria's occupied Golan Heights as part of Israel.
What really brought Trump and Netanyahu together, however, was their common wariness of Iran, which has portrayed itself as a leading champion of the Palestinian cause. Tehran officials have regularly threatened the destruction of Israel, which was outspoken in its opposition to Obama's 2015 nuclear deal, signed by the U.S and Iran, alongside China, the EU, France, Germany, Russia and the United Kingdom.
The agreement, known officially as the Joint Comprehensive Plan of Action (JCPOA), saw Iran agree to restrict its nuclear program in exchange for international sanctions relief. Trump and Netanyahu, among other critics, felt that the arrangement did not go far enough to curb Tehran's alleged support for militant groups and its ballistic missile activity—two charges common to rhetoric against Iraq in the lead-up to the 2003 war.
The White House pulled out of the agreement last year, shortly after Netanyahu presented what he said was evidence of Iran's alleged continued desire to produce nuclear weapons, something Tehran has always dismissed. On the anniversary of the U.S. exit, which came despite the International Atomic Energy Agency repeatedly finding Iran to be compliant with the deal, Tehran announced it would begin scaling down its own commitments to the agreement. It warned of further steps should European signatories fail to normalize trade ties within 60 days in the face of U.S. sanctions.
Days before Tehran announced its threat to gradually step back, Bolton announced that the USS Abraham Lincoln carrier strike group and a bomber task force would be deployed to the Persian Gulf ahead of schedule due to "troubling and escalatory indications and warnings" regarding Iran, essentially setting off the current spiral of tensions.
A week after Bolton's announcement, unclaimed attacks struck up to four commercial oil tankers in the Gulf of Oman, less than 100 miles from the Strait of Hormuz. Newsweek has since learned from Pentagon officials that Bolton had already ordered both offensive and retaliatory military options against Iran, which were drawn up by Acting Defense Secretary Patrick Shanahan in a closed-door meeting of the National Security Council at the Pentagon last week.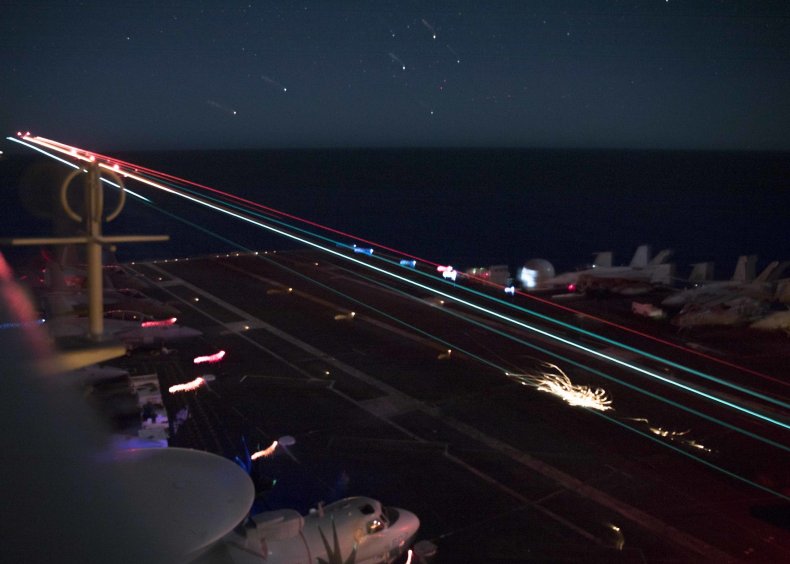 With the U.S. pushing forward against Iran, allies have expressed skepticism. The EU, along with Russia and China, still support the Iran deal and has called for an immediate de-escalation as frictions reached critical levels in a region already fraught with violence.
Other signs of U.S. isolation have appeared as well. Spain pulled the only foreign vessel from the U.S.-led carrier strike group headed toward the Persian Gulf and a U.K. general speaking on behalf of the U.S.-led coalition against ISIS disputed the Pentagon's assessment of Tehran-tied threats in the region. In a rare public reproach of its own ally, Central Command quickly disputed the general's remarks, saying they "run counter to the identified credible threats available to intelligence from U.S. and allies regarding Iranian backed forces in the region."
"The problem with the Trump administration's claims is that they have hardly provided any evidence." Dagres told Newsweek. "It's mostly been talk of a perceived threat. The administration lacks credibility. Key allies are refuting their claims, which strikes very similar to the lies leading up to the disastrous war in Iraq."
Sahil Shah, leader of the European Leadership Network's Iran Project, recently told Newsweek that "the international community should demand that the U.S. administration provides further intelligence that indicates a change in Iranian attack plans."
Dina Esfandiary, a fellow at The Century Foundation, a progressive, nonpartisanthink tank, and the Belfer Center at Harvard University's Kennedy School, recently told Newsweek that Trump administration officials, like Bolton, "would not hesitate" to strike Iran should they deem it necessary and that she did not think "they're worried about having international support."
"If they want airstrikes on Iran, they will justify it by any means," she added. "And they can always say, 'Look Israel stands with us.'"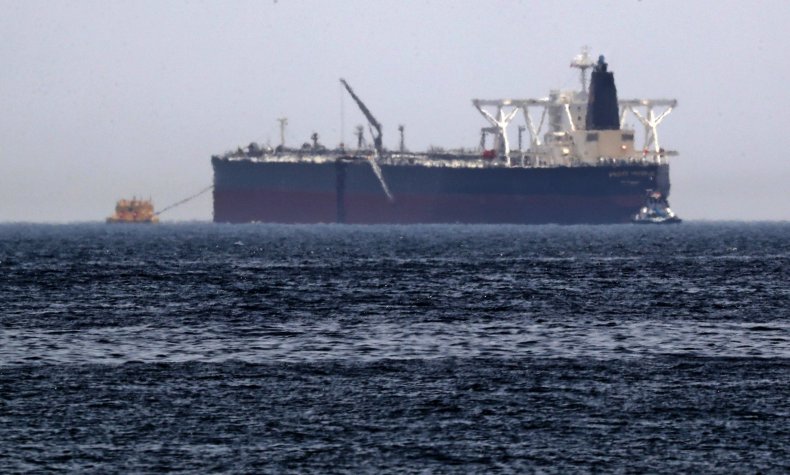 And though the international current did not favor the U.S. in its crisis with Iran, Israel was not alone in going against the tide. Saudi Arabia, a massively influential Sunni Muslim kingdom also sought to isolate the revolutionary Shiite Muslim power with increasing clout across the region.
Two Saudi oil tankers were among those targeted in the yet unclaimed attacks earlier this week and on Tuesday armed drones claimed by Yemen's Zaidi Shiite Muslim Ansar Allah, or Houthi movement, struck two oil pumping stations in the kingdom's eastern Yanbu Port. Riyadh has led a four-year war against the Yemeni insurgents, which it has accused of being backed directly by Iran. Tehran and the Houthis have denied this claim.
Iranian Foreign Minister Mohammad Javad Zarif has for over a month looped in Saudi Crown Prince Mohammed bin Salman with Netanyahu, Bolton and U.A.E. President Khalifa bin Zayed Al Nahyan as part of the "B-Team" looking to provoke a conflict between the U.S. and Iran. Though Riyadh had yet to officially weigh in on the Trump administration's recent steps against Iran, one of its leading newspapers, Arab News, known for being close to the royal family, repeated Mohammed's depiction of Iranian supreme leader Ayatollah Ali Khamenei as the "new Hitler of the Middle East" and warned the "next logical step" for the U.S. "should be surgical strikes."
Dagres told Newsweek that "it is also worth noting that Tehran isn't innocent in all of this" due to its own regional activities and escalatory rhetoric. However, she warned that "Israel and Saudi Arabia have been talking about an Iranian threat for years" and have "also been advocating for military strikes on the country's nuclear infrastructure."
"Both countries would love to see the U.S. military topple the Islamic Republic and install a more palpable regime while not spending any capital of their own," she added. "Because of their special ties with the United States, they have a role in shaping U.S. foreign policy. This creates a dangerous situation that could pave the way toward an unnecessary war."
Trump, however, has reportedly pushed back against those within his administration seeking a military confrontation with Iran. As commander-in-chief it was ultimately up to Trump to authorize such action and, asked by reporters Thursday whether or not the U.S. was on the way to war with Iran, the president simply responded, "Hope not."