Trump Adviser Stephen Miller Claims President Criticized Obama 'Out of Love' for U.S., but Squad is 'Anti-American' for Criticizing Trump
President Donald Trump's senior adviser Stephen Miller argued Sunday that the president's previous criticisms of former President Barack Obama's administration were done "out of love" for the United States, while also claiming that criticism for the current White House coming from progressive Democratic congresswomen is "anti-American."
Miller appeared for an interview on Fox News Sunday with host Chris Wallace, who pointed out that Trump has been attacking Representatives Alexandria Ocasio-Cortez of New York, Ilhan Omar of Minnesota, Rashida Tlaib of Michigan and Ayanna Pressley of Massachusetts for being critical of his administration and its policies while Trump did the exact same thing for several years under Obama.
The Trump adviser attempted to argue that the president's previous critical remarks were entirely different than that coming from the four congresswomen.
"The core element of the president's philosophy is 'America First'," Miller said. "Saying that America needs to improve to get closer to an 'America First' ideal, as the president did as a candidate, criticizing Obama, criticizing our trade deals, our foreign policy deals, our immigration policies is out of love for America," he insisted. "Saying as Representative Ocasio-Cortez did that illegal immigrants are in effect more American than Americans is fundamentally an anti-American statement."
Back in 2016, Trump infamously claimed that "the American dream was dead." He also said that the U.S. was "crippled" and a "laughingstock." Even during his inaugural address, the then-new president talked about the "American carnage" he claimed to have inherited from the outgoing commander-in-chief seated only a few feet away from him.
Now, Trump and his administration are arguing that criticizing the U.S. or his policies are fundamentally unpatriotic.
Earlier in the Fox News Sunday interview, Miller argued that "there's a huge difference between 'America First' and an ideology that runs down America...." Wallace then interjected, asking if Trump really did not run down America with his campaign attacks, pointing to the "lock her up" chant used by Trump's supporters during the 2016 campaign to disparage former Secretary of State Hillary Clinton and the fact that the current president constantly had pushed the widely debunked and racist "birther" conspiracy theory that Obama was not actually born an American citizen.
In response, Miller simply insisted that Trump has always cared about the good of the country. Critics of the president and those who disagree with the Trump administration however, are anti-American, he claimed.
White House Director of Strategic Communications Mercedes Schlapp answered a similar question from ABC News' This Week host George Stephanopoulos on Sunday, arguing as did Miller that Trump's past criticism is different than that of the four congresswomen.
"This is, they're fundamentally criticizing the United States when they're pushing forward policies that are basically anti-Semitic, that they're attacking our law enforcement, that they're going– where they are being anti-American," Schlapp said.
Last Sunday, Trump launched a racist attack on Ocasio-Cortez, Omar, Tlaib and Pressley, writing on Twitter that the four should "go back" to the countries "from which they came." He added: "you can't leave fast enough." All four are women of color, and with the exception of Omar, all were born in the U.S. as American citizens. Omar immigrated to the U.S. as a young girl and became a naturalized citizen nearly two decades.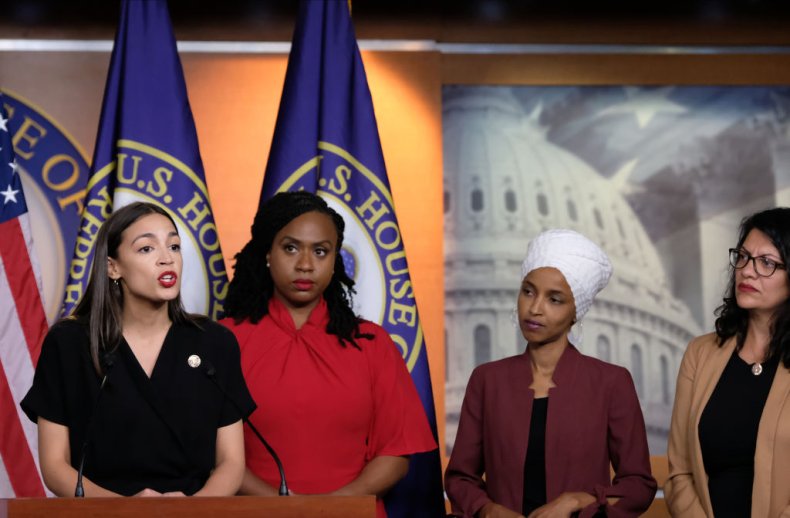 Democrats and some Republicans have condemned the remarks as overtly racist and xenophobic. Many pointed to the long racist history of people telling non-white Americans that they should go back to their countries, even though their families may have lived in the U.S. for many generations.
Despite what the Trump officials and the president have said, all the congresswomen have repeatedly voiced their pride and love for the U.S. They have been highly critical of many Trump policies and have called for the president's impeachment, as have many other members of Congress. At the same time, they have pushed for policies which they and many Americans believe would greatly benefit the majority of the population, such as universal healthcare, a significant increase in minimum wage, free higher education and a Green New Deal that aims to address climate change while creating well-paying jobs and improve the nation's crumbling infrastructure.
Republicans and some Democrats have criticized the progressive policies idea. But many of them enjoy significant support among the general U.S. population, according to polling.