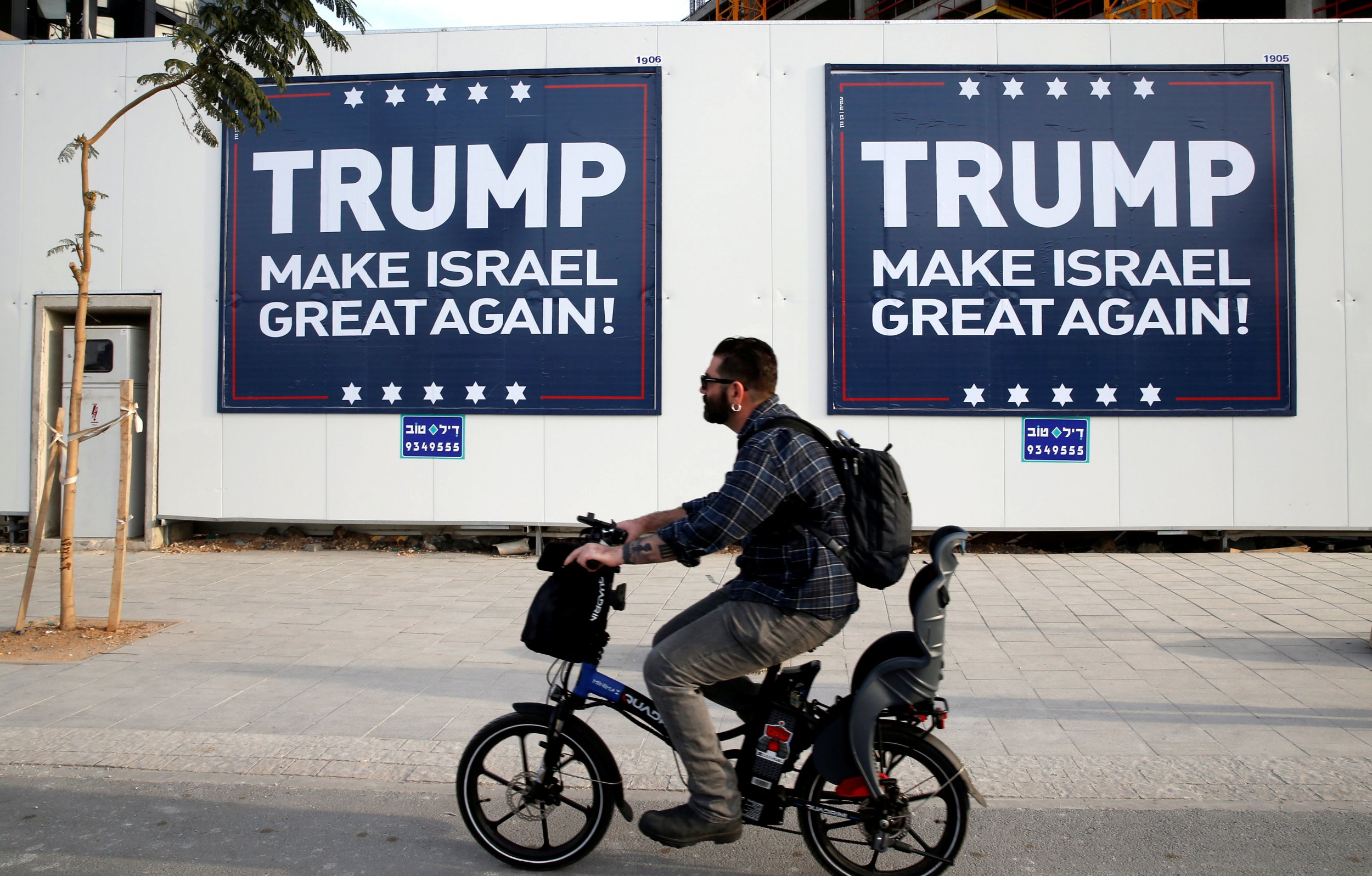 President Donald Trump's popularity among Israeli Jews has fallen 23 percent since January, an alarming statistic as he prepares to meet with Israeli and Palestinian leaders next week in a bid to revive a peace process frozen since 2014.
According to a poll published in the Jerusalem Post Thursday, only 56 percent of Israeli Jews consider Trump to be more pro-Israel than pro-Palestinian, compared to 79 percent on January 11.
Pollster Smith Research measured the answers of 500 adult Israeli Jews and found that Trump will have to work hard to persuade almost half of the country's population that he has their interests at heart.
Avraham Diskin, political science professor at the Hebrew University in Jerusalem, blames the decrease on suspicions about Trump's moves regarding the conflict with the Palestinians.
"There is a question mark about his stance concerning the Arab-Israeli conflict and I think that's the most interesting question for Israelis," he says, speaking to Newsweek by phone. "People doubt. What is he going to do?"
A raft of scandals to hit Trump's administration—including an investigation into Russia's contacts with his campaign team, including his former national security adviser Michael Flynn—has permeated Israeli society, according to Diskin.
"People are exposed to it and it raises suspicion," he continues.
On top of this, Trump "burned our hands, he's going first to Saudi Arabia" instead of Israel, the U.S. key military and diplomatic ally in the Middle East, Diskin says. He arrives in Israel on Monday after stopping first in Riyadh, while his Middle East envoy Jason Greenblatt landed in Israel on Thursday to prepare for the president's visit.
Read more: Trump cancels visit to ancient Masada site after Israel refuses helicopter landing
Back in November, Israel's far-right clamored to celebrate Trump's election victory, hailing it as the end of the idea of a sovereign Palestinian state side-by-side with Israel.
In the weeks following his win, Trump allowed Israel's right-wing government, led by Prime Minister Benjamin Netanyahu, to approve thousands of settlement units, pass a bill that legalized Jewish outposts built on Palestinian-owned land in the West Bank and announce the creation of the first new Israeli settlement for two decades.
But in recent weeks the mood has since soured. Trump said settlement building was "not helpful" for a peaceful resolution to the conflict, hosted Palestinian President Mahmoud Abbas at the White House and appeared to rollback on his pledge to move the U.S embassy from Tel Aviv to Jerusalem.
Such a decision, Arab leaders say, would inflame the Arab street and could lead to an increase in extremism. Israel views Jerusalem as its undivided capital and such a move would be a show of support for the right-wing Israeli government's claim to the city.
Despite concerns over Trump's shifting policy positions on the conflict, the decrease in popularity among Jews did not translate into a notable increase in Israelis believing the president to be more pro-Palestinian, which increased from three to four percent.
The biggest increase was in those who believed Trump to be neutral on the conflict, which doubled, from 10 to 21 percent. Respondents that did not know what his position was rose from 8 to 19 percent.
Another poll is due to be carried out after Trump's visit to see if his words and actions in the country shift Israeli opinion. But the administration's preparations for the trip have tempered Israeli excitement around his visit.
The president cancelled a trip to the ancient Masada fortress because he could not land his helicopter at its summit and announced he will only spend 15 minutes at Israel's national Holocaust museum, Yad Vashem.
Earlier, Trump's team told Israeli officials that he did not want Israeli Prime Minister Benjamin Netanyahu to join him on his visit to the Western Wall. Trump will be the first sitting U.S. president to visit the site, although Barack Obama and George W. Bush did so either as candidates or private citizens.
Palestinians, according to the most recent poll from the Palestinian Center for Policy and Survey Research, are even more suspicious of Trump. More than a third of Palestinians believe his administration will allow continued Israeli settlement building, escalating Israeli-Palestinian tensions. Just nine percent of Palestinians believe Trump's actions will lead to a renewal of the peace process.