Trump Had to Respond to All 90 Allegations in His Sexual Assault Accuser's Legal Complaint Against Him
Donald Trump is being forced to accept that he isn't above the law. On Tuesday, the president had to respond to all 90 line items in Summer Zervos's complaint against him, which argues that he defamed the ex-Apprentice contestant when he said he'd never met her in the hotel where she says Trump forcibly kissed her and pressed his genitals against her.
The legal document represents the first time the president has had to directly respond to Zervos's complaint.
"Just like any other person being sued in a court of law in this country, the defendant was today required to answer the complaint filed by Ms. Zervos," Zervos's attorney, Mariann Wang, told Newsweek by email. "We look forward to proving that his denials are baseless."
Trump denied nearly every allegation against him, save for those he said didn't have "information sufficient to form a belief," and an instance where Trump admits that Zervos did email his secretary, an attempt, according to Zervos, to contact then-candidate Trump in April 2016.
The president also acknowledged that news of his 2005 Access Hollywood tape broke on October 7, 2016, though he denies the other allegations in the paragraph, which stated in part: "The recording revealed Mr. Trump speaking in an open, uninhibited and honest way to Billy Bush during moments when he did not realize he was being recorded.... The sheer brutality of his words, the complete nonchalance and gleefulness with which he described how he abused and assaulted women, and the way he spoke about them ('bitches') and their bodies ('big phony tits'), were all deeply offensive and disgusting."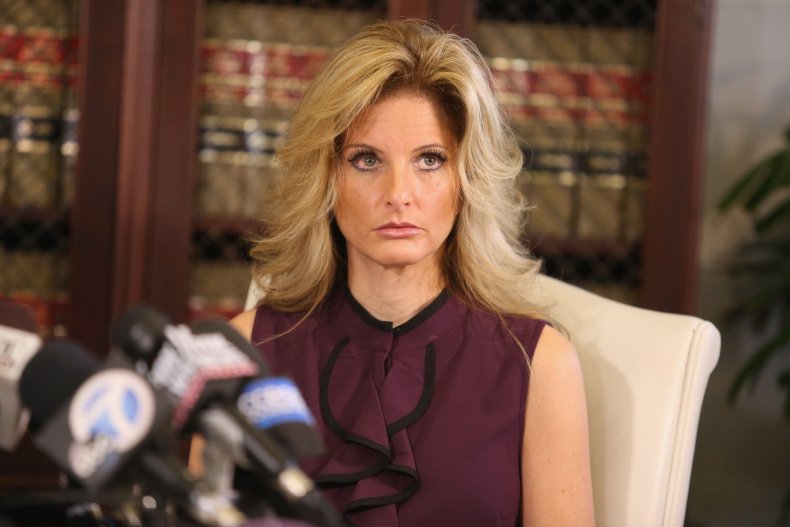 Zervos filed the defamation suit against Trump in January 2017, just three days before the president's inauguration. Then-counsel Gloria Allred claimed Trump had "debased and denigrated" Zervos by making "false" denials about her allegations against him.
At the time, Zervos said she'd be willing to drop the suit against Trump if he retracted the statements about not only Zervos but the other one dozen-plus women who came forward with sexual assault and harassment allegations against Trump during his campaign.
Trump, of course, did neither of those things, and last week his legal team learned that Zervos's complaint would move forward in court, despite their attempts to get the case thrown out. In a four-sentence decision, a New York state appellate court rejected Trump attorney Marc Kasowitz's appeal on Tuesday. The court wrote, "Now, upon reading and filing the papers with respect to the motion, and due deliberation having been had thereon, it is ordered that the motion is denied."
That means Trump, the sitting president of the United States, is one step closer to being deposed.
Kasowitz called the court's ruling "incorrect," citing the U.S. Constitution's Supremacy Clause, which says that state powers are subordinate to federal law. The provision, Kasowitz said, should protect the president against a state court lawsuit.
So far, that's proved not to be the case.
"Ms. Zervos could no longer rationalize or excuse Mr. Trump's behavior by telling herself that his behavior had been a mistake or an isolated incident for which he might even be ashamed," line five of Zervos's complaint read. "Mr. Trump has no shame."
Trump denied this line as well, saying he didn't have "information sufficient to form a belief" about Zervos's own "thoughts and beliefs."
Zervos v. Trump by Marie Solis on Scribd