Trump Alleges Plot Against Him to 'Take Down the Leading Candidate'
Former President Donald Trump is lashing out and claiming to be the victim of a "weaponized justice system" following a report that he may soon be facing a criminal indictment in New York.
The New York Times reported on Thursday that Manhattan District Attorney Alvin Bragg has told the former president he has until next week to testify in the investigation of $130,000 in "hush money" paid to adult-film actress Stormy Daniels during his 2016 presidential campaign.
The Times report said that Bragg's offer was a near-certain indication that "an indictment is close." As the former president is currently campaigning for the GOP nomination in 2024, an indictment could have a significant impact on his political future, although might not legally prevent him from seeking office.
The state of Georgia is still investigating Trump's activities following his election loss to President Joe Biden, while Special Counsel Jack Smith's probe of allegations related to the January 6 attack on the U.S. Capitol and the discovery of classified documents at Trump's Mar-a-Lago home in Florida could bring federal indictments.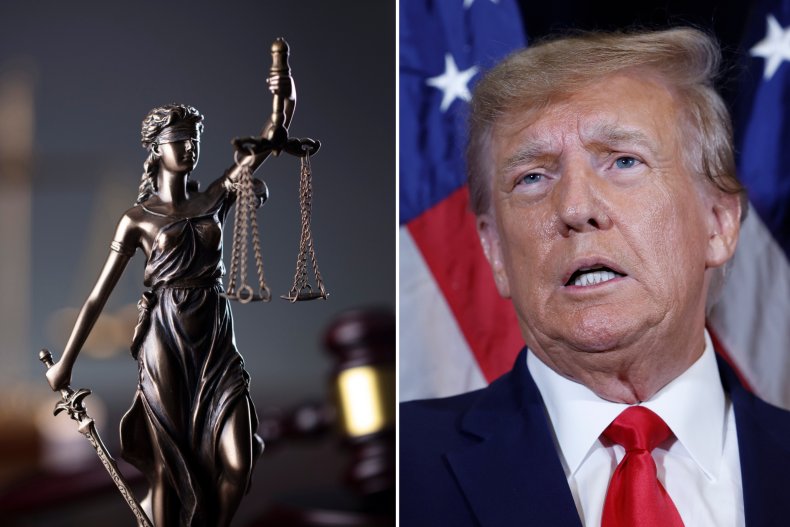 Although he did not mention the Times report specifically, the former president seemingly responded to his potential indictment in a lengthy statement insisting that a plot to "take down the leading candidate" in 2024 had been hatched.
Trump, who lost to Biden by more than 7 million votes in 2020 and was nearly 3 million popular votes shy of Hillary Clinton in 2016 despite winning in the Electoral College, suggested that an indictment could be coming because Democrats "cannot win at the voter booth."
"I did absolutely nothing wrong, I never had an affair with Stormy Daniels, nor would I have wanted to have an affair with Stormy Daniels," Trump said in the statement, which was shared to Truth Social. "This is a political Witch-Hunt, trying to take down the leading candidate, by far, in the Republican Party while at the same time also leading all Democrats in the polls."
The former president then referred to Bragg while invoking the name of Democratic mega-donor George Soros, a Jewish billionaire who frequently features in far-right conspiracy theories.
"It is a weaponization of our judicial system, and I am shocked that this Soros backed radical left prosecutor, who has allowed violent crime to reach new heights in New York without any retribution, would consider bringing such a charge against the undisputed front runner of one of the two major political parties in our Nation," said Trump.
"It is appalling that the Democrats would play this card and only means that they are certain that they cannot win at the voter booth," he continued. "I, and hundreds of millions of the American People who are backing me, because they want to see our nation be great again, are the victims of this corrupt, depraved, and weaponized justice system."
While Trump is clearly the frontrunner among declared candidates, the former president's claim of being 2024's leading candidate "by far" is arguable.
GOP primary polls have been mixed when including possible challenger Ron DeSantis, while a recent average of polls from RealClearPolitics has Biden slightly ahead of Trump in a general election rematch.
Newsweek has reached out via email to Bragg and Daniels for comment.