Trump Wants to Delay Trial in Hopes of Avoiding Consequences: Michael Cohen
The longer that Donald Trump avoids consequences for alleged violations of the law, the more difficult it will be to charge him with any crimes, according to Michael Cohen.
Cohen, Trump's former attorney and right-hand man, met with New York District Attorney Alvin Bragg in Manhattan on Tuesday for the 19th time to further discuss allegations that the former president paid adult film star Stormy Daniels $130,000 in hush money ahead of the 2016 election. It is part of the evidence being gathered as part of a potential grand jury investigation.
"Basically, they want to delay for six months, and when asked why the only answer they could really give was, 'well, we're just not ready, yet,'" Cohen told MeidasTouch, comparing the ongoing investigation to past ones by New York Attorney General Letitia James.
"Well, the question becomes, what the f*** have you all been doing over the course of the last two years? I don't think that's a valid response to give a judge, so I don't think that's going to get delayed," he said.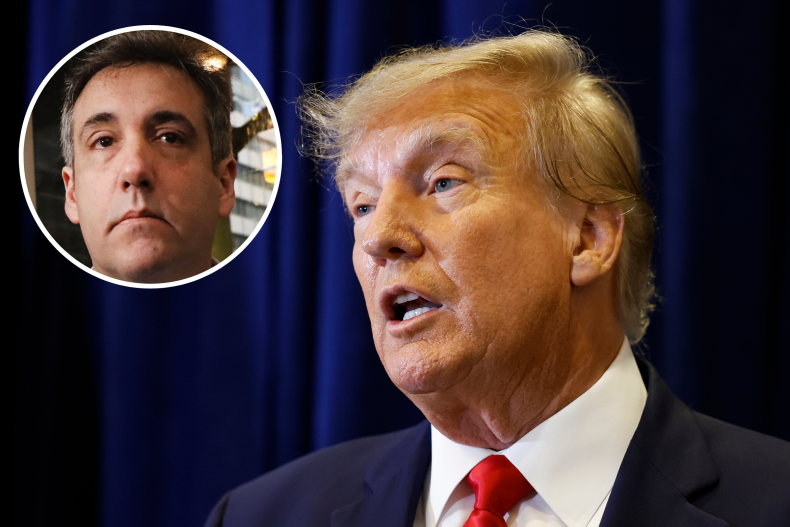 Cohen added that he believes Trump's political stature will play a role in the legal proceedings.
"Political power, in this sense, could give Donald a kind of 'get out of jail free' card if by some chance he somehow becomes the Republican nominee [and] if—it's hard to believe—he becomes president," he said. Trump has said that he will stay in the 2024 presidential race if he's indicted in any of the state and federal investigations he's currently facing.
The former Trump confidant has been critical of Bragg for his handling of the investigation, as has former prosecutor Mark Pomerantz.
Pomerantz and attorney Carey Dunne formerly worked under Bragg's predecessor, Cyrus Vance Jr., prior to both resigning during Bragg's tenure after Bragg made statements that Trump would not be indicted.
Former federal prosecutor Glenn Kirschner said in February that Bragg may finally be "feeling the heat" due to statements and a book written by Pomerantz, as well as the Georgia grand jury investigation into Trump's role in allegedly attempting to overturn the 2020 election.
Cohen said he is now "actually impressed with [Bragg's office's] level of knowledge, their level of the law, and the way in which they are posing questions for understanding and potential prosecution. The more I'm impressed with them as an overall group."
He added that while he is willing to share more information pertaining to his meetings with prosecutors, Cohen wants to keep the case strong and not ruin the evidence already collected.
"One of the things I don't want to do is to provide defense counsel any opportunities, any benefits in advance of knowing what it is that they're actually looking at, what they're talking to me about, and what's happening in the case," Cohen said following his meeting.
People don't understand "just how dangerous Donald Trump and his sycophantic followers truly are" due to manipulating the justice system "for their benefit," Cohen added.
Trump remains the heavy 2024 GOP favorite in what is currently a tiny pool of candidates. He easily won the straw poll at the Conservative Political Action Conference (CPAC) over the weekend, garnering 62 percent of the vote compared to Florida Governor Ron DeSantis, who received 20 percent.
The occasion was used by Trump to present a political continuation of his four-year term that concluded in 2020, blasting President Joe Biden and telling attendees that he will be the president who "very easily" will prevent World War III.
New York-based attorney Andrew Lieb told Newsweek that Trump's current political standing is meaningless in this legal context.
"The Manhattan DA's case against Donald Trump is huge and the fact that there has been no indictment yet or that Trump is running for president or performing at CPAC means absolutely nothing," Lieb said.