Trump's Legal Trouble in Georgia Is Pressuring Bragg to Step Up: Kirschner
Donald Trump's legal foibles in Georgia are causing Manhattan District Attorney Alvin Bragg to step up his prosecutorial role in Trump's alleged New York-based crimes, says former federal prosecutor Glenn Kirschner.
Bragg has been much maligned since his February 2022 decision to not indict the former president over allegations of felony tax fraud committed by the Trump Organization, even though Bragg at the time said Trump was "guilty" of multiple felonies.
Kirschner told radio host Stephanie Miller on Friday that Bragg "is now feeling the heat" due to the copious investigations that have encompassed Trump individually as well as his companies.
One major reason why is Fulton County District Attorney Fani Willis, due to her overseeing a grand jury investigation into Trump's alleged involvement in attempting to overturn the results of the 2020 presidential election in Georgia.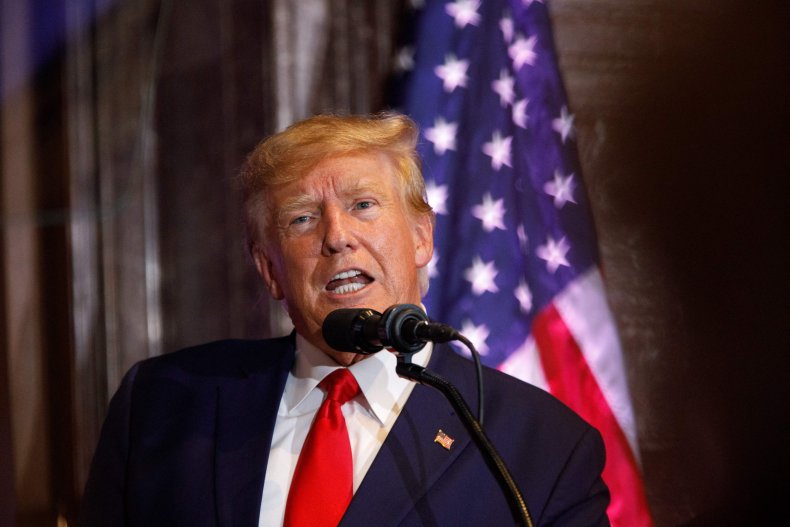 "I think [Bragg's] feeling the heat of Fani Willis preparing to be the first state district attorney, which is what Alvin Bragg is, getting ready to indict Donald Trump for crimes in her backyard," Kirschner told Miller. "Bragg is like, 'I better play catch-up.'"
He said Bragg may also be feeling "emboldened" to take action at this juncture for a couple of other reasons.
One relates to Trump's tax returns being released. The other is in relation to a purported$130,000 worth of hush money paid to adult film star Stormy Daniels.
The New York Times reported Monday that the Manhattan district attorney's office started to show evidence to a grand jury of Trump's alleged role in payments made to Daniels.
It was the same case that led to Trump's former attorney, Michael Cohen, previously pleading guilty to campaign finance violations—which Cohen alleged was done at Trump's directive.
Trump took to social media following the report, claiming the case is "very old" and unable to lead to any criminal action due to New York state's statute of limitations. Cohen in turn called him "Dopey Donald."
The other reason, Kirschner said, is the upcoming release of a book written by former prosecutor Mark Pomerantz that is "going to make Bragg look bad."
Pomerantz had previously served as the special assistant district attorney on the Stormy Daniels case under Bragg's predecessor, Cyrus Vance Jr. Last year, Pomerantz and Carey Dunne, another lead investigator on that case, resigned after Bragg announced Trump would not be indicted.
"I think Bragg is like, 'I better get back in the prosecuting Donald Trump game or everything is gonna break bad for me," Kirschner said.
In an interview with CBS News correspondent Jericka Duncan, Bragg called it "imprudent" for his office to comment on any pending indictments or allegations.
Kirschner, who has suggested on multiple occasions that Trump's alleged crimes will ultimately lead to indictment, has also seemed to lose his patience regarding the Department of Justice.
He noted how it's been over two years since the January 6 riots and no major legal ramifications have impacted Trump or those in his orbit.
"We are pretty much in the same place we were in the run-up to January 6 and DOJ, what is going to let him take a second crack at another insurrection?...Here we go again," Kirschner told Miller. "We have a Department of Justice that, for whatever reason, is letting [Trump's threats] go unaddressed. I'll never be able to explain why."
Newsweek reached out to Trump's 2024 campaign press office for comment.