Donald Trump Has 'Hit the Panic Button,' His Former Lawyer Says
Donald Trump's ex-attorney Michael Cohen said the former president has "hit the panic button" as two Department of Justice (DOJ) investigations into his conduct appear to be heating up.
The DOJ is probing Trump for allegedly seeking to overturn the 2020 presidential election, as well as whether or not he illegally removed classified documents when vacating the White House in January 2021 following a search at his Mar-a-Lago residence last summer.
Several new developments in these investigations emerged this week. Special counsel Jack Smith issued new subpoenas against former Vice President Mike Pence, as well as former national security adviser Robert O'Brien. Additionally, Trump's legal team reportedly handed over a laptop belonging to one of his aides that contained a copy of a classified document.
Cohen, who for years served as Trump's "fixer," but has since turned on him, weighed in on the latest developments during an appearance on MSNBC's The Katie Phang Show on Saturday.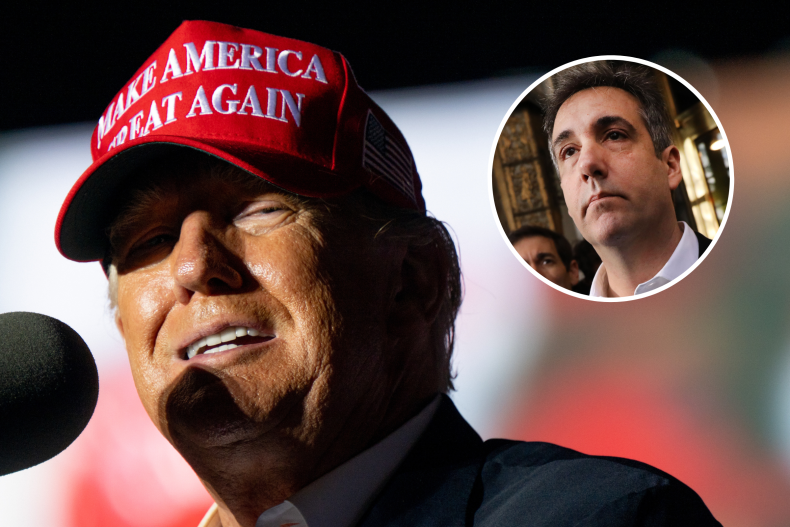 Phang questioned Cohen on whether he believes Trump has "hit the panic button" in the investigation into his classified documents.
"I think he's hit the panic button awhile ago," Cohen said. "However, what he's very good at is hiding it. Anybody that's in the room with him would be able to attest to things I've seen in the past, which is Donald really losing it."
Still, Cohen said Trump would remain "calm, cool and collected" in public because "he is a sociopath."
Former U.S. Attorney Gene Rossi told Newsweek on Saturday that he agrees that the recent developments should be concerning for Trump, explaining that it appears the DOJ has "significant evidence" that the former president obstructed justice, describing this as the "crown jewel of Department of Justice investigations."
"The subpoena of his former Vice President Mike Pence is a red flag and loud gong that special counsel Jack Smith does not play flag football. He plays tackle," Rossi said. "And Jack Smith is on a mission to find the truth. When you serve a subpoena on the former vice president of the United States, that is a huge deal and a window into the thinking of a special counsel."
Trump's former attorney also warned Saturday about the national security implications of having copies of classified documents on an unsecure laptop owned by an aide, comparing the files to a suspected Chinese surveillance balloon the United States military shot out of the sky last Saturday.
"The true danger to our national security are not these floating balloons that are out there. It's now, as you earlier reported, the fact that they copied these classified documents and they were sitting on a computer of one of Donald's aides," Cohen said, urging prosecutors to check "every single place" Trump has been since leaving office.
Rossi said that if the DOJ has evidence that Trump transferred classified files to foreign nationals, he would be in "deep, deep legal trouble."
On Friday, former federal prosecutor Glenn Kirschner said Pence would be able to provide "sharply incriminating" evidence against Trump if he testifies before a grand jury.
Newsweek reached out to Trump's office for comment.
Cohen Says Manhattan DA Has Evidence to Bring Case Against Trump
Cohen also shed light on the latest updates in Manhattan District Attorney Alvin Bragg's investigation into Trump's financial dealings. Cohen met with prosecutors for more than two hours on Wednesday to provide details related to their case involving whether Trump violated election laws by providing adult film star Stormy Daniels hush money ahead of his 2020 presidential bid.
He told Phang he believes Bragg's team has enough evidence to bring a case against Trump. The Manhattan DA's office for years has been investigating his finances, but has faced criticism for not indicting him sooner.
"They're bringing me in for the 16th time, the third time with Alvin Bragg's team. At the end of the day, they're not bringing me in because there's nothing to talk about, because they enjoy my company," he said. "They're bringing me in because we're going through loads and loads of data. I mean, they have a lot of information."
Cohen emphasized that the seriousness of the case "cannot be underestimated," but said that the team is "extremely competent."
Rossi described the case as another "dark cloud on the horizon" for Trump.
"In my humble view, there's very strong evidence to support the allegation that Donald Trump willfully violated the election laws right before the election in November 2020," he said, adding that the case should have been prosecuted years ago.