Five Key Moments from Donald Trump's Crucial CPAC Speech
There were few surprises in former President Donald Trump's headline address at the Conservative Political Action Conference (CPAC) on Saturday.
Lasting almost two hours, Trump took jabs at Democrats like President Joe Biden, as well as his Republican rivals, although he refrained from mentioning Florida Gov. Ron DeSantis—who is widely expected to announce a run for president—by name.
He again aired grievances from his term in the White House, then told a cheering crowd that he was engaged in his "final battle" as he makes another bid for the presidency.
"We are going to finish what we started," he said. "We're going to complete the mission. We're going to see this battle through to ultimate victory."
Here, Newsweek rounds up some of the key moments and takeaways from Trump's speech.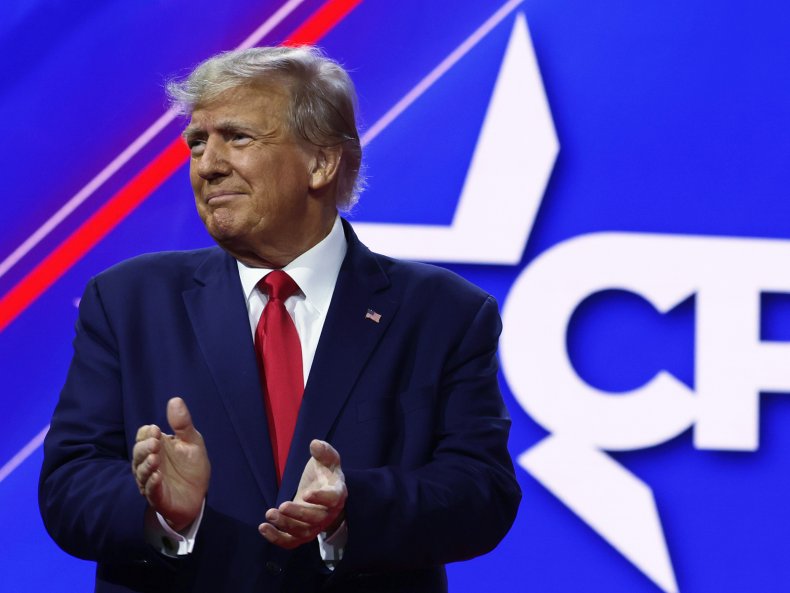 Reignites lackluster campaign
Trump spent a sizable part of his speech airing his usual grievances, and condemned the investigations into him.
The speech also saw him reignite his campaign as he outlined his agenda for a second term, including building more border wall and restricting gender-affirming care.
Trump also said it was the "most dangerous time in our country's history" and Biden was not tackling the challenge. "I'm the only candidate who can make this promise: I will prevent, and very easily, World War III," he said.
'MAGA' was passionate
Trump spoke to a room that had plenty of empty seats, but his ardent supporters who were in attendance cheered at every pause in his speech, at one point chanting "Four more years!"
Trump's enduring popularity with CPAC attendees was on display throughout the conference, with some wearing Trump-themed outfits and "MAGA" hats.
Heckler escorted out
The crowd booed a heckler, who reportedly interrupted Trump's speech by blasting rapper YG's FDT (F*** Donald Trump) from a boombox.
The man was escorted off the premises by police officers.
Trump wins straw poll
Trump easily won the annual CPAC straw poll, an unscientific survey of attendees.
The survey found Trump was the top choice to be the GOP's nominee in 2024, with 62 percent support. He was trailed by DeSantis at 20 percent and businessman Perry Johnson, who announced his long-shot bid for the White House on Thursday, with 5 percent.
The poll also found CPAC attendees favored Kari Lake as Trump's potential running mate.
Fox News airs speech live
Fox News broadcast Trump's lengthy speech live after criticism from Trump-aligned Republicans.
Steve Bannon, a conservative strategist and long-time Trump ally, has blasted the network for not giving Trump more coverage, including after his recent visit to East Palestine, Ohio.
"You've disrespected Donald J. Trump long enough," he said during a CPAC speech on Friday. "He hasn't been on Fox News since he announced his presidency."