Donald Trump Boasts of Ratings Results After East Palestine Visit
Donald Trump has shared a glowing internal "viewership report" which detailed how many people watched coverage of his trip to East Palestine, Ohio.
The former president visited the scene of the train derailment on Wednesday, February 22, where he donated his own brand water bottles, bought McDonald's for first responders and gave a speech at the local fire department criticizing Joe Biden and the federal response to the accident.
On Thursday, Trump posted a report on Truth Social which claimed that more than 178 million people watched coverage of his trip to East Palestine via social media and "traditional" coverage.
Most major news networks did not cover the event live. The report notes that Fox News, which usually provides positive coverage of the former president, was "woefully derelict" in its reporting of Trump's visit to East Palestine.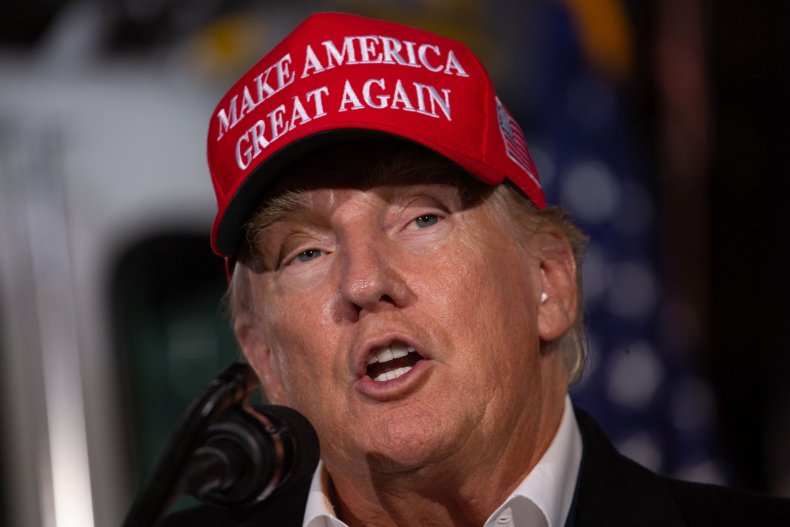 "However, your numbers this Wednesday were off the charts with incredible reach, 144MM on social and 34MM in other channels," the memo reads.
"The visit meant a lot for the people of East Palestine and the surrounding communities. The trip gave them hope and raised the awareness needed to combat the incompetence of the Biden Administration."
It is unclear who wrote up the report, or what metrics it used to gather the data.
For years Trump has bragged about his television ratings, whether that be for his reality show The Apprentice or his daily press briefings on the coronavirus pandemic while president.
Trump has also used ratings to attack television networks he does not like, such as CNN, while also recently claiming that Fox News "is way down in ratings" as a way to criticize the channel.
The day after he visited East Palestine, Trump shared numerous clips and news articles which praised his trip on Truth Social to highlight the positive reception he received.
During his speech at the East Palestine Fire Department, Trump criticized the federal response to the derailment on the train carrying harmful chemicals on February 3.
"In too many cases, your goodness and perseverance were met with indifference and betrayal," Trump said.
Trump also criticized Biden, who embarked on an international trip to Poland and Ukraine to mark the one-year anniversary of the Russian invasion before visiting the Ohio town.
The Biden White House has defended its response to the derailment, saying officials from agencies such as the Environmental Protection Agency and National Transportation Safety Board were at the scene of the crash within hours of the derailment.
Democrats have also noted that the Trump administration rolled back numerous rail safety and environmental regulations when they were in the White House.