Trump Ally Admits His Attacks on DeSantis Are Backfiring
Longtime Donald Trump supporter Dinesh D'Souza is cautioning his preferred 2024 presidential nominee to bury the hatchet with potential GOP candidate Ron DeSantis.
Trump and former South Carolina Governor Nikki Haley are the only two Republicans who have officially launched 2024 presidential campaigns. DeSantis, the Florida governor who was reelected in 2022 by a large margin, has not declared but has been shown by myriad polls to be Trump's biggest challenger.
"I don't think Trump needs to attack DeSantis. Nor should he," D'Souza wrote Tuesday on Truth Social. "Makes DeSantis look like the presumptive nominee, when Trump clearly is. Trump and DeSantis ought to be making an alliance which is the best way to achieve both of their ambitions. Also best for the GOP and the country!"
Trump has done the opposite of fulfilling D'Souza's request, blasting DeSantis multiple times on Tuesday and over the weekend. Trump also attacked Fox News and the New York Post for their coverage of DeSantis.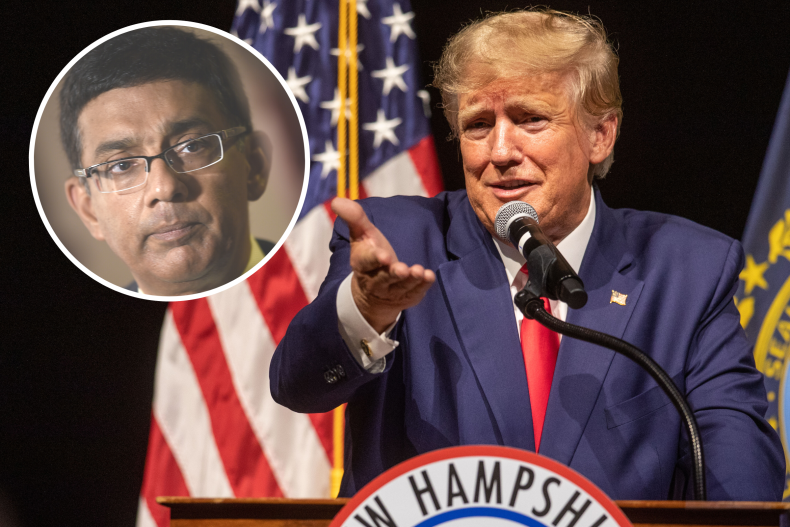 One social media post even credited DeSantis' 2022 gubernatorial opponent, Charlie Crist, a former Republican-turned-Democrat.
"Florida was doing GREAT long before Ron DeSanctus got there," Trump wrote Tuesday on Truth Social. "People are fleeing from New York to Florida (and other places) because of high TAXES and out of control CRIME, not because of Governor (thank you President Trump!) DeSanctimonious. Rick Scott did great, and even Charlie Crist had very good numbers. SUNSHINE AND OCEAN, very alluring!!!"
In another post on Tuesday, Trump called it "so interesting to watch FoxNews cover the small and unenthusiastic 139 person crowd in Staten Island for DeSantis, but stay as far away as possible from coverage of the thousands of people, many unable to get in, at the Club 47 event in West Palm Beach, Florida."
He proceeded to call Fox News "the RINO Network," suggesting that "fake news CNN" should wise up and become a "ratings juggernaut" by going fully conservative and devoting Trump-based coverage all the time.
His comments come two days after he criticized a "puff piece" written by the New York Post's Salena Zito.
"Why doesn't she mention that he wants to cut Social Security & Medicare, loves losers like Jeb Bush, Paul Ryan, and Karl Rove, and it getting CLOBBERED in the polls by me," Trump wrote on Sunday. "DeSantis is a RINO who is trying to hide his past. I don't read the New York Post anymore. It has become Fake News, just like Fox & WSJ."
Earlier this month, Trump used his Truth Social platform to spread allegations that DeSantis was "grooming high school girls with alcohol." The post included a man he claimed to be DeSantis posing with three younger women.
"I spend my time delivering results for the people of Florida and fighting against Joe Biden...I don't spend my time trying to smear other Republicans," DeSantis said in response.
Trump received 46 percent of Republican support for the presidential nomination in a recent survey conducted by the Harvard CAPS-Harris Poll on February 15 and 16. DeSantis received 23 percent.
The gap is much closer in a Quinnipiac University poll conducted in the same timeframe, showing Trump with 42 percent support to DeSantis' 36 percent. A total of 14 Republicans who might enter the race were part of that survey.
Newsweek reached out to D'Souza for comment.