Trump Says He's Already Beaten ISIS 'Decisively' in Syria, Says He Doesn't Want to Bring Back Troops to 'Beat Everybody Again'
President Donald Trump has justified his apparent betrayal of Kurds in Syria by claiming that since the Islamic State militant group (ISIS) was defeated "badly and decisively", he no longer wants troops in the region "to defeat everybody again".
Speaking outside the White House before a campaign rally in Minneapolis on Thursday, Trump also claimed that Turkey's actions to launch the full-fledged incursion, with ground troops and airstrikes, was being unfairly treated—presumably by politicians and media—although he added that he hopes to mediate a new agreement between the Kurds and Turks.
Trump's comments followed a series of tweets on the subject in which he said: "We defeated 100% of the ISIS Caliphate and no longer have any troops in the area under attack by Turkey, in Syria.
"We did our job perfectly! Now Turkey is attacking the Kurds, who have been fighting each other for 200 years.
"We have one of three choices: Send in thousands of troops and win militarily, hit Turkey very hard Financially and with sanctions, or mediate a deal between Turkey and the Kurds!"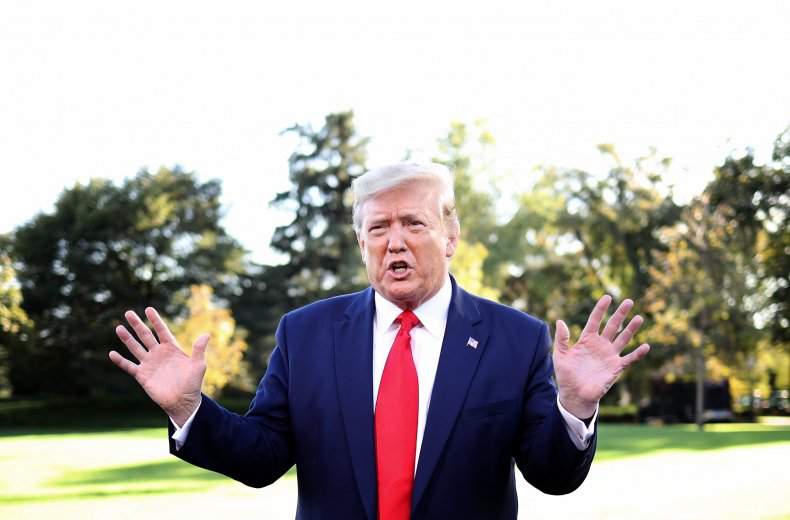 When asked by reporters which of the three options he preferred, Trump said it was the option to strike a deal.
"Look, we have no soldiers in Syria," he said. "We've won. We've beat ISIS and we've beat them badly and decisively. We have no soldiers. The last thing I want to do is bring thousands and thousands of soldiers in and defeat everybody again. We've already done that.
"So what we have is really two choices. You have the choice of bringing in the military and defeating everybody again or you have the choice of financially doing some strong things to Turkey so they take it a little bit easy on competition that I don't think is being treated fairly in many ways.
"I hope we can mediate."
Trump's comments follow widespread criticism of his decision to withdraw troops from north-eastern Syria, seemingly without consultation, leaving the Kurdish-led Syrian Democratic Forces (SDF) to fend off an attack from Turkey within Syria's border on its own.
The SDF were instrumental in fighting ISIS in Syria and suffered upwards of 10,000 casualties in fighting the terror group.
At a peace conference in August—in order to show their seriousness about stability in the region—the group agreed to demilitarize the border with Turkey, in return for U.S. support and protections against invasion.
Now that U.S. support has suddenly been withdrawn, many—including retired general John Keane and GOP Senator Marco Rubio—say that the Islamic State radical group can re-emerge due to Trump's actions, undoing five years of war.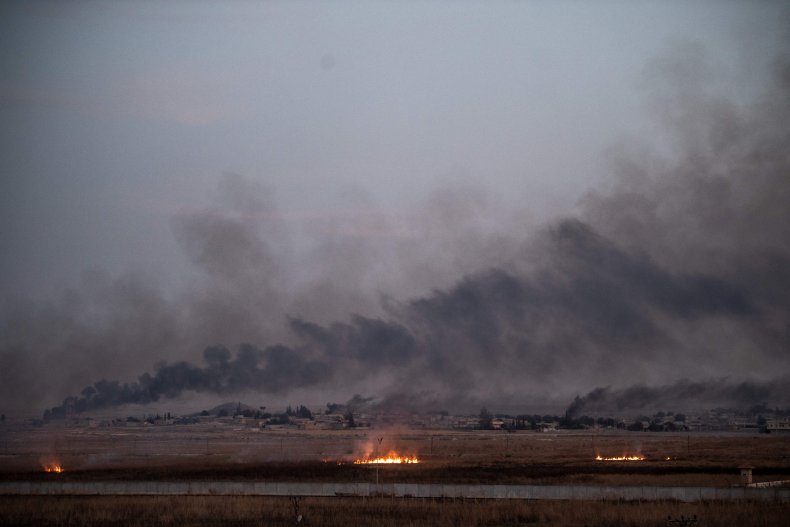 Turkey's offensive into Syria was launched within four days of a phone call between Trump and Turkish President Tayyip Recep Erdogan on Sunday, where Erdogan was given the green light for his military ambitions,
Erdogan claimed the operation is aimed at creating a 20-mile "safe zone" from his country's borders, aiming to clear the region of Kurdish "terrorists" so that refugee camps can be established and so that Syrian refugees displaced from the eight-year civil war can return.
But unless halted by diplomatic means, the operation is likely to lead to months more of war, with many already warning of the humanitarian cost.
Turkey has shown no willingness to stop its march however—with Erdogan repeatedly defending the operation and threatening his European neighbors he will "open the gates" to Syrian refugees if they oppose his plans. And although it was by no means a a comperehensive peace accord between Turkey and the SDF, a deal was already in place - until the U.S. removed its guarantees from the Kurdish group.
The graphic below, provided by Statista, illustrates which factions are controlling territory in Syria.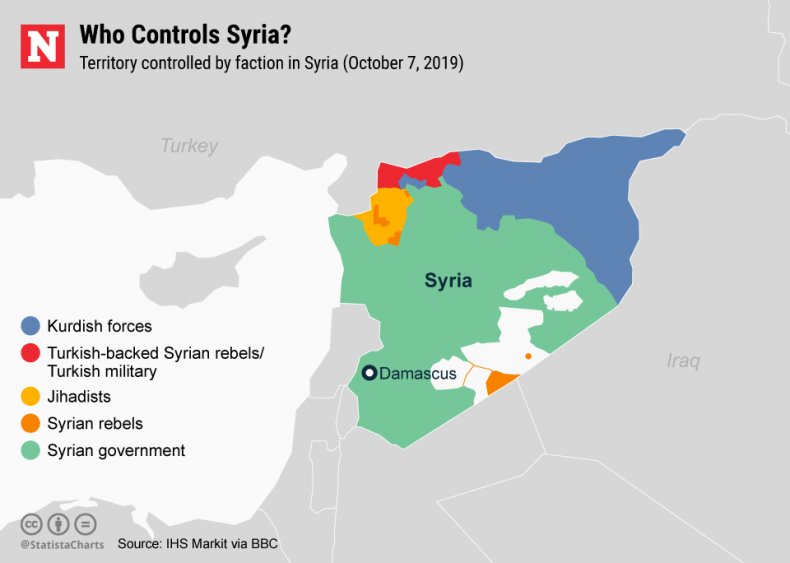 This article was updated to include an infographic.