Trump and Putin Met Several Times, But 'So What?' Asks Moscow's Top Diplomat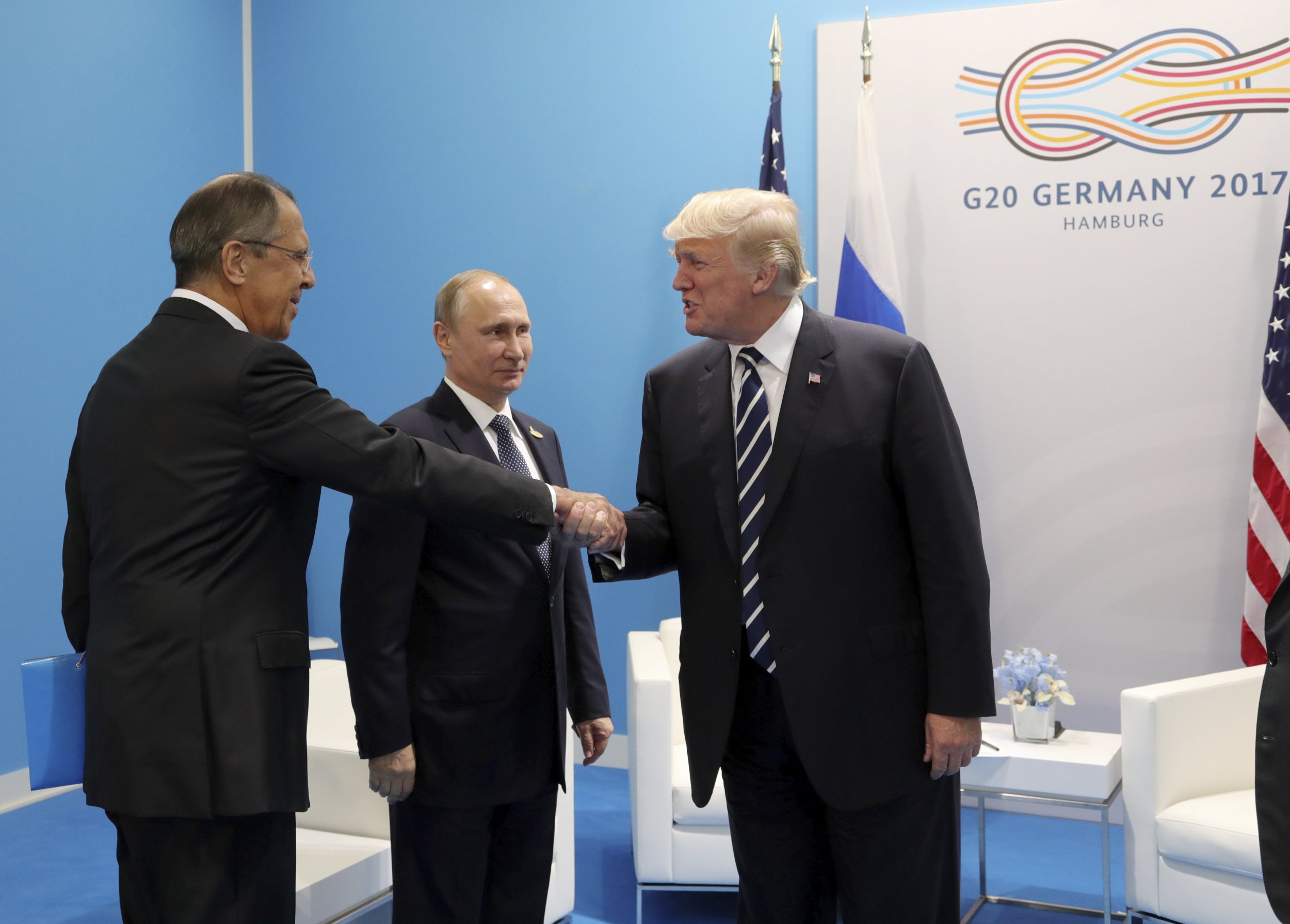 Russia's top diplomat has hinted that President Donald Trump and Russian President Vladimir Putin may have had more meetings than disclosed at the G20 this month but shrugged off concern about the idea.
"They might have met even much more than just three times," Russia's Minister of Foreign Affairs Sergey Lavrov told NBC in an exclusive interview.
"After the dinner was over…I was not there…President Trump apparently went to pick up his wife and spent some minutes with President Putin," Lavrov said. "So what?"
Read more: Russia's new naval policy is to defend against U.S. domination across the world's oceans
Putin and Trump were pictured together twice at the G20: first in the company of German Chancellor Angela Merkel and other officials, then with their own delegations at their personal bilateral meeting.
Reports that the pair had another encounter at the event, undisclosed by the White House during the trip, sparked speculation about the tone and topics of conversation. Trump tweeted that speculation about the meeting was "sick" but told The New York Times Wednesday that he had discussed adoption with the Russian president after the official G20 dinner with spouses.
Referring to the possibility the leaders met several times, Lavrov said jokingly, "Maybe they went to the toilet together." The diplomat's sardonicisms often intend to pour subtle scorn on U.S. news focus that's unfavorable to Russia. Asked if Trump and Putin had any informal encounters with one another at the G20, the minister compared the situation to a child's first day at kindergarten.
"When you are bought by your parents to a kindergarten, do you mix with the people who are waiting in the same room to start going to a classroom?" he asked. "I remember when I was in that position, I did spend five or 10 minutes in the kindergarten before they brought us to the classroom."
Putin's spokesman has already expressed "bafflement" about the media scandal around additional meetings between Putin and Trump.
"There was a bilateral meeting that was officially agreed via diplomatic channels, and then on the sidelines they repeatedly exchanged opinions and remarks," Kremlin spokesman Dmitry Peskov told journalists in a press call Wednesday night.
"This was a discourse over the course of a few days. They had a chance for discussion during dinner and continued the exchange over those topics from the bilateral meeting and the daily agenda," he said. Presenting the leaders' encounters as "some separate meeting that they tried to hide from someone" was "schizophrenia," Peskov added.
Scrutiny of Trump's sympathies with Russia and Putin is high in the U.S.; not only has the U.S. intelligence community concluded that Russian hackers attacked Trump's opposition during last year's election, it also has found several lines of contact between the Trump team and Russian officials.
Most recently, Trump's eldest son was forced to reveal an email chain with a woman, described to him as a "Russian government lawyer," who offered him information to discredit Hillary Clinton, Trump's election opponent. Trump's lawyers have said the meeting did not amount to anything illegal. The White House has dismissed all allegations of collusion with the Russian government against Trump's opposition.