Trump and Russia: Stephen Colbert Says He Was Followed During Secret Moscow Trip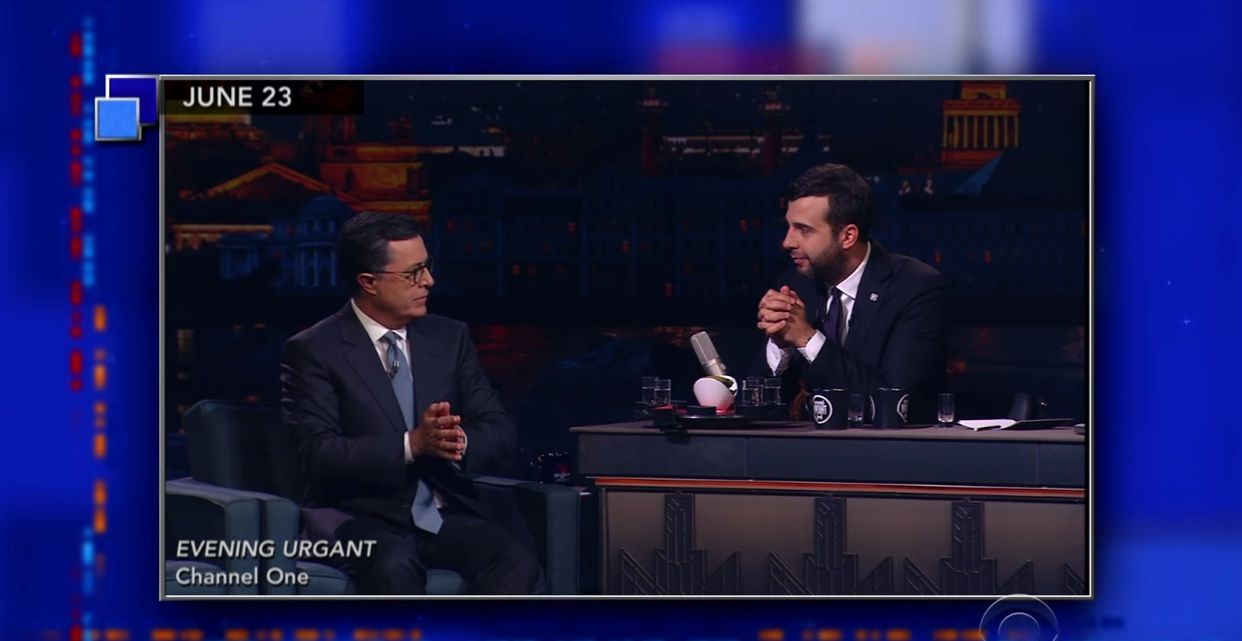 "It's good to be home," Stephen Colbert told his audience Monday following his clandestine trip to Russia to film material for upcoming episodes of CBS's The Late Show.
Colbert revealed that he filmed an entire week of footage from Russia and also found time to appear on a Late Show doppelganger, Evening Urgant, on the state-run Channel One last Friday.
The comedian showed footage of his appearance, during which he said that he was considering a run for U.S. president in 2020 and joked he wanted to "cut out the middleman and tell the Russians myself," alluding to alleged Russian hacking of the 2016 election.
The talk show host was coy about the footage he shot in Russia, but it's likely that his visit caused some concern for both the Russian and U.S. government. Colbert has relentlessly mocked U.S. President Donald Trump on The Late Show for his purported ties to Russian president Vladimir Putin.
Newsweek subscription offers >
"You know who did know I was in Russia? Russian intelligence. Hardcore fans, evidently...followed me everywhere," he said at the top of Monday's program. "Also got some attention from American intelligence; a couple of guys seemed to pop up wherever I went. You know, it's important to keep your eye on a comedian, while he's over there doing jokes."
Colbert then wisecracked: "I could be giving state secrets to the Russians... oh wait, someone's already got that covered."
The comedian said later in the show that he's "never wanted to be home more" due to the paranoia and censorship in Russia. "Lovely people but it's just a little weird over there," he said. "There's some things you can't say, places you can't go, people are watching you."
Newsweek subscription offers >
Colbert said he was so closely watched that there was "one of these goons right outside my door" at his hotel. "So I really want to thank our pharmaceutical industry for helping me sleep at night," he added.
The talk show host ended his segment with what may be an ominous message for Trump and Putin: "We learned a lot, and you will too," Colbert told viewers.
Whatever Colbert got up to in Russia—and here's hoping for a one-man mockumentary trying to get to the bottom of the collusion allegations—it has certainly pricked the ears of both U.S. and Russian officials.
If Colbert, a late-night comedian, is the undoing of Trump and Putin, Hugh Jackman really will want to play him in a movie.
Trump and Russia: Stephen Colbert Says He Was Followed During Secret Moscow Trip | Culture