Donald Trump's Approval Rating Drops Among North Carolina Voters as Republicans Walk Away Over Ukraine, Impeachment
President Donald Trump is losing support among GOP voters in North Carolina, a stronghold for Republican presidential candidates in nine of the last 10 elections, as he faces a House impeachment inquiry sparked by his conduct towards Ukraine.
According to the latest Meredith Poll, Trump's approval rating among all North Carolina voters has sunk to 39.9 percent, down from 44 percent in March.
"The most significant factor affecting President Trump's decline in job approval ratings among North Carolinians is his loss of Republican support," said David McLennan, Meredith Poll Director, in the new report.
McLennan continued that it is the Ukraine-Biden affair and House Speaker Nancy Pelosi's opening of an impeachment inquiry that has "eroded his support among Republicans."
The poll shows that Trump still commands 74.7 percent approval among Republicans in North Carolina. But this is down from 86 percent party approval back in March at the height of speculation about the Mueller investigation, which was still ongoing at the time.
Just three of the 13 U.S. Representatives from North Carolina are Democrats. Both U.S. Senators are also Republicans, but the state's Governor Roy Cooper, elected in 2016, is a Democrat.
Since 1980, North Carolina has backed the Republican candidate at every single presidential election bar 2008, when it voted for Democrat Barack Obama over Republican John McCain, the late Arizona senator.
In the 2016 presidential election, Trump beat Democratic candidate Hillary Clinton in North Carolina by 49.83 percent to 46.17 percent, a difference of around 173,000 votes.
"President Trump's approval rating makes him more vulnerable in North Carolina," McLennan told Newsweek. "His approval ratings have been relatively consistent since the start of his presidency and his current approval rating of just under 40 percent is significant.
"It is too early to tell if his approval ratings will remain below his historical average, but with the pressures of an impeachment inquiry and the foreign policy disaster in Syria, lower approval ratings may be his new normal."
McLennan said if Trump's approval ratings remain around 40 percent then North Carolina will look attractive to the Democrats, though it depends on who the party nominates.
"A very liberal nominee—like Elizabeth Warren or Bernie Sanders—might not play well with many North Carolina voters and keep a very damaged President Trump in a good position to carry the state in 2020," McLennan told Newsweek.
The Meredith research found that Trump currently polls on average 38 percent against his leading Democratic rivals, with former Vice President Joe Biden the highest performer against him at 34.8 percent.
Moreover, Meredith polled Trump against a random name pulled from the phone book. That random name performed better against Trump than any of the named Democratic candidates.
"I think the real story is that a name picked at random from the phone book is polling at least five points higher than every Democrat presidential candidate," Jeff Hauser, spokesman for the North Carolina GOP, told Newsweek.
"It speaks to how far left the Democrats have moved in regards to extremist policies that will negatively impact the country's future. Those numbers show that the people still prefer President Trump to the current crop of Democrats running against him."
House Democrats have accused Trump of attempting to solicit foreign interference in the 2020 election to his benefit.
Trump asked Ukraine's President Volodymyr Zelenskiy in a July 25 phone call to open investigations into a conspiracy theory that the Democrats conspired with a Ukrainian cyber company called CrowdStrike to frame Russia for meddling in the 2016 election.
The U.S. president also requested that Zelenskiy open an investigation into spurious corruption allegations around former Vice President Joe Biden—a leading candidate for the 2020 Democratic nomination—and his son Hunter Biden, who did lucrative business in Ukraine.
Two whistleblowers filed complaints about the president's Ukraine conduct, including on the July call. Trump insists he did nothing wrong and has since also publicly asked China to open an investigation into the Bidens. Hunter Biden also does business in China.
Pelosi announced in September that the six House committees currently investigating Trump across multiple probes will now fall under the umbrella of an impeachment inquiry.
"The actions of the Trump Presidency revealed the dishonorable fact of the President's betrayal of his oath of office, betrayal of our national security, and betrayal of the integrity of our elections," Pelosi said in a statement. "The President must be held accountable. No one is above the law."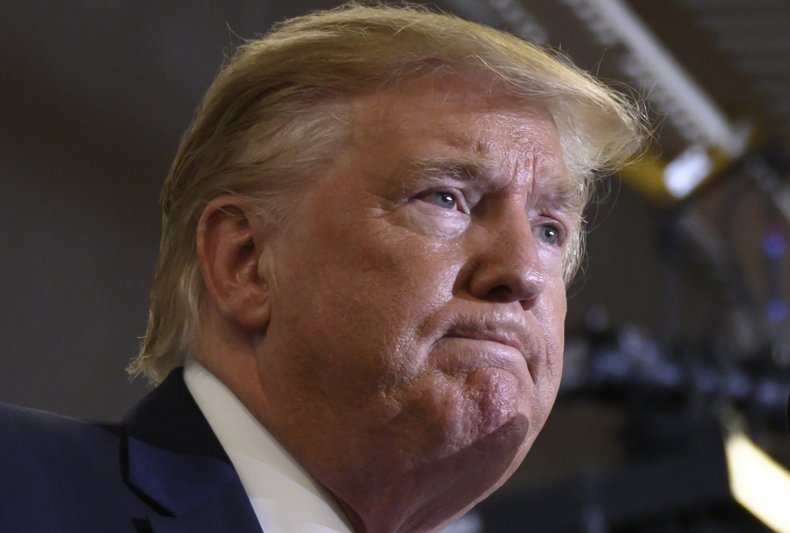 This article was updated with more background from the poll and comments by Jeff Hauser and David McLennan.