Trump Asks Court to Reinstate Facebook Account So He Can Communicate With Potential Voters
Former President Donald Trump on Thursday asked a court to force Facebook to restore his account to communicate with potential voters for the midterm elections in 2022 and the presidential election of 2024. The former president has not indicated if he is running in 2024 but continues to hold rallies and endorse candidates in other races.
Trump was banned from Twitter and Facebook over concerns that his posts were inciting violence after his supporters attacked the Capitol on January 6. The ban ensured that the former president couldn't post or communicate on either social media platform.
In May, Facebook's Oversight Board said that the social media company was right to suspend the former president's accounts.
"Given the seriousness of the violations and the ongoing risk of violence, Facebook was justified in suspending Mr. Trump's accounts on January 6 and extending that suspension on January 7," the board said.
Facebook indefinitely suspended his account, which the board noted "was not appropriate for Facebook to" impose, and gave Facebook six months as of May to complete a review of Trump's account.
Trump's legal team argued in the Thursday filing in the U.S. District Court for the Southern District of Florida, that by "cutting him off from the most effective and direct forms of communication with potential voters," Facebook "is threatening irreparable damage to the Republican Party's prospects in the 2022 and 2024 elections."
The legal team also said in the filing that Trump faces the loss of his donors and merchandising platforms due to the ban. They added that Trump is also unable to voice his views and endorse local candidates due to his Facebook ban.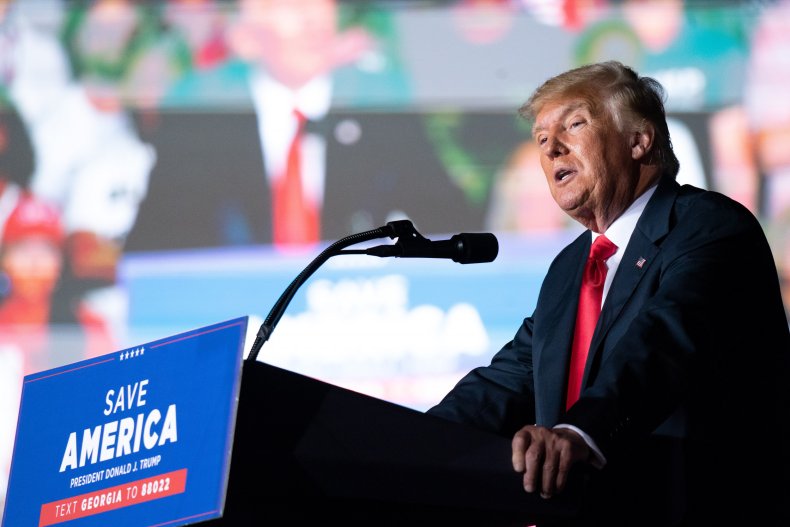 In July, Trump sued Facebook, Twitter, and Google, as well as their CEOs. The class-action lawsuit alleged that Trump and other conservatives were wrongfully censored by those social media giants.
"This preliminary injunction against Facebook seems appropriate to file this week since they've been big in the news lately for all the issues they're facing," said John Coale, lead counsel of the Trump lawsuits against Big Tech companies, the Washington Examiner reported on Thursday.
The original lawsuit claimed that the social media platforms imposed content moderation policies to censor Trump, and other conservative plaintiffs mentioned in the case, which involved flagging and shadow-banning.
"We're demanding an end to the shadow-banning, a stop to the silencing and a stop to the blacklisting, banishing and canceling that you know so well," Trump said during a July press conference.
Trump had access to around 150 million followers and subscribers on Facebook, Twitter, and Snapchat before being banned, according to the Wall Street Journal.
"Zuckerberg and Facebook say it's the 21st-century public town square; if so, they should uphold the First Amendment," Coale said, according to the Examiner. "You can't have it both ways. They're like a public utility when it comes to speech."
Although the lawsuit alleges that the social media ban is affecting Trump's social reach to potential voters, recent polls have shown that the former president's influence is already waning, including in his own party and among conservatives.
A poll released last month found that Republican voters' support for Trump dropped to 26.2 percent in September, sliding from 46 percent in July. The poll, conducted by GOP pollster Carter Wrenn, showed the former president was in a tie with DeSantis for 2024 support.
"These numbers will probably come as a shock to Donald Trump," his former national security adviser, John Bolton, said in a statement about the poll. "After 20 years in Afghanistan, it's clear that Americans are unhappy with leaving as we did. Voters were smart enough to see that President Trump started the withdrawal and legitimized the Taliban through negotiations."
Newsweek contacted Trump's office for comment but didn't receive a response in time for publication.
Update 10/7/21 at 3:52 p.m. ET: This story was updated to mention that former President Donald Trump has not indicated if he will run for president again in 2024.