Trump Attacking North Korea Would Result in Millions Dead, Former Defense Secretary Chuck Hagel Warns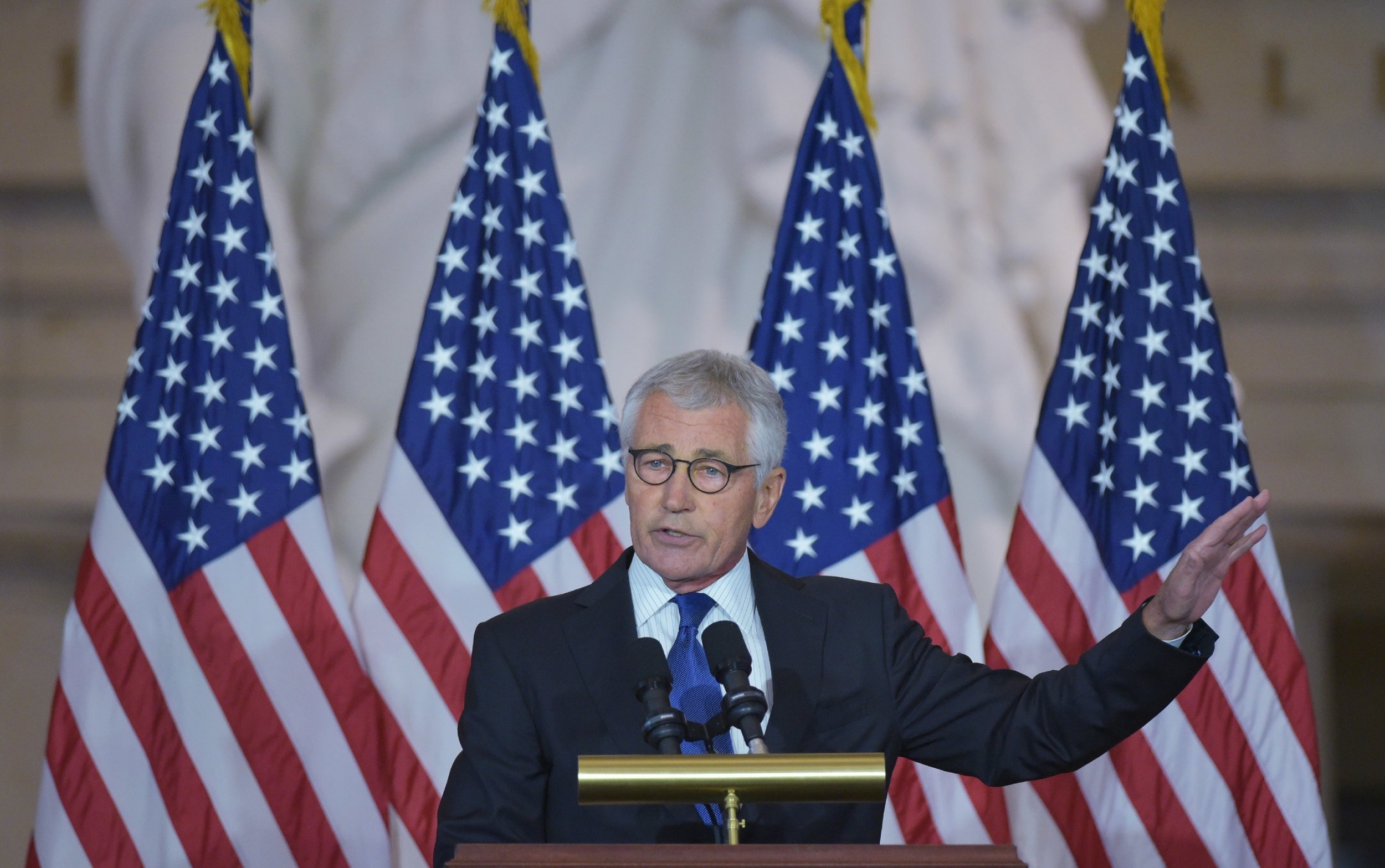 Former Defense Secretary of Defense Chuck Hagel on Wednesday warned President Donald Trump against pursuing a pre-emptive strike on North Korea, saying the commander in chief's "nonsense and bravado" could cost millions of lives.
In an interview with Military Times, Hagel said a "bloody nose" strike––a limited attack aimed at sending a message to Kim Jong Un without starting a full-blown conflict––would be a major "gamble," and a deadly one.
"Let's be smarter," Hagel said. "If you want to bet that if you are going to attack North Korea, however you [are] going to do that, and think that Kim Jong Un and the North Koreans are not going to retaliate—it's a pretty big gamble. I wouldn't want to take that gamble."
If war with North Korea broke out, "there would be literally millions of people dead in South Korea, tens of thousands of Americans dead," Hagel added. "We have 30,000 troops along the [demilitarized zone], plus other Americans there as well. Probably Japan doesn't come out of this without some catastrophe."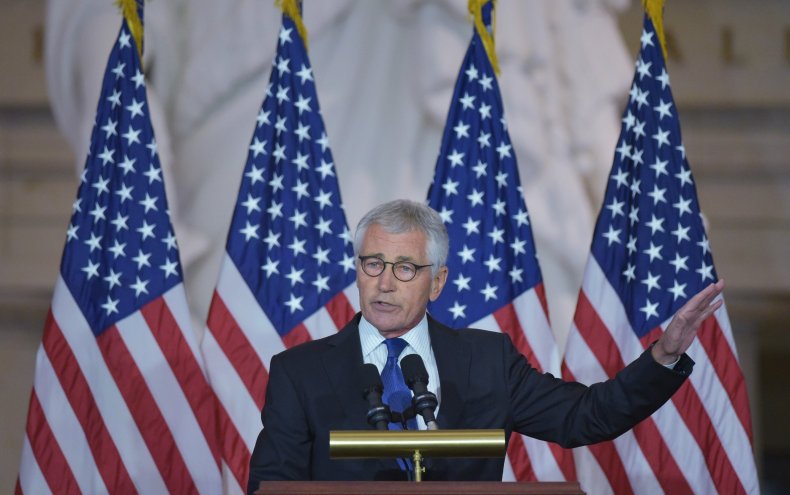 The Trump administration has reportedly been mulling a "bloody nose" strike for some time. Its desire to potentially pursue this option could be the reason Victor Cha, who was poised to become Trump's ambassador to South Korea, is no longer expected to be nominated, according to multiple reports on Tuesday. Cha voiced his opposition to this type of strike in an op-ed for The Washington Post, writing, "While our population in Japan might be protected by U.S. missile defenses, the U.S. population in South Korea, let alone millions of South Koreans, has no similar active defenses against a barrage of North Korean artillery (aside from counterfire artillery)."
"To be clear: The president would be putting at risk an American population the size of a medium-size U.S. city—Pittsburgh, say, or Cincinnati—on the assumption that a crazy and undeterrable dictator will be rationally cowed by a demonstration of U.S. kinetic power," Cha added.
A November 2017 report from the Congressional Research Service, which estimated as many as 300,000 people would die in the first few days of a conflict between the U.S. and North Korea (even without the use of nukes), reinforces Cha's concerns.
In addition to opposing a "bloody nose" strike, Hagel was also highly critical of the president's general demeanor toward Pyongyang, especially in relation to Trump's tweets. Hagel said Trump has made the situation worse with tweets such as when he boasted he has a bigger "nuclear button" than Kim. The former defense secretary called on Trump to "cut the tension, let's cut the nonsense and bravado" and follow South Korea's example by embracing diplomacy.
North and South Korea re-established dialogue for the first time in roughly two years in early January. As a product of the somewhat rekindled relations, North Korea is set to participate in February's Winter Olympics in Pyeongchang, South Korea. This is a major development for the two Koreas, which have been bitterly divided since the Korean War (1950-53).
Hagel seems encouraged by Seoul and Pyongyang's efforts to talk, rather than continue to threaten each other, and hopes Trump will follow suit. "Engagement is not surrender or appeasement. Great powers engage. Great powers talk to people. Great powers take responsibility. And that's what we should be doing with North Korea," Hagel said.
The Trump administration has maintained it will not tolerate a nuclear North Korea and is generally uninterested in sitting down with Kim's regime until it agrees to halt its nuclear program.
During his State of the Union address on Tuesday, Trump decried the North Korean regime and warned its nuclear weapons could "soon threaten" the U.S. mainland. "No regime has oppressed its own citizens more totally or brutally than the cruel dictatorship in North Korea," the president said. "North Korea's reckless pursuit of nuclear missiles could very soon threaten our homeland. We are waging a campaign of maximum pressure to prevent that from happening."