Trump Says North Korea's Nuclear Weapons Could 'Soon Threaten Our Homeland' During State of the Union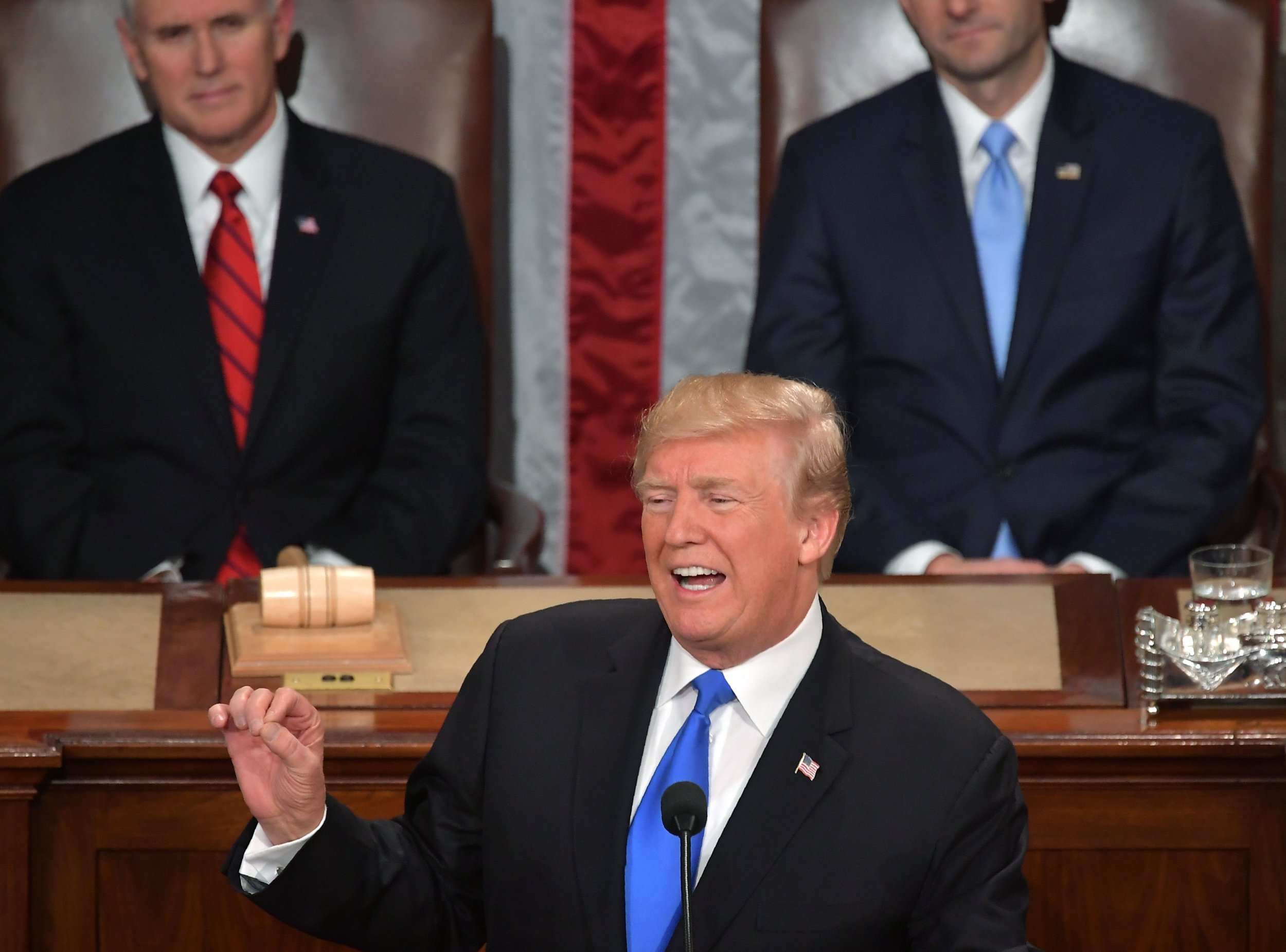 President Donald Trump warned North Korea's "reckless pursuit" of nuclear weapons could "soon threaten" the U.S. mainland during his first State of the Union Address on Tuesday night.
"No regime has oppressed its own citizens more totally or brutally than the cruel dictatorship in North Korea," the president said. "North Korea's reckless pursuit of nuclear missiles could very soon threaten our homeland. We are waging a campaign of maximum pressure to prevent that from happening."
Trump added that he would not repeat "the mistakes of past administrations" in regard to North Korea. "Past experience has taught us that complacency and concessions only invite aggression and provocation... We need only look at the depraved character of the North Korean regime to understand the nature of the nuclear threat it could pose to America and our allies," the president said.
North Korea conducted a slew of missile tests in 2017 as part of its broader pursuit of a nuclear-tipped ballistic missile capable of reaching the mainland U.S. This prompted harsh economic sanctions from the international community as well as a war of words between Trump and Kim Jong Un. At times, Trump has been widely accused of pushing the world to the brink of nuclear war with his belligerent rhetoric toward the rogue state.
Recent events have renewed hope for a diplomatic resolution to the tensions with Pyongyang. Korea re-established dialogue in the early part of 2018 for the first time in roughly two years––a major development for the historic nations. Despite a shared language and ethnicity, the two countries have been bitterly divided since the Korean War (1950-1953). North Korea's aggressive disposition to the wider world, especially the U.S. and South Korea, is largely a result of its experiences during that conflict.
As a result of the recent dialogue, North Korea is set to participate in next month's Winter Olympics in Pyeongchang, South Korea. Trump took credit for this development as his administration maintains the U.S. cannot tolerate a nuclear North Korea.
Meanwhile, the Trump administration still has no ambassador to South Korea at a time when North Korea is at the center of its foreign policy concerns. On Tuesday, it was reported the Trump administration's original choice for the ambassador, Victor Cha, was no longer expected to be nominated due to a disagreement over the president's policy toward the reclusive nation.
North Korea is believed to have between 25 to 60 nuclear weapons, according to U.S. intelligence assessments and independent analysis, but most agree it has yet to develop the technology necessary to successfully launch a nuclear-tipped intercontinental ballistic missile at the mainland U.S. But earlier this month, CIA Director Mike Pompeo said Kim's regime is likely only a "handful of months" away from achieving this goal.