Trump Attacks 'Craggy Smug Face' Bob Woodward, 'Lapdog' Robert Costa Over China Claims
Former president Donald Trump criticized The Washington Post journalists Bob Woodward and Robert Costa for their book about his presidency including claims of an attack on China.
A part from their book Peril which was released in September, mentioned that Joint Chiefs Chairman Gen. Mark Milley called his counterpart in Beijing, Gen. Li Zuocheng, to assure him that the U.S. will not strike China amid a heightened concern regarding the possibility of conflict.
"Does anybody really believe that longtime Con Man Bob Woodward, and his lightweight lapdog assistant Robert Costa, are implying in their book of fiction that I was planning to go to war with China, but that one of the dumber generals in the military called the Chinese to tell them that he will inform them if this action proceeds further," Trump said in a statement on Friday.
Milley called Zuicheng once in October 2020 and a second time in January after the Capitol riot, according to Insider. He also spoke with other defense chiefs in different countries.
According to the book, the January 6 Capitol attack "had not only stirred up China but also caused Russia, Iran, as well as other nations to go on high alert to monitor the American military and political events in the United States."
"Half the world was friggin nervous," Milley said, according to the book. He also reportedly ordered CIA Director Gina Haspel to "aggressively watch everything, 360."
Trump on Friday said that Milley should be tried for treason and denied the thought of attacking China.
"I never had even a thought of going to war with China, other than the war I was winning, which was on TRADE," he said. "I was the only President in decades to not get us into a war—I got us out of wars!"
After the book was released, Milley testified to Congress in September about the calls to China.
"I know, I am certain, that President Trump did not intend on attacking the Chinese," Milley testified to Congress. "My task at that time was to de-escalate. My message again was consistent: stay calm, steady and de-escalate. We are not going to attack you."
Milley said that his calls stemmed from "concerning intelligence" that China was worried about the possibility of the U.S. launching an attack.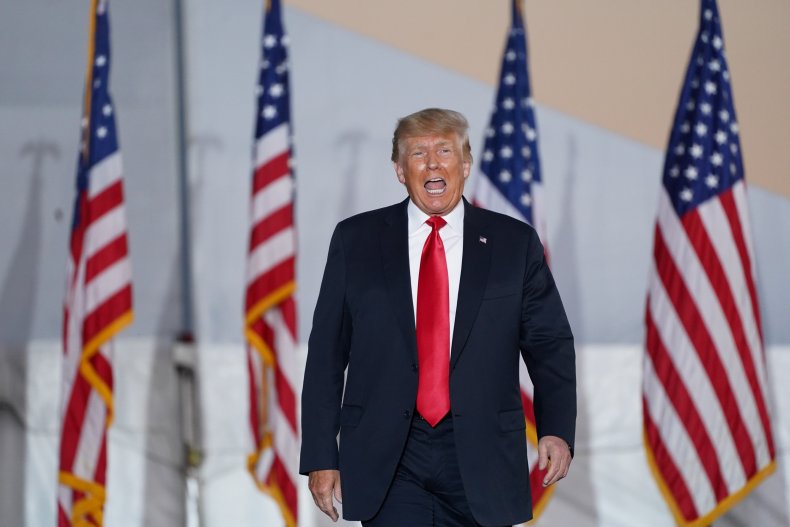 In his Friday statement, Trump continued attacking both journalists over their book and said that less is being written about "the greatness of our country" and more about "political investigations, hoaxes, and scams."
"It's incredible that someone is even allowed to write this stuff," the former president said.
He also compared the excerpt about China in Woodward's book to the reported story about the Russia collusion in the 2016 presidential election which Trump claimed has been "debunked."
"Just like the Russia, Russia, Russia Scam has now been totally debunked and discredited as a FAKE Democrat/Crooked Hillary Plot, the 'go to war with China' story is even more ridiculous," Trump said in his Friday statement.