Former President Donald Trump on Sunday demanded the Pulitzer Prize committee "immediately rescind" awards granted to staff at The New York Times and The Washington Post in 2018 for their reporting on Russian collusion in the 2016 presidential election.
"[The awards were given] based on the false reporting of a non-existent link between the Kremlin and the Trump Campaign. The coverage was no more than a politically motivated farce," Trump said in a two-page letter sent to the interim administrator of the Pulitzer Prize, Bud Kliment.
Trump wrote that the reporting lacked evidence as it alleged that his campaign "supposedly colluded with Russia" in a joint interference in the 2016 election.
"When it becomes apparent that a Pulitzer Prize-winning work was based on shoddy, dubious, and manifestly false reporting — as is the case here — the Pulitzer Prize Board must react accordingly," he said in his letter.
He added that the awards should be withdrawn because they are based on a set of articles that focused on the "now debunked Russian collusion conspiracy theory."
Trump criticized the headlines as "sensational" and said the reporting was "heavily" based on anonymous sources.
He later said in the letter that the allegations were confirmed to be false and that he has been "exonerated of these charges."
However, in 2019, special counsel Robert Mueller said that he didn't exonerate Trump—charging the then-president with a crime just was "not an option."
"If we had had confidence that the president clearly did not commit a crime, we would have said so," Mueller said at the time, according to the Associated Press.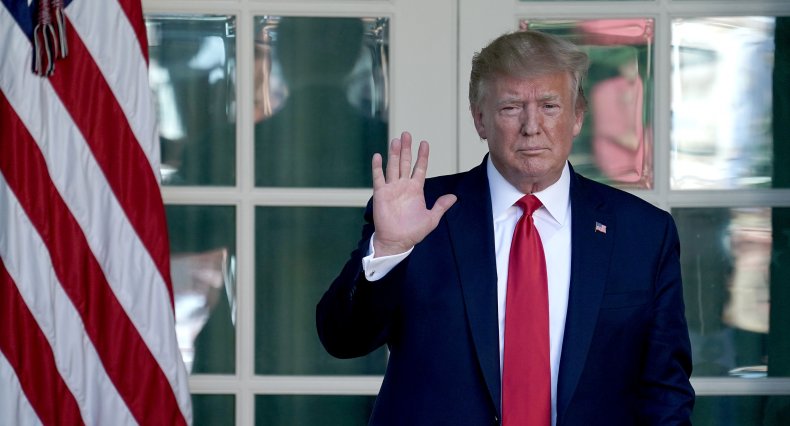 In backing this assertion, Trump cited in his letter the indictment of former cybersecurity attorney Michael Sussman and how it served as a "damning repudiation of the media's obsession with the collusion story."
"The indictment pointedly accuses Mr. Sussman of making false statements to the FBI when he presented 'evidence' purporting to show secret communications between my organization and the Russia-based Alfa bank," Trump explained.
Trump repeatedly denied the findings of the investigations before, including the over 5,000 pages of information that the White House provided to Mueller's team of investigators about fired FBI Director James Comey and the 8,000 pages regarding ousted national security adviser Michael Flynn and Russia.
Trump tweeted in early 2018: "The single greatest Witch Hunt in American history continues. There was no collusion, everybody including the Dems knows there was no collusion, & yet on and on it goes. Russia & the world is laughing at the stupidity they are witnessing. Republicans should finally take control!"