Trump-Supporting Attorney Says He Trademarked 'Good Pillow' Before David Hogg, William LeGate
A Donald Trump-supporting attorney announced he filed a trademark for Good Pillow before gun control activist David Hogg—and suggested it is "a good brand to put on pillows with a pro-gun civil rights message."
Firearms patent and trademark attorney Ben Langlotz revealed he had "scooped" Hogg in an April 5 post on his website titled "how I taught a Harvard Boy a lesson about trademarks."
He said: "I was surfing Twitter one evening in February when I ran across a story about David Hogg's new scheme."
The scheme Langlotz referred to was Hogg's February 9 announcement on Twitter that his and co-founder William LeGate's planned company name would be Good Pillow.
Langlotz said it had given him "a wonderful, awful idea."
"Could this political attention-hogg have made the ultimate product announcement blunder?" he wrote.
"I've seen it countless times: the new product is announced, but the company didn't apply first to register the trademark.
"I quickly clicked over to the U.S. Patent and Trademark Office website and searched Good Pillow: Nothing filed."
Langlotz said he did not file the request in order to "undermine his (Hogg) nefarious leftist plans" or to "own the libs," and that he intends to offer pillows under the brand name.
Two trademark applications have been made for the use of the "Good Pillow" branding, according to the United States Patent and Trademark Office database.
One was filed on February 9, when Langlotz tweeted: "This Harvard genius didn't realize that our trademark system gives rights to the first application. I actually just filed and he's going to have to pick another brand. I think this is a good brand to put on pillows with a pro-gun civil rights message."
A separate application was logged on February 11.
Langlotz has previously tweeted favorably about Trump, writing on Twitter in January that "Trump was the first thing the GOP did well in my lifetime," and called the former president a "True American hero," in March.
Responding to Langlotz's claims, LeGate told Newsweek: "The United States follows a first use in commerce system, not the first to file as you falsely claim. We will not be changing our name.
"We have the first use in commerce and we are confident their applications will be rejected."
In response, Langlotz told Newsweek: "LeGate doesn't seem to be getting competent legal advice. Unless he sold a pillow with the brand before February 9th, he lacks the "first use in commerce" to predate my own Intent-to-Use filing.
"This is Kindergarten-level stuff that real businesses must deal with every day. He also mistakenly assumes that the trademark examiner will consider his prior use assertion in examining and potentially rejecting or allowing our application.
"LeGate may initiate an opposition proceeding only after the application is allowed, but will prevail only if he can provide evidence that he actually used the trademark in commerce. I suspect he will be disappointed when he talks to a trademark lawyer."
In the U.S. trademark law, the mark will not be registered until the applicant uses it in commerce, or has proven an intention to use it.
Newsweek has contacted Hogg for comment.
Hogg has since announced he has resigned from his Good Pillow venture with co-founder LeGate.
In a series of tweets Hogg, 20, thanked LeGate and said he would now focus on his college studies and gun control activism.
He said on Saturday: "Effective immediately, I have resigned and released all shares, any ownership and any control of Good Pillow LLC. I want to thank Will for his partnership and wish him absolutely nothing but success with the future of Good Pillow."
Langlotz told Newsweek, "One is left to wonder whether Hogg is departing a sinking ship because it apparently can't get the basic business processes right, but his departure doesn't affect my intentions."
No products under the Good Pillow name have been sold by the company. LeGate said pre-sales will be processed "very soon" with shipping "currently scheduled" to start in July.
Earlier this year, LeGate complained of what he called a "fraudulent" company selling products under the name Good Pillow.
In a February 16 tweet, LeGate said: "There is a fraudulent company going under the name good pillow who started selling fake products after we announced the name. They are not affiliated with us.
"If you order from them you might be scammed. We're in the process of dealing with this legally but we wanted to make aware."
Hogg, who was a student during the 2018 shooting at Marjory Stoneman Douglas High School, said in February he had teamed up with LeGate to make a rival to MyPillow.
MyPillow CEO Mike Lindell is an outspoken Trump supporter and has shared numerous conspiracy theories about the November 2020 election.
Shortly after Hogg's announcement, Lindell told Axios via text that he did not see anything wrong with the endeavor and added: "Good for them...nothing wrong with competition that does not infringe on someone's patent."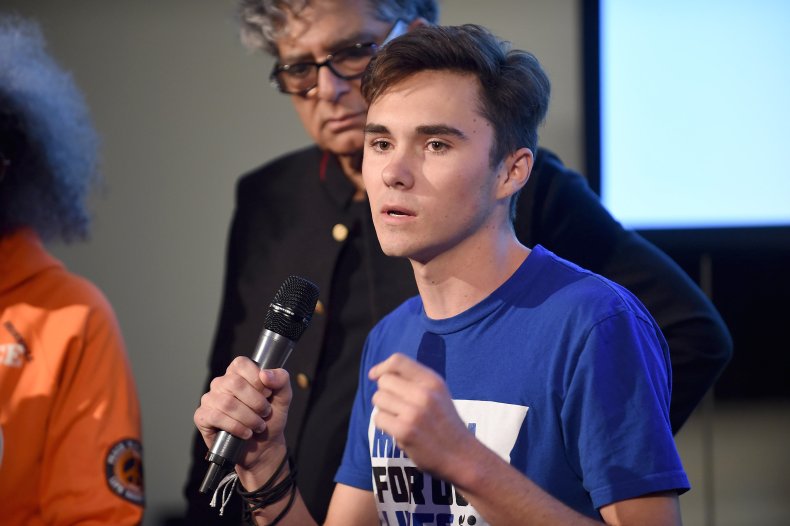 Correction: This article originally stated that Langlotz filed the request in order to "undermine his (Hogg) nefarious leftist plans" and "own the libs." Langlotz's website post states that he filed the request not to undermine Hogg or to score political points. Newsweek regrets the error.