Trump-Backed Kari Lake Leads Arizona's GOP Primary for Governor: Poll
Longtime television broadcaster Kari Lake is leading Arizona's Republican primary for governor, according to a new poll.
This week, a poll from Alloy Analytics found Lake at the top of the field with 37 percent support from likely GOP primary voters. Lake, who was endorsed by Donald Trump last year, was ahead of the second-place candidate by 22 percentage points.
Karrin Taylor Robson trailed Lake, garnering 15 percent support from respondents. Matt Salmon and Steve Gaynor were in third and fourth place respectively, each with under 10 percent support in the poll.
Trump has touted his 2022 endorsements as the "strongest" in U.S. political history as he's weighed into dozens of state and federal races. The former president has sought to demonstrate his influence over the Republican Party as it aims to take back majority control of Congress in the upcoming midterm elections.
When endorsing Lake in September 2021, Trump said she would do a "far better job" than "Republican in name only" Governor Doug Ducey. Trump has bashed the governor for his refusal to overturn the 2020 presidential election results.
"Won't even be a contest!" Trump said at the time. "Kari will make her wonderful family, and the MAGA movement, very proud. Kari Lake has my Complete and Total Endorsement. She will be a great Governor for the incredible people of Arizona."
Lake celebrated his support as "the most powerful endorsement in the history of politics." She also compared herself to Trump in 2016, stating they're both political "outsiders." Lake retired from Phoenix's Fox 10 News last year after more than two decades at the station.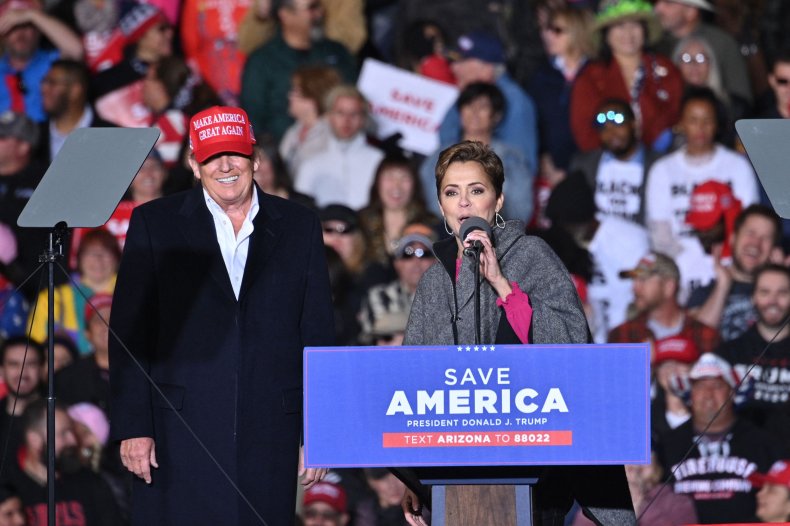 But not all of his candidates are leading their races. In North Carolina, Trump pick Ted Budd is behind other Republican candidates for Senate. This week, Trump pulled his endorsement of Alabama's Mo Brooks. The former president said Brooks had gone "woke" over the 2020 election, but the congressman is also struggling in the polls.
"Very sad but, since he decided to go in another direction, so have I, and I am hereby withdrawing my Endorsement of Mo Brooks for the Senate," Trump said in a statement.
The survey also found that while Lake has a lead in the race, roughly one-third of respondents were unsure who they were going to cast their vote for in the August 2 primary.
Alloy Analytics polled 433 likely Republican primary voters in Arizona between March 9 and March 12, 2022. The survey has a margin of error of plus or minus 4.7 percentage points.
Newsweek reached out to Lake's campaign for comment but didn't receive a response before publication.
Correction 03/25/2022, 1 p.m. EDT: A previous version of this story incorrectly identified Karrin Taylor Robson as Karrin Taylor Robinson.