Trump-Backed Lake's Chances of Beating Pence-Backed Robson in Arizona
Former President Donald Trump and former Vice President Mike Pence have backed rival Republican candidates to become Arizona's next governor, with the GOP primary set to take place on August 2.
Trump endorsed Kari Lake, a former television news journalist, last September. A week ago, Pence weighed-in on the race, endorsing Karrin Taylor Robson, a former member of the Arizona Board of Regents, who has also been backed by incumbent GOP Governor Doug Ducey. Trump and Pence appeared at dueling events for their preferred Republican candidates in Arizona on Friday.
Recent polls suggest that Lake is the frontrunner in the race. The current Real Clear Politics average of recent Arizona surveys shows the Trump-backed candidate leading her Pence-backed rival by about 8.5 points.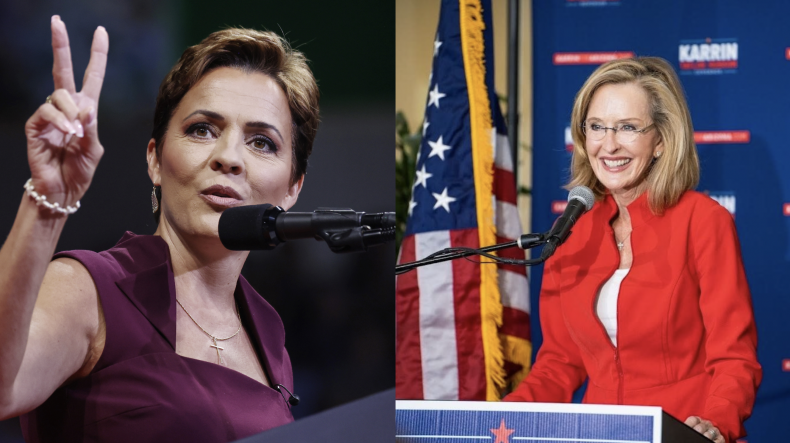 A survey carried out by OH Predictive Insights from June 30 to July 2 showed Lake with a lead of 5 points. The Trump-backed Republican had the support of 40 percent of likely GOP voters compared to 35 percent who supported Robson. An additional 21 percent were unsure, while the rest planned to back other GOP candidates who garnered single-digit support.
The poll included 515 likely voters and had a margin of error of plus or minus 4.3 percent.
Trafalgar Group conducted a poll from June 14 to 16 that had Lake in the lead by double digits. The former television journalist was backed by 39 percent of likely Republican voters and Robson was supported by just 27 percent. More than 17 percent of respondents were undecided and the rest supported other GOP contenders.
The survey included 1,068 likely voters with a margin of error of plus or minus 2.9 percent.
Ducey, who has faced substantial criticism from Trump, slammed Lake in a recent interview on CNN.
According to Ducey, who cannot seek reelection due to term limits in his state, Lake's entire campaign is "an act." He said the GOP candidate has "been putting on a show for some time now and we'll see if the voters of Arizona buy it." Conversely, he described Robson as "the real conservative, she's the real deal, she started her career working for Ronald Reagan, she's pro-gun, pro-life."
Pence took aim at Lake during his event with Robson on Friday, attacking her for formerly backing Democrats. Lake previously donated to former Democratic President Barack Obama's campaign, NBC News reported Thursday.
"When I joined the ticket in 2016 to help Donald Trump win back America, Kari Lake was supporting Hillary Clinton," the former vice president said. "Arizona Republicans don't need a governor who supported Barack Obama and Hillary Clinton. You need a governor that supported every conservative candidate from Ronald Reagan to Donald Trump. You need Karrin Taylor Robson."
Trump similarly on Friday touted Lake as the right choice for Arizona, and said: "She will do whatever it takes to protect the people of Arizona and she's the only person strong enough to get it done."